Jaxon Babineau
Nicknames
"Jaxon the Bandit" or "Jaxon the Highwayman"
Gender
Male
Age
Early 40s, although could be mistake for early 20s.
Societal Standing
Mundane
---
Nobody can quite tell what kind of face he hides underneath that hat and mask. Golden hair billows out from underneath his marauder hat while his eyes are typically cast in the shadow of it. The mask covers notable features like his cheek bones and lips. The only visible facial features are his eyes, a dull blue that seems to match the look of steel. Preferring gray and white colors, he dresses in a leather outfit with a design almost like a nobleman. Combat boots and leather gloves complete his transformation to a merc for hire. No one knows what he looks like outside of the clothes he wears and so long as Jaxon has a say about it, no one ever will.
---
Jaxon could be described as an agent of chaos, yet he carries natural coldness to his stare. He's antisocial, as one can imagine, and often finds himself stealing, murdering, and vandalizing rather than showing up at the next block party to tell stories and the like. The people he typically hangs out with are individuals looking for a merc or assassin for hire, to which Jaxon does not disappoint...for a fee of course. In the world of Crimthorne, Jaxon is actually considered to be one of the richest folks, yet no one has any idea what his identity is or where his money is stored. He doesn't lavish himself in the wealth he has collected, living a minimalist lifestyle. There's a dark offbeat humor that he carries in his husky tone whenever he speaks, which is not often. He's hardened at the senses and battle-tested, given how ruthless, violent, and merciless he is. No one knows much more than the exterior presents, as he doesn't converse about his past with anyone. Even his name carries a iota of shadow and intrigue to it, like a legend of the slums.
---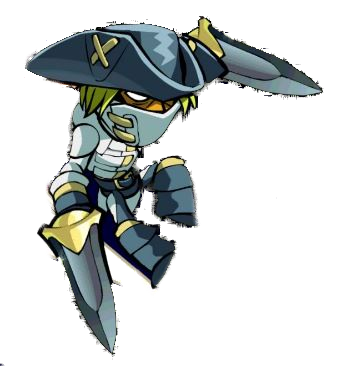 No criminal is complete without some gear and Jaxon is no exception. He might not be mana savvy or synth charged like many of the friends and foes he encounters, but he knows what to do and what he needs to do it. What he lacks in true defense he makes up for in speed, dexterity, and agility, crafting his combat style around his more favorable attributes. He often employs a hit-and-run tactic, given he's very quick on the entry and escape, but he's not afraid to go loud either. Equipment goes as follows:
x2 Assassin's Blades- A couple of knives crafted in strong steel. Smooth and fluid, these knives were designed to cut and cut quick. The steel is hardened with a sharp tip and smooth edges for quick and uninterrupted slices though material, human flesh included.
x2 Highwayman's Flintlocks- Dual-Wielded pistols with a modified fire rate. A relatively short range for a distance weapon with not a lot of dexterity in comparison with other guns, but it's the one of the more powerful weapon Jaxon owns.
x20 Skull Bombs- Almost cartoonish in nature, each bomb is carefully crafted to explode at the light of the string. The skull painted on the side is Jaxon's signature, letting enemies know who it was that killed them a split second before it happens. High velocity impact and an even stronger fire power, these things were made to take down buildings.
NOTE: Jaxon is considered to be a Mundane. However, rumor has it that he has the power of Shadow Magic at his side to increase his speed and stay stealthy. There is no evidence to prove this.
---
Background: Ask him about it and maybe you'll be lucky enough for him to tell you.