Name: Volund Kaah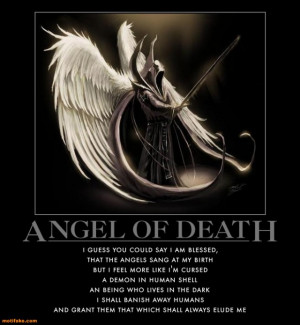 Age: 29
Gender: Male
Appearance: Fireproof Cloak, cowl covering most of his face, and a silk cloth tied around the bottom half. The only visible portion of his face are his blood red eyes. Tall figure, standing around 6'6", and quite muscular underneath his cloak. He uses either a spiked chain in battle, or a large scythe. His skin is as black as the shadows, his eyes red as blood, teeth as white as snow.
Mission: To let chaos consume the land, and end the wrath of the gods
Powers/Skills: Many refer to him as the Reaper, or the angel of death. He has the ability to travel through shadows, Float and travel on top of shadows, envelop rooms or people in pure darkness, as well as shapeshift into his 2nd form.
Weaknesses (as many as you have powers)
His powers are greatly weakened in direct sunlight, leaving him powerless
Extremely weak to fire, or magelight.
Can only maintain his secondary form if he consumes a soul from his soul stone.
His secondary form stresses relentlessly, leaving him in a bloodlust for at least a day after he resumes his human form
Soul stones require a great amount of magic to fill, and Volund is only able to use five in his lifetime, before he becomes the second form forever, doomed to wander the earth without a physical form.
Shadow Travel may only be done within eyeshot of another shadow, travelling across lands would tear his physical form apart and leave him nothing but a ghost.
Second form Appearance : His eyes will turn to blue flame, and four blue flaming wings will manifest, along with a near-impenetrable armor coating his body. His scythe blade will light up with a blue flame aswell.