---
---
Name:
Amadeo Sombre
Stage Name:
The Master of the Rings, The King of the Carnies, The Prince of Darkness
Age:
23
Gender:
Male
Role:
The Ringmaster
---
---
---
---
Eye Color:
Brown
Hair Color:
Black
Dressing Style:
Classic, Modern
Weight:
189 lbs
Height:
6'1"
~~~
Likes:
-Music
-His Carnies
-The Mystical
-The Unknown
-New Foods
-Wild Animals
Dislikes:
+Cops
+Prying People
+Loosing People
+Getting Close to anyone
+Revealing Secrets to Others
Habits:
~Smoking
~Drinking
~Pacing
~Twirling something between his fingers
~Humming
Crush:
(optional, but remember they have been in this same circus for centuries so expect bonds and falling outs and etcs.)
Personality:
Not much is known about the King of Carnies, Mr. Sombre is quite reclusive. He has been seen as a friendly father of the circus, keeping them safe, and always welcoming new ones, or strays. He is very punctual, always on about the time, wanting everything to go according to plan. He is a calm man, not known for anger, but more of distain if something goes amiss.
He has extreme paranoia, and takes extreme precautions to guard the secrets of the circus very well.
---
---
Skills:
*Talking
*Enchanting Crowds
*Causing Distractions
*Keeping Secrets well guarded.
*Speaks French
Family:
Amadeo has no family alive.
History:
The history of Amadeo is that of the Circus itself.
---
---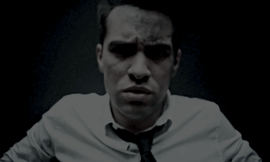 FACE CLAIM: Brendon Urie