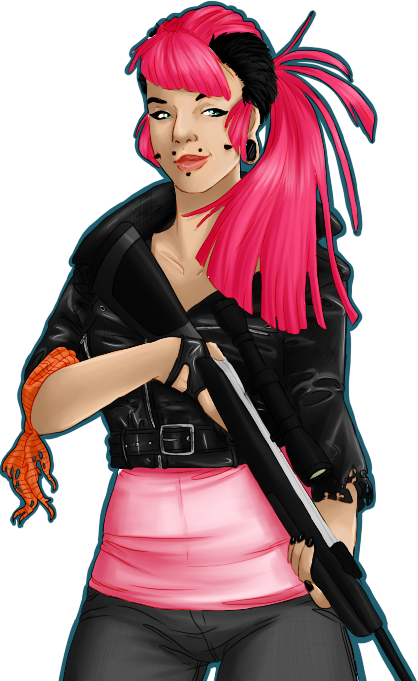 Name:
Jasmine Chaves
Nick Name:
Jazz/Jazzy, Acid
Age:
20
Height:
5'9"
Weight:
132 lbs
Sexual preference:
Bisexual
Gangs:
The Diamond Dogs
Powers:
Acid Generation-
Flowing through her body is a very acid blood that courses in every blood vessel she has. When she is cut the blood will seep out and cause harm to whatever it touches, organic and inorganic alike. Though it seems like a good defense mechanism, in large enough doses to her own skin it can cause significant wounds to her own flesh. Because of this she tries not to get injured very often, or injured very much at least.
Description:
Jasmine have a very tall yet fit body, use to running around and doing various activates. The color of his skin is a light tan, both from being out in the sun quite a bit as a child and Hispanic heritage from her mother's side. The first thing you'd notice about the young woman is her hair, cut into a even, pink dyed, horseman Mohawk; Including bangs and hair pink hair at the front of each ear. Her natural black hair shows in her eyebrows and the shaved parts of her head, giving her an odd distinct yet punkish look. Her face come equipped with a few piercings here and there, angel bits, labret, gauges in earch ear,and a piercing in each cheek. Jasmine's eyes are a medium blue shad, coming from her mother's Swedish side of the family, though it's the only thing that sets off her skin tone. Her lips are a beautiful red shade complementing her skin. The young woman's clothing usually consists of a leather short jacket, including belt around the waist, and a pink or grey shirt. The ends of her jacket are either torn or tattered. The left arm having an orange stripped bandana wrapped around it to keep it from tarring any more. Her pants are usually a deep grey skinny jeans with a pair of calf high black boots on her feet.
Personality:
Jasmine's appearance is always an indication that she isn't a sweet, innocent girl, she is very much the opposite of that. She enjoys getting what she wants no matter what it take to get it and loves to manipulate anyone into getting or giving her what she desires. This young woman doesn't enjoy taking shit from anyone, even if it's her own leader, she demands respect if she is made to give it.
Equipment:
Jasmine carries around A rifle, equipped with a scope, two hand guns in case of emergencies, a couple of long knives, canteen, matches, and a cat keychain she keeps in her back pocket.
History:
Jasmine was born into what seemed like a very normal life, normal parents, normal house, normal dog; nothing ever seemed off or different. Though the acid in her system wasn't as strong as it is now it was still coursing through her body as a young baby girl. As she grew up she was always careful to never get a cut or scratch, she didn't like getting hurt and when seeing the blood of other children always made her a bit woozy. As she grew into her teenage years she began to change herself, and her over all appearance. Her hair was the first thing to change, then soon her clothing choice and facial jewelry. Her parents were devastated on how their once precious little daughter was turning into such an unruly child, but being as it may it didn't stop her from doing as she please. The first time she found out about her acidic blood was the first time she'd gotten into a fist fight with another girl.
The girl she was fighting wore a large, jagged ring upon her finger and once it made contact with her face it cut a wound across her cheek. Jasmine wasn't effected but the other girl screamed in pain as her deadly blood ate away as the metal of the ring and the flesh of her finger. Everyone stared at her in that moment and she ran, home at first, but knowing what she was she didn't want to stay. She packed herself some belongings and headed out to wherever she saw fit. After the virus made it's way to North America and everything seem to fall and crumble around, Jasmine seemed to keep herself alive, even if she was all on her own. The young woman wondered around before finding a gang, she joined of course, to keep herself safe mostly but to have somewhere she would feel like it was some sort of a home.