---
---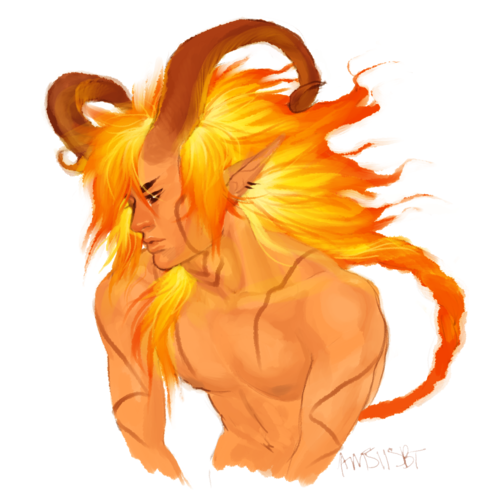 Courage is grace under pressure.
---
---
---
---
Description:
A Dragonkin is known for his thick-skin, a weathered and calloused warrior, astute and protected. That's what's to be expected. Yet, ultimately, Raza's just a pretty boy. He somehow doesn't come across as an intimidating, powerful presence until you step back and really think about the fact that he's a huge, in shape, dragon on fire. His demeanor, laid-back and lackadaisical, makes him no less than approachable. He's got a bit of a baby face and never really got rid of his chubby cheeks even as adolescence ran rampant on his originally lithe form. Through fight and sport, he's bulked up. Something people often comment on is the fact that his skin is always warm to the touch. It makes sense, considering he expels fire. When angry, it will become hot enough to burn. He has many tattoos, dark and prominent that extend his entire body. His hair looks like flame itself, extending into a long braid that swings from side to side as he walks.

Two prominent horns protrude from his forehead, swooping back in a glorious arch and two small, black wings sprout from his back. He hates both of the above and claims they prove to be more weakness than their glamour pays off with, but he takes it all with stride. Razor-like claws are at the end of his fingers. Many nights has he contemplated why he was seemingly built to destroy when he seeks nothing but peace. His body feels like no temple, but rather a war ground, barbed and burning. His elders claim that he denies a good portion of who he is, denies the lava that creeps in his blood every passing second and bottles up the true potential that he has to offer. Raza doesn't care for such thinking and would rather bury his head in a book or a game of idle ball.

The kid may be a spectacle, but he's still just a kid. He sort of ambles about when he walks, demeanor typically perky and bright yet very, very, very slow. It drives some people absolutely crazy how much he takes up his sweet time. He is languid in movement, and languid in speech. He's been told his face is exotic but he thinks it's kind of wonky looking. He has about average confidence, though his ego can fluctuate wildly depending on how much he's beating himself up that day. He has his egomaniacal moments, but his own self-control always manages to pin prick little wholes in that arrogant, cocky persona very quickly. Catch him on a spunky day, though, and you'll have to bargain with that taunting glint in his eyes.




Clothing Style:


Raza doesn't... wear... a lot. He covers up the basics but his chest is almost always exposed. Clothing isn't necessary for coverage or protection because his hard skin already provides that, so they are cumbersome and inconvenient. It's merely for the public approval that he keeps the nether regions conservative. He wears a dhoti (pictured here) which is essentially a long, male loin cloth. It is a thin white fabric that allows for a lot of breathing, gold accents trimming. On his good days they look pristine, like royalty. However, most of the time the ends are dirtied or scorched. He lives to live- not to look good. It's simply how things are. He washes them about once a week - more if necessary.



Height and Weight:


Raza is a solid 6 feet tall and weighs a hefty 174 pounds.
---
---
BASICS
A man is but the product of his thoughts. What he thinks, he becomes.
---
---
Name:
Razaha Sage Hakimi


Nicknames:

Raza is standard. Many call him "Hot Head" though he's not fond of it. When he's giving an alternative name, he goes by Red. He secretly thinks it's really bad ass but at the same time he'd be mortified if anyone close to him found out. It's one of those things.


Gender:

Male


Age:

A wee 17!


Race:

Dragonskin


Sexuality:

Sapiosexuality. When asked about his sexuality he will tend to be very elusive.


Love Interest:

Not at the moment, nope!
---
---
PERSONAL INFORMATION
Without feelings of respect, what is there to distinguish men from beasts?
---
---
Personality:

Raza is usually described as a warm and wise creature, slow-paced and easy-going. You'll typically catch him with a sloppy, playful grin painted across his jaw and a certain authenticity glimmering in his eyes. Whether acknowledged or not, half the allure of the young lad stems from the ambiguous underbelly to his outside composure - it's as if behind this level-headed creature is something completely foreign and new and exciting - something that, perhaps, you simply cannot understand. It's hard to manipulate the bugger (for better or for worse) for this reason; he does not depend on other people for his sense of worth, but rather his own self-sufficient internal fire. Of course, waggle some food or a good piece of fine-ass text in front of his face and he's all yours. One of his biggest insecurities is his allure to material things. He loves to collect little trinkets and treasures but feels as if it's morally wrong to surround yourself in decadence.

Despite his kindness, he has a way of making people feel small. This phenomenon is unintentional but inevitable; such is the cost of a prodigial power house. He has a tendency of babbling on about really fucking boring things (sometimes it can feel like he loves to hear the sound of his own voice) and can accidentally trivialize other people in attempt to soothe them. (ie: You tell him your dog died and he says some bogus garbage like, "Death is no more than passing from one room into the next.") All his life he's been this burning, celestial, ultra-successful super star, talented, sociable, but more than anything else, clever. Intelligence is apart of his bloodline, but Raza's unsatiable hunger for knowledge is unique. He is incredibly articulate and remarkably well-versed. He lacks in the creative department. If you give him something to draw with he'd likely just perform some experiments on its velocity or some crap like that.

It's easy to find solace in Raza. You wouldn't be the only one. Indeed, while the young Dragonskin is a sociable boy with many friends, he is so loved by everyone that he isn't loved by one person in particular. He often feels alone, if not due to his own fears. Behind his selflessness is a loneliness, and surely someone so calm must be distant from everything to achieve it. You can rile him up if you try hard enough, though! Under his elusive peace-keepin' nature, he can be a real suttborn brat. He believes firmly in honor and justice, and will get vehemently angry if you go about things in a malicious or unfair manner. Furthermore, he blushes like a red hot tomato if you bring up anything lewd. He's very, very, very easily embarrassed.

Ultimately, Raza just tries his damndest to be a good person. It's harder than you might think.
Likes:
☼ The great outdoors:

When encased in walls, Raza feels like a trapped bird. Though his wings do not give him flight, it's as if his blood remembers a time when he could. That said, he loves being outside. If the sun is beating down, even better. He can always whip up some kind of excuse for why he needs to be running around in the dirt and hustling up trees. If he ever goes missing, check for him in the branches with a book. He finds comfort in their height.




☼ Story telling:

Don't even get him started. He could spin fables and legend for hours if you give him the chance. He's a good orator too, with that rumbling slightly husky voice of his that seems to resonate in your chest like a purring kitten. His love for stories comes from his family. His grandfather used to sit him down and speak of worlds unknown - heroic conquests and mighty tragedies. It made his heart swell. Where the other children would fall asleep, he'd be starry-eyed and attentive. Because he admired it so in his grandpa, when the man passed, he decided to pick up where he left off. He's pretty good at it, but that's to be expected.




☼ Liquor:

He knows it's bad for him - he gets it; there's no need to tell him it's poison. Fact of the matter is, he has things inside him he needs to kill. There are little probing fire lusting demons begging for destruction and bloodshed and the alcohol nullifies them from a roar to a hum.




☼ Idle-time:

Some people need to keep busy. Raza is not that person. If he were given a whole day to do whatever he wanted, he'd probably nap in the sun and think about philosophical shit the whole damn day. It's impossible to bore him because his brain will compensate.




☼ Adventure:

This may as well be carved deep, deep into his bones. He's always been a hard kid to manage, a little spit-fire or so to speak. He'd sacrifice anything if it meant a good and noble story or a cause worthy. He's always exploring what he can, genuinely searching for something new and exciting that could stir up his life. His instructors say that's just what smart kids do to keep themselves from getting bored. Secretly, Raza thinks there's more to it. He's always felt like there's something out there calling to him- something greater than he or anyone he's ever met. Of course, that sounds rather arrogant, so he shoves it in his pocket.




☼ Treasure:

Little gems, trinkets, objects that glimmer. He grew up somewhat poor - stuck with his grandpa - which is his explanation for why he wants to bathe in a sea of his belongings. He ritually goes through the process of ridding himself of these desires. If his collection gets too big, he'll give them out to his friends and family and start over from scratch. He'd be lying if he didn't feel a pang in his heart when he gave them away, though.



Dislikes:
☁ The war:

This goes without saying. But, at the same time, it really doesn't. Raza could articulate exactly why it is wrong and needs to end for millenniums. Every principle and ideal Raza has is overwhelmingly against this nonstop hell their world has put themselves through. He's a big pacifist and abhors the stealing of life more than anything. At the same time, he can't pretend like there isn't something unspeakably exhilarating in combat (sparring, that is) It makes him uneasy to consider that if he fought in the war, he would probably be a valiant "success". Sometimes he'll awaken from nightmares where he reveled the battlefield, conquering life like it was some sick sport. There is one thing he knows for sure; there is no honor in war. Only tragedy.




☁ Lying/ Liars:

Either way, it is a sharp knife used only to destroy. He's an incredibly honest guy, albeit a bit vague sometimes. He can actually become a bit sour when he's lied to and if someone is known for their trickery, he's automatically somewhat cold with them. If he finds that he's placed his trust in you and you have deceived him, you'll never get another shot. Call it his pride speaking, but he feels there is something awful nestled in betrayal.




☁ Rain:

Icky yuck yuck gross no thank you. It ruins everything. He can't be out when it rains because it literally drains his energy and puts his hair out and causes his powers to become muted and the sun isn't around to help him out and it's grey grey grey grey murky grey UGH. He hates the rain. Don't tell anyone, but during thunderstorms, Raza gets scared like a big floppy dog. He'll pace around and whine and if it's especially bad he'll have to burrow himself in something secure like a blanket or a closet. Don't tease him about it.




☁ Greed:

Indulgence, gluttony, whichever way you'd like to word it. Becoming so self-obsessed that you take in more than what you need. Of course, Raza is guilty of this himself. Everyone is. He tries to minimize his greed as much as possible and frowns on those who make no effort.




☁ Fruits:

It feels like he's wasting his time when he eats them, honestly. They don't fill him up and he hasn't ever been a fan of anything sweet. This could be because growing up sweets were never a possibility, as he was too poor. When he moved in with the Rishads, they had fruit nearly every meal. It might have been a case of internalized jealousy, upset that his grandfather never had the opportunity to each such things. It's like his brain folded its hands over its chest and harumphed.




☁ Insomnia:

Simple enough. He has awful nightmares any time he can manage a scrap of sleep. It's been like this since Kumara died.



Fears:
◘ Himself:

Or, rather, the parts of himself he's trying to smother - the talons and horns, the searing hot violence he is expected to succumb to. It's funny when people commend him on his mind because he feels entirely ungrateful. His brain won't ever stop buzzing buzzing buzzing and while this has lead to many beautiful discoveries and creations, it has also slowly but surely ticked away at his health. He doesn't trust himself for a minute. Alas, this is where his dislikes stem from. One only hates what they fear in themselves.




◘ Isolation:

This is one he has not come to fully realize himself. Though it has not surfaced yet, deep down are all kinds of abandonment, commitment, and trust issues. He feels alone in this world because he was made to be alone in the beginning. Whenever he gets on this train of thought, he abandons it. It seems so ungrateful and petty to even think about. Alas, that just means it stays there, festering, unresolved. Ultimately, he seeks true companionship and true love but has subconsciously created barriers to keep this. Therefore, to die alone is the scariest end possible.




◘ Spiders:

Most people are frightened by spiders, but Raza has a straight up phobia. The courageous little lion boy will shriek and run away when crossed by one, suddenly turned into a wee bitty mouse.
History:

Raza grew up raised by an old man named Kumara. He is not related through blood, but rather by heart. Raza has no qualms about his missing parents because he received all the love any child could. Point of the matter is, Kumara (he called him grandpa when he was still around) took in what most would consider a bad investment and gave it life and culture and magic. Raza has always been a well-liked. There's just some sort of magnetism that draws people in. When Kumara became too old to continue chasing the child around, neighbors, friends, anyone nearby stepped in to help out. He was sort of like the community's golden child, bringing laughter and helping out wherever he went. Despite poverty and abandonment, the kid simply seemed to thrive, shining bright. Reality never seemed to scuff him up the way it did with everyone else, not a single bitter bone in his body. Kumara would read him stories in front of the fire and give him assignments for mastering control of his fire wielding. He was a man wiser than any other he's ever had the privilege to meet, and taught him the fundamentals of everything he knows. When Kumara passed away, he was twelve years old. He was absolutely devastated by the loss, but a new opportunity came about because of it.

He was actually taken in by nobility - so fond of him that they couldn't bear to imagine him without home or food. It wasn't really a matter of whether Raza would be taken in by someone, but rather who would take him in. When it came down to it, Semaria and Vulcan Rishad, incredibly wealthy and of royal lineage, were the best equipped. Truth be told, they never became mother or father figures, but he still loves them very much. He became a part of the family in a strange way, playing with the siblings and helping out around the house whenever needed. They provided him with all the things he could ever ask for - a huge library, great food, a lavish room to stay in. They even paid for his education, which he'd originally scraped together like a ravenous dog. He never felt like a burden, but, as had been the case of his entire life, in spite of all the love and warmth he received and gave, there was still a strange distance.

He spent the last five years studying fervently, dedicating most of his free time to filling his brain up. He hasn't had a girlfriend or any love interest at all for that matter. He hasn't obliged in most of the things kids do. Indeed, he seems impossibly old for his age. Of course, he's fawned upon. Of course, there are many people very interested in Raza. Of course there are friends everyone calling his name. But he feels tied down to this martyr-esque sense of duty. The older he's gotten, the more disturbed he's become by the war. When he was a child, it seemed like that's simply the way things have to be. He knows better now and he feels responsible for changing it because he knows full-well that he's capable of the change. Maybe that's arrogance, or maybe it's a kind of faith. Either way, he sat Semaria and Vulcan down and announced that he would go as a Dragonskin to stop the war, find the book.

The public was heartbroken but in that awe-inspired kind of way. They threw a huge party in his name, for the young tragic hero. He is their sacrificial lamb. He is ready to begin the greatest adventure of his life. He is prepared to die for his cause.