"Narcissistic relationships can be difficult... Arguing with your reflection is a most tedious task. But in the end, I know I'm worth fighting for. What's a werecat to do?"
---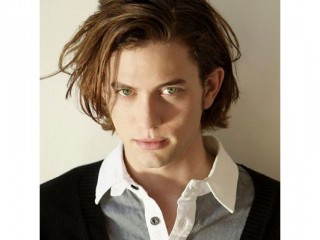 Full Name
Abel Orpheus Cheshire
Nicknames
The Cheshire Cat
Age
23
Likes
*Music
*Himself
*Praise/Admiration/Worship
*Tea
*Head games
*Cats
*Playing
*Climbing trees
*Frightening people
*His bowling hat
*Cigarettes
Dislikes
*Being condescended
*Dogs
*Small spaces
*Feeling ugly
*Dirt
*Coffee
*His scars
*Violence
Scare|Tattoos|Piercings
He has a lot of scars due to self-mutilation on both arms. He is very self conscious about this. He also has a naval piercing.
Love Interests|Crushes
Other then his reflection? None.
---
Personality
Abel might be described as selfish... He wouldn't say that. He'd just say he didn't like getting involved in petty dramas.
He only has two states of mind; Playful, cocky and deceptive, and the other not so fun one... Distant, low and quiet.
Of course, he's terrifically insane, but isn't everyone who ever was in Wonderland especially insane? He thought he was keeping a pretty good hold of his sanity considering. He's sometimes very polite, other times very rude; it all depends on what game he's playing.
He's very good with lies and he can be quite charming. Sometimes he just makes up stories for the hell of it, 'cause he gets bored. The only thing that's really ever certain about him is this: If he's grinning, you're about to become his plaything.
History
Abel has never been one to take sides. Even back in Wonderland (the place that never got exciting until Alice appeared), he'd never really wished to participate in politics. Sure, he certainly liked Alice a lot more then the Queen of Hearts (but who DIDN'T he like better then her) but still, Abel only ever had his own interests at heart.
Then there were those times when Abel had gotten so low in himself, the reason behind those scars... Times where disappearing seemed the only viable option. Sometimes, his own narcissism was his enemy. Sometimes, he despised himself for his own selfish ways, the way he toyed with people, the fact he had never even lifted a finger for anyone else ever, unless he was benefiting from it. Sometimes... He questioned the existence of his own soul.
He couldn't explain how he'd become that way. His childhood was as good as any; for a were-cat that is. Cats aren't known for their social qualities, are they? More so for their cunning and pride... And in that way, he was very much like a cat.
Now, everything has changed. The world has been divided and everybody's running around like it's the end of the world over some stone... Again, he wouldn't take sides. He didn't care. His romance was not affected, no. He'd never have the heart to love any other but himself.
He'd just sit back and watch everyone in their disharmony and take advantage of their weak mental states.
Other
Not at the moment.
---
DOG FASHION DISCO| MY SWEET INSANITY
Convulsing to your violent rhythm, twisting and turning en utero
I'm out of my body and swimming through you
A nightmarish dream like a maze
Dream like a maze, dream like a maze
From the rolling hills of suicide, everyone will run and hide
Screaming bloody murder with their heads on fire
There just may be a chance for me, my sweet insanity
If you would take me with you to on your trip to the moon
Disfigured faces in technicolor,
Like roses on the deathbed of your dying mother
As the seasons grow into the angriest people,
Sadistic and slightly deranged
Everyone has changed, slightly deranged
From the rolling hills of suicide, everyone will run and hide
Screaming bloody murder with their heads on fire
There just may be a chance for me, my sweet insanity
If you would take me with you on your trip to the moon
Oh your wicked smile, oh your evil ways
Won't convince me the sky isn't falling down
My sweet insanity, look what we've become... the envy of everyone
Inspired by your madness, like furious wind in a storm
Slowly growing cold I'm falling for you
From the rolling hills of suicide everyone will run and hide
Screaming bloody murder with their heads on fire
There just may be a chance for me, my sweet insanity
If you would take me with you on your trip to the moon