---
---
---
---
---
---
---
---
|| Full name ||
Violet Claire Davenport.

|| Nickname(s) ||
V || The first letter of her first name; used mainly by family members.
Pip || The name her father used to call her.
Blue || She calls herself Blue. It's based off of the colour of her contacts.

|| Age ||
Nineteen, both in appearance and in reality.
She will stop aging physically at age twenty.

|| Gender ||
Female.

|| Sexuality ||
Openly bisexual.

|| Role ||
Eldest daughter of the Davenport family.
Newfound head of the household.

|| Face Claim ||
Senjougahara Hitagi.
From the "Monogatari" series.


---
---
---
---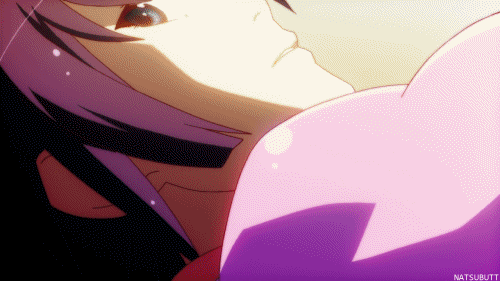 || Contact Colour ||
Her contacts are what appear to be a deep, ocean-blue colour. However, under certain lights, they resemble a dark shade of greyish-blue.

|| Hair Colour ||
Her hair is naturally purple, as weird as that may seem to most average humans. However, since teenagers seem all-for dying their hair all sorts of weird colours, her purple hair does not draw too much attention. She inherited this colour from her mother rather than her black-haired father.

|| Skin Tone ||
With the help of foundation, Violet appears to have a cream-coloured skin tone, though she is still light-skinned enough to be considered "pale". Behind the makeup, her skin is so white that it's almost ghost-like.

|| Height ||
5 ft, 4 in.

|| Weight ||
7 st, 10 lbs.

|| Tattoos/Piercings ||
Violet is unable to get Tattoos due to the fact that her skin heals over it unbelievably quickly. Piercings are fine, but Violet sees them as pointless and tacky; even though she can get one, she doesn't want to.

|| Physical Description ||
TBA.


---
---
---
---
|| Potential Interest ||
TBA

|| Likes ||
The Garden || Violet's bedroom, at the back of the house, has a perfect view of their garden. Though she cannot spend too much time under direct sunlight, she enjoys looking at it through the window or taking walks down the garden path which leads into the forest.
Riddles || Violet has a sort of rule which she likes to stick by: If a person is smart enough to either solve one of her riddles or come up with one that is impossible for her to solve, then that's a person worth taking an interest in.
Myths & Legends || She loves reading about mythical creatures and how they are portrayed from the eyes of average humans, especially when people write about their "encounter with a Vampire". It's amusing to her.

|| Dislikes ||
Heat || As a Vampire, it's only natural that she would shy away from incredibly high temperatures and direct sunlight.
Animals || Anything small, fuzzy and cute has and will never sit well with Violet. The same goes for insects as well; they're just too disgusting. She stays away from animals and bugs at all costs.
Liars || Violet absolutely despises anyone who would dare to tell her a lie. She will not lie to other people unless its necessary for the safety of their wellbeing, but even then she is slightly sceptical of it all. Whether or not she forgives you for lying is dependent on the severity of it and whether or not it was pointless or to protect someone. More often than not, telling a lie is unforgivable.

|| Habits ||
Fiddling || She fiddles with her fringe or the tips of the hair when she's flustered, and she can rarely pay attention to anything unless she has a pen or some random object to play with.
Scoffing || When Violet is annoyed or bored, she will either tut, suck her teeth or make a "Tch" sound to make it clear that she is not pleased.
Chewing || She's one of those annoying people who decide that they must chew on anything and everything out of pure boredom, whether it's chewing gum, a pen lid, a pencil or her finger nails; there's no end to it. It's because of this that the majority of her belongings have chunks nibbled out of them.

|| Skills ||
Knives || Though she prefers not to, she is known to be skilled in the use of throwing knives as well as wielding them in a fight; her arm when throwing is impeccable, and she will rarely miss (unless she has intentionally missed to scare or intimidate someone).
Photography || Violet has always taken a liking to photography and the idea that the most perfect moments should be captured on film or picture. Her mother bought her a camera when she was younger and it's one of her most treasured belongings. She hangs all of her photos on one bedroom wall (which has hundreds of them on it).
Mixed Martial Arts || With the help of her parents and (naturally) the internet, Violet has learnt varied techniques in mixed martial arts and her skills in fighting are extremely difficult to best in an all-out fight.

|| Flaws ||
Friends & Relationships || She finds it difficult to be able to build meaningful friendships with people for some reason or other; probably because she was never given the chance to become a sociable person. The only relationships she's ever formed are the loving bonds she feels towards her younger siblings. She can quite openly admit that she's never had a true friend in her life.
Scars || As a child, Violet was unaware of her inability to heal when injured by wood or silver, so she was careless with forks and knives as well as wooden furniture. One time, when she ran past the wooden table as a child, she scraped her hip off of the sharp corner and a small scar still remains. She has a few scars up and down her hands from when she would accidentally cut herself on a knife or get a splinter.
Fire || She read in one of her many books that if a Vampire is thrown into fire, they will die immediately from being "turned to ashes", so she has a deathly fear of any sized flame. It's one of the only ways to scare her, in fact.

|| Hobbies ||
Swimming || She doesn't necessarily need to breath, so she can spend hours at a time under water. She will often go swimming in the lake right next to one of the clearings in the forest behind her house. More often than not, she goes alone and does not like being disturbed.
Photography || This doubles as both a skill and a hobby; she loves to take photos of pretty much anything, whether it's her surroundings or even the people in her life. She's big on remembering things from her younger days, because she wants to be able to look back on them when she is centuries older and the world around her has changed so much.
Reading || Her love of books means she is always reading something or other; almost always focussing on myths and legends from all over the world. She can't get enough of learning about creatures that may possibly exist in the world, as well as finding out how the world views her own species.

|| Traits & personality ||
Sharp-tongued | Distant | Blunt | Challenging | Easily-amused | Psychotic | Irritable | Authoritative | Motherly.

TBA.


---
---
---
---
|| Shadow Manipulation ||



Explanation ||

Violet manipulates the shadows in a different way to most other vampires. Instead of wielding the shadows in their natural form, she can form beings from the shadows; she calls them "Clones". They take on the form of a child (presumably male), standing at around a meter high with glowing, circular eyes which stand out against their shadowy skin. Shadows cling to them like glue and almost make it look as if a light mist is constantly drifting from their bodies. Some would say that they don't look particularly frightening, only that they are sort of eerie and creepy.



Strengths || 1. They attack on command and are known to be loyal creatures.
2. They last for around 5 minutes at a time (at best).
3. They can manipulate the shadows rising off of their own bodies to fight.

Weaknesses || 1. They take a lot of energy to create; two is her limit.
2. They are easily defeated (due to lack of speed and reflexes).
3. They disappear as soon as natural light hits them.




|| Body Manipulation ||



Explanation ||

TBA.



Strengths || 1. She has the ability to remove and regenerate limbs, appendages or even vital organs.
2. She can summon a sort of dermal armour which makes her skin almost rock-solid; this can also be used as a weapon.
3. She can manipulate her own body temperature, varying from deathly cold to a scolding a heat.

Weaknesses || 1. She is limited to manipulating her own body and nobody else's.
2. Using this ability takes a lot of time and effort, and mistakes could result in intense pain.
3. Extreme emotions could trigger her abilities (especially in awkward situations).


---
---