Cordelia Bellamont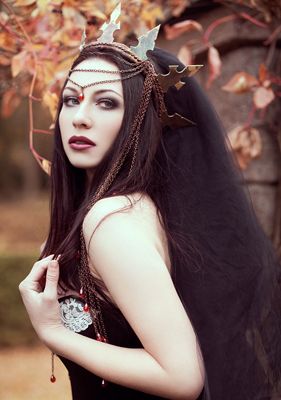 ღ Dᴇᴀᴛʜ ɪs ᴏɴʟʏ ᴛʜᴇ ʙᴇɢɪɴɴɪɴɢ ღ

Name: Cordelia Bellamont
Age: 136 Years Old
Race: Human/Dealer
Ethnicity: Caucasian/French
Orientation: Heterosexual
Relationship Status: Single
Role: Dealer
Faction: The Dealers and only the dealers
Abilities: Cordelia has a very unique gift. She is able to take raise the dead, as well as take form of dead people.
Best Feature: Her calm and peaceful disposition, even when angered.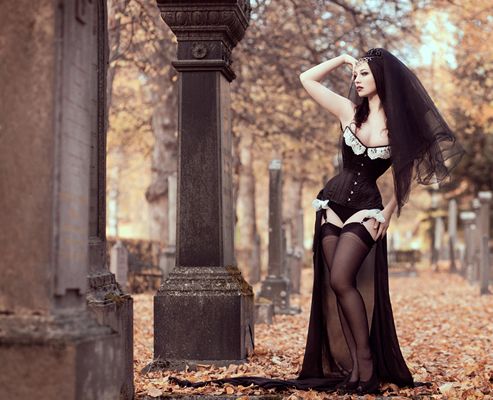 Aᴘᴘᴇᴀʀᴀɴᴄᴇ;

Cordelia Bellamont is has a thin and lean figure, reaching the height of about six feet with long arms and legs as well as a lean stomach and long, spindling fingers on the ends of her hands. Her face is quite angled with a distinguished jawline, and her eyes take the form of a dark gray that sometimes can be seen changing into a dull green. She often adorns her face with dark eye shadows and eyeliner, and often also puts different head dresses on her long and fairly straight dark chocolate brown hair that falls a little bit past her apparent collarbone.

She usually likes to wear dull colors and mix them with white, often black or grays are her preferred color of choice, as death is her forte and she enjoys making that her theme. Jewelry is also a passion, she enjoys buying and making bone carvings to wear and always will encourage herself to steal them from unknowing merchants. Gems have always fascinated her, and many times as she attempted to force zombies to swim down to the bottom of the black lake and bring her back handfuls of glorious jewels. But each time they have been found by other creatures, and so she enjoys scowering wonderland, including the dead, to find other treasures.

Now when Cordelia takes the form of a dead person, you really can't tell the difference. The only thing that might give it away are Cordelia's gray eyes, which remain the same no matter what form she takes. But if the person is dead and the body is still around, she can become them and look exactly as they were when they were alive. Cordelia finds herself in precarious situations when the other dealers want her to frame another or get information, and this power of hers takes a lot out of her.






Pᴇʀsᴏɴᴀʟɪᴛʏ;

Like the dead themselves, Cordelia is a very quiet individual. Since she often takes the form of the dead, she finds her behaviors are very much similar. She is tired very easily and often is laying down or sleeping, resting to build up the power so easily lost by a simple raising or a simple transformation. She is by no means timid though, and will speak her mind if she truly has to, but often just does what the others need her to do because she is just too tired to try and argue about it. She could be figured as a delicate dealer, but when she has to do something, she will do and she will give it her all.

She doesn't have much of a temper, and when she does, it only comes out after long periods of time letting it settle inside. She can also have a depression disposition when she knows she can get away with it, but like previous said, she is quiet calm and emotionless. She by no means has an arrogance level either; that is stifled by the fact that she has been beaten many times before, especially when the Red Queen threw all the dealers into the shadows, and so she knows that overcoming an enemy or achieving a goal takes skill, strategy; basically a lot of knowledge which she strives to have.

You never know how Cordelia will react to certain situations, especially since she is apparently numb by physical appearance on her face and her lifeless eyes show no hint of feeling. But she also has her moments when she bursts out with the bottles things she can feel, which can cause a stir in the air, but most of the time you won't even know she's there because of her quiet and thoughtful disposition.

(Still finishing.)

Lɪᴋᴇs;

ღ Graveyards
ღ Jewelry
ღ Dark Colors
ღ Cold Weather
ღ The Dealers


Dɪsʟɪᴋᴇs;

ღ Sunlight
ღ Becoming someone else
ღ Crowds of people
ღ Wonderland
ღ Moving


Hᴏʙʙɪᴇs;

ღ Taking strolls inside graveyards
ღ The Dark Arts
ღ Playing Chess
ღ Making Trinkets
ღ Sleeping


Hɪsᴛᴏʀʏ

Later.