"Masquerade… paper faces on display."
Name:
Lox Eon Masquerade
Age:
He's centuries of years old, but looks to be about 21-23.
Race:
Humanoid/Magician.
Ethnicity:
Caucasian.
Role:
Dealer.
Side:
The Dealers.
Best Feature:
His lovely and beautiful masks, you'll rarely see him without one, or without his face painted.
Abilities
He can brain wash people with his masks, turning them into his mindless puppets.
Appearance:
Lox, is tall, thin and muscular, and almost statuesque in his appearance. His features are pale, almost marble like skin, with absolutely no marks on it- not a scar, not a freckle- not a thing out of place while his eyes are a cool metal grey. His hair is raven black, and hangs to the middle of his back, with soft waves near the ends. He stands about 6'2-6'3. He has rather broad shoulders, and is well toned throughout his physic. His makeup changes constantly, sometimes consisting of pure black lines, flowing across his face in intricate designs, or colour for a special masquerade which he constantly attends. If he wears any make-up at all… if he's wearing a mask, he leaves his face clean, if not adding just enough black around his eyes to make them stand out more.
He wears fancy suits of all colours; mainly black however, seeing as black would go with any colour of mask he decides to wear that day. He enjoys the suits to have a slight floral pattern on them, giving them a lovely Victorian vibe. On top of that, he has a long black jacket he wears in which he hides spare masks.
He is also always armed, whether it is by him wearing metal tips on his fingers or carrying a blade at his side, the man rarely walks about without an extra mask to stick on someone, or a knife up his sleeve.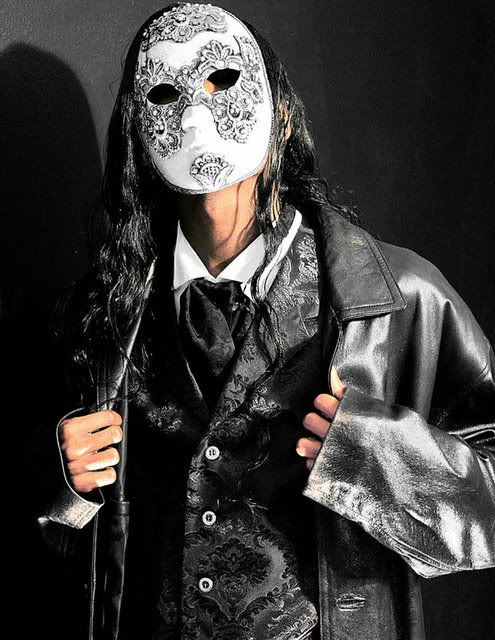 Personality:
Lox is a very friendly man, charismatic, and all too sure of himself. He adores attention, especially that of a pretty woman, though he's not specific to which gender he hits on. He's outgoing in the sense that he likes to impress, and it doesn't matter who. Don't let his friendly, charming exterior fool you though. Beneath his masks and soft smirks is a very cold, heartless man. He feels very little for people, where as he likes them, he does not care about them or what happens to them. He only cares about the Dealers, simple as that, anyone else is merely a pawn to him, and all he cares about is how to use them to aid himself, personally, or the Dealers as a whole. He can be random, and off topic, hard to keep focused, and easy to get along with. But on the opposite side he can be dark, quiet, focused, and angry. He however tries to keep his image up, though if pushed to his edge the soft, gentle voice and sweet friendly hue is gone as he explodes into a raging fiend who will stop at nothing to get his way.
He enjoys manipulating people, using their pleasures against them to allow him to warm up to them. After that is when he normally offers them a lovely mask and asks to see it on, if not forcing it on himself- though this is rare when he flashes a smile. The masks take hold of their will power, turning them into mindless dolls that can do nothing but his bidding. This charmed effect wears off after about 5 months of none stop wearing of the mask, and can be removed- though normally only by someone other than the wearer for at this point, the wearer's will is so weak they tend to forget they were anything other than this puppet, and he their puppeteer. So long as the mask is on, they shall carry out his will.
Likes:
~Parties
~Animals
~Masks
~Flirting
~Silks and fancy clothing
~Statues
~Ribbons
~Games
~Music
~Dancing
~Suffering and heartache
~People
Dislike:
~People (love hate relationship with everyone)
~Arguing
~Ugly outfits
~Gluttons
~Spades (He wants his territory back)
~Royals
~Rebellion
~Crazy/annoying people
~People with strong wills who resist him
Hobbies:
~Flirting with anything on two legs
~Trying to manipulate people and play head games with them
~Dancing at parties, especially masquerades
~Causing troubles by playing pranks
~Hurting people's feelings
~Plotting