"Hell is empty and all the monsters are here." - William Shakespeare
---
---
Introducing
---
---
Full Name:
Kyle Michael Andrews
Nickname:
Ky
Age:
Nineteen
Birth Date:
October 2nd
Home Town:
Boston, Massachusetts
Sexuality:
Heterosexual
Studying:
Pursuing a Bachelor of Arts degree
---
---
Being Demi-Gods
---
---
Godly Parent:
Demeter
Power:
As a child, Kyle quickly realized he was different. At the age of 8, he produced a Apple out of the garden at school to give to his teacher, whom he had a crush on then. Over the years his powers developed and he found her could manipulate the plants to produce fruit with extraordinary properties.
Strengths:
Gardening, Science, Writing.
Weaknesses and Flaws:
Kyle finds it hard to use his powers/concentrate in dry climates. He works better when there is a lot of humidity in the air. Alas it's not impossible to use his powers in dry climates, its just less quality. Kyle also finds the same struggles in the dark.
---
---
Sharing Our Desires
---
---
Likes:
plants || movies || girls || reading || writing
Dislikes:
demeter || crowds || parties || dance/house music || obnoxious people
Hobbies:
soccer || skateboarding
Fears:
being alone || being buried alive || burning alive || death || the dark ||
Secrets:
Kyle always hated his step-father. He hated Demeter for leaving him and he just couldn't accept a mother figure. When Kyle was 14 he produced a paralysis apple and gave it to his step-mother. She became paralyzed from the waist down permanently and occasionally Kyle will cry himself to sleep out of regret. He has never told anyone this.
---
---
In-Depth
---
---
Personality:
Kyle is a caring, sweet, compassionate guy. He is loyal and always puts his friends before himself. Sometimes it can be good, but sometimes it can be his downfall. He's clever and ambidextrous. Kyle is a pretty quiet guy. He keeps to himself and is often described as a "wallflower". He watches everyone and takes it in, not questioning things. He observes and is pretty smart at predicting outcomes in situations. Kyle is witty and clever although you wouldn't know that because most people think he is creepy and steer clear from him, which is probably a good thing. Kyle can grow attached to things very fast. Once when he was 11 he had a crush on this girl and he became obsessed and stalked her. Kyle means well, but sometimes he doesn't realize he's being creepy.
Kyle has dealt with depression and anxiety from an early age. He struggled with low self esteem and he struggled for a very long time accepting himself. Kyle started taking pills when he was 12 but he found they blocked his powers so instead he found a new hobby to distract himself from. Kyle is an overemotional guy. He tends to cry at a lot of things and he was diagnosed with bipolar disorder at 14. He can go from happy to angry to upset in a matter of moments. He tries to keep his emotions in check but it can be hard sometimes so he just stays away from others.
---
---
The Past Defines Us
---
---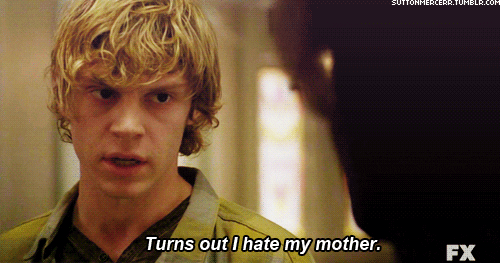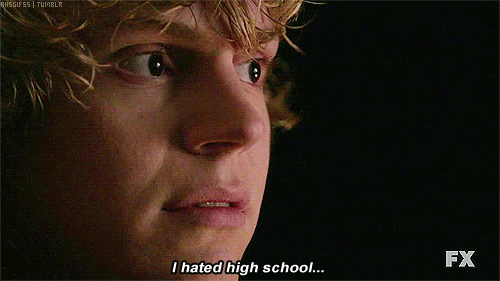 History:
Kyle was born in Boston, MA. Growing up, he lived on his father's farm in a small town. The town was very small so everyone knew each other and secrets never stayed buried. Kyle grew up hearing people talk trash about his family. They said Kyle's mother left them because his dad was abusive. Child services visited his family regularly through his childhood to make sure things were "okay". Kyle never attended pre school because his father never thought it was necessary and they weren't in the best financial state. Kyle was in awkward, introverted kid in class. He was always talking about video games and "geek" stuff. People looked the other way when he came walking down the hallways. Kyle soon felt isolated from the world and spent his recesses walking around with purpose, although he had none.
Kyle found calm in the Writing club. Kyle would go in during recess and write about tales of heroic knights and fire breathing dragons. His stories always came with a twist, which his teacher liked a lot. Kyle's teacher, Mrs. Honey, praised him for his talents at such a young age. It might sound weird, but Kyle considered her to be his first and only friend at the time. Kyle soon befriended Lily, a girl in his grade. She was one of toughest girls Kyle had ever met yet they shared a love of Reading/Writing which formed their bond. They would often spend days at the library or sleeping over at each other's house. Kyle considered her to be his closest friend.
In Middle School, Kyle was adopted into Lily's close knit group of friends. He soon found Aria, Lily's best friend, had a crush on him. He dated her for awhile but they broke up in 8th grade. When Kyle was in 9th grade, Lily started dating a jock from the nearest high school. Kyle found he was jealous and started having creepy tendencies. Lily began to be wary of Kyle but Kyle cared deeply for her so they never parted.
Kyle's love for Lily turned into an obsession and it became more than obvious to Lily that Kyle had a crush on her. Nonetheless, they stayed friends. Kyle noticed Lily was becoming quieter by the week and he pressed questions although she wouldn't answer. On the night of their Prom, Kyle skipped the dance and went to see Lily since he knew she was studying for a big house. Arriving at her house, Kyle went upstairs and found her laying in a pool of blood in her room. Her wrists were covered in slits and he knew very well she was dead. It was suicide and he fell into a even deeper depression than before. Kyle became moodier, quiet, hostile and not nice in general. People stayed away because he was weird, now they stayed away because he was frightening.
Kyle no longer desired to remain in his small town so he applied to the University and got in. He figured it was about time to hone his powers and study for what he'd always dreamt of becoming, a professional writer.
Other:
N/A
---
---