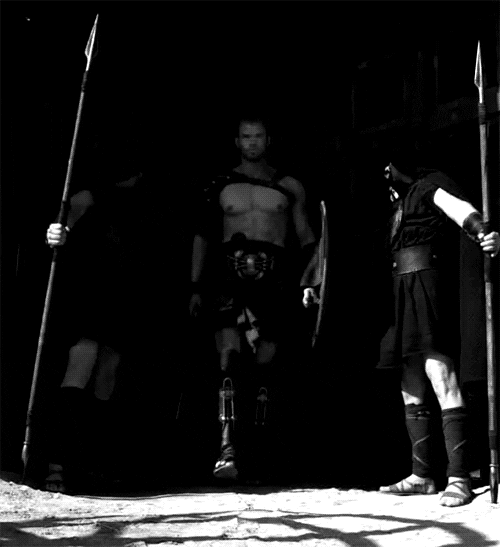 Only the dead have seen the end of the war. -George Santayana
---
---
Introducing
---
---
Full Name:
Alexander Rudd Miles
Nickname:
Lex
Age:
19
Birth Date:
November 28th
Home Town:
Astoria, Oregon, USA
Sexuality:
Heterosexual
Studying:
Astrology
---
---
Being Demi-Gods
---
---
Godly Parent:
Ares
Power:
While his physical stature alone might intimidate others, Lex obtains amazing combat skills, particularly hand-to-hand. Though quite fast, his biggest aid in battle is his brute strength. The hereditary ability of emotional manipulation didn't pass over Lex, though he doesn't practice the act often. He prefers to handle situations with his own emotions and act upon those accordingly. Although he does have the tendency to infuriate his opponents to the extent that they lose all form of self control, increasing their vulnerability tenfold. Another notable factor is that Lex has an incredible amount of willpower. It would take someone with great ability to affect his mindset.
Along with his innate ability to trigger the emotions of his opponents, he can actually increase the adrenaline of his allies to the extent that they are able to push through physical barriers that would have previously slowed them down. For instance, if a friend's leg was badly damaged, their adrenaline could be brought out so much so that they would be able to run at full speed, despite their injury.
Strengths:
~Any form of hand-to-hand combat
~Strategic sports
~Climbing
~The emotions of others
~Courageous
~Disarming opponents
Weaknesses and Flaws:
~Opponents with superior willpower
~Stubborn
~Unforgiving
~Bad memory
~Long ranged combat
~Cigarettes
---
---
Sharing Our Desires
---
---
Likes:
~Horror films
~90s anything
~Fighting
~Spoiler alerts
~Reading & Writing
~Coffee
~Solitude
Dislikes:
~Overconfidence
~Loud people
~Math
~Large groups
~Most people
~Chocolate
Hobbies:
~Fighting
~Reading
~Exercising
Fears:
~Bodies of water where it is too deep to see the bottom
~His mother dying
Secrets:
His mother doesn't know he smokes.
Other than that, everything is a secret about Lex to those who don't know him.
---
---
In-Depth
---
---
Personality:
Lex is a peculiar character, as he's an emotionally unstable young man, while he can find peace in the heat of battle. He is quick to anger, though he has learned to control his actions very well. He actually has a great sense of humor, he just doesn't express it very often, nor does he always laugh at things he finds funny. He's relatively quiet, especially around people he doesn't know very well, (which is a large amount of people considering he doesn't trust many). Not trusting people has its pros and plenty of its cons, one of which being not having many friends. This, though doesn't bother Lex as he finds people just a distraction from what really matters: training.
Lex loves to fight; he doesn't enjoy hurting people, but just the sport of combat. Any time he is able to prove his skill in battle, he does so prominently. Lex doesn't strive to be the best; he only pushes himself to be better than he was before. Although he loves being active and exercising to keep his body at its peak, he also enjoys keeping his mind in good health as well. He can often be found reading, and sometimes writing in a journal that he keeps.
Since a young age, Lex has shown many signs that'd he'd later have problems with authority in life. Through puberty, this has proven to be correct, though he has definitely toned down the disregard for authority. He feels as if he shouldn't have to respect those who haven't earned it, no matter what their title is, be it a policeman, an elder, or even a god. He doesn't practice much worship for the gods, believing that if he can achieve his goals without the aid of his family, he can accomplish anything.
Though he is attracted to girls, it is hard for him to establish an intimate relationship with one, on account of his reluctance of trusting people. This has led to quite a number of one-night-stands. He does, however, have many strong morals, one of which is to never harm someone who he believes to be weaker than him until that attempt to harm him. This has actually gotten him into many fights as he is quick to stand up for those who cannot defend themselves. He does not do this to gain popularity or to appear tough, he does it because he believes in equality and that it is wrong for people to hurt without given a fair chance.
---
---
The Past Defines Us
---
---
History:
Lex had grown up in a rather dysfunctional family, never having a chance to spend time with his mother, as she was deployed in Iraq for the majority of the time in his later teens. Being a First Lieutenant in the Marines, Lorene Serenity Miles attracted the attention of Ares, the God of War rather quickly. They met, fell in love just long enough for Lex to be produced, and then Ares left, never to be seen again. A strong woman Lorene proved to be, as she raised her son alone for the first part of his life.
Though throughout childhood, Lex showed signs of anger and violence, it wasn't until he entered his teens where his emotions really began to kick in. This got him into a lot of trouble. He didn't really get along well with many of his peers, so it was no surprise that he got into more than his fare share of fights. Though always in trouble, his mother wasn't there to discipline him, his uncle was. Although his uncle wasn't really a figure of authority as he kept to himself a lot and never really bothered with Lex's school life, or his personal one for that matter.
It wasn't until Lex had entered his eighth grade year in school that he would take notice to some of the supernatural ability he obtained. As it were, he would discover his powers during a school fight. It was during lunch when a kid, whom Lex didn't particularly like, came over and sat next to him during lunch. He would continue to intentionally pester Lex to try and get a rise out of him. Despite Lex's size, his quietness and respect of authority gave many bullies a reason to pick on him. So this kid, Brandon, eventually got under Lex's skin, resulting in a fight. Lex turned to Brandon, furious and ready to attack when something inside him gave him a reason to stop. Within the moment of hesitation, Lex felt a large portion of his anger release. He was calming down at a rapid pace, allowing him to think more logically. What was happening though, was his emotion was actually transferring into Brandon, which led to Brandon becoming so angry that he lost all sense of self control and "blacked out", attacking Lex. With a clearer head, Lex was easily able to beat Brandon down before the school staff stepped in to break it up. This, however, would lead to more fights rather than less.
His expulsion from school finally caught the attention of his uncle. He phoned Lorene, telling her what happened, and as soon as she had the opportunity, she took a trip back down to Oregon. She demanded an explanation from Lex and after he gave it to her, she realized what the cause was. She had no choice but to admit to her son who his father was. She told him how they had gotten together and why they had never met. Lex was unable to believe this at first, but eventually it all began to make sense to him. It would explain why and how he was able to seemingly take control over other's emotions when in combat. After realizing what he truly was, a demigod, his mother decided that it was time for him to go to Demigod Academy, where he would be educated on the roots of his abilities and family, and more importantly, where he would be with others like himself.
He presently lives full time at the Academy.
---
---
Theme Song:
Love-Hate-Sex-Pain
||Godsmack
In this life I'm me,
Just sitting here alone
By the way I tried to say I'd be there
For you
Walk the silent emptiness
That leads me by my hands
And throw away
What I don't understand, as a man

Love-Hate-Sex-Pain
It's complicating me sometimes
This love-Hate-Sex-Pain
it's underestimated lies

And I wonder as I tear away my skin
It's taken me so long to stitch
These wounds from where I've been
And mother please don't bury me
I'm begging for my life
It's hard to say that I will be complete
Before I die

Love-Hate-Sex-Pain
It's complicating me sometimes
This love-Hate-Sex-Pain
it's underestimated lies

Don't you worry please
Don't you leave me
Because I surely slip away
Though love, hate, sex, and pain
I fall away into
Love, hate sex, and pain

Love-Hate-Sex-Pain
It's complicating me sometimes
This love-Hate-Sex-Pain
it's underestimated lies

Love-Hate-Sex-Pain
It's complicating me sometimes
This love-Hate-Sex-Pain
it's underestimated lies