Character Name: Dorothy Blue
Other names: Doll (only Siem calls her that), Blue, Ribbon Girl.
Age: 9 and a half.
Character Song: Men of Snow, Ingrid Michaelson -
https://www.youtube.com/watch?v=2K_XIsAutg4
FC: Matou Sakura, Fate Zero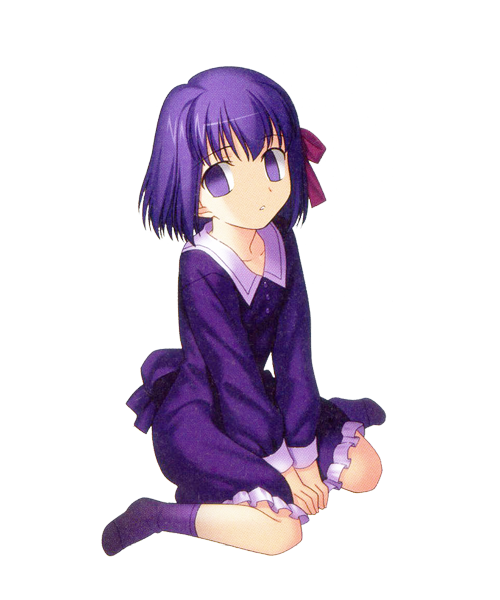 Appearance
A small, pale child with violet hair and eyes. She appears sorrowful and like her mind is elsewhere, even when she smiles. She always has her eyes cast to the ground and has little to no presence. Her eyes are described as dead and vacant by others. She dresses in purple, white and red and always wears modest skirts and dresses. Beneath her dress, below her collarbone, there is a red gem implanted in her skin. That is where her Demonic Weapon is hidden.
Personality
Dorothy is a gloomy girl cursed to sense the emotions of the people around her. Because of this, she is sympathetic towards all humans who feel pain and can find herself feeling sorry for even the most awful of people instead of resenting them. She is kind to a fault and does her best to surround herself with positive emotions when she is forced to be around people, though she prefers to board herself up inside. She is never alone because of Siem. She cannot sense how Siem is feeling and they are very separate entities despite living in the same body. In truth, she doesn't want to be alone, but she can't touch people in case she is given their most tragic memory and being around people confuses her because she can't control her emotion sense. She depends on Siem's company too much, despite knowing he is an "evil thing".
Dorothy is incredibly intelligent due to Siem being far, far older and knowledgeable than her. He gives her his knowledge and forces her to read books constantly. She also is affected by Siem's arrogance and is growing increasingly cocky in battle and life in general. She almost picked a fight with some scumbag the other day before her senses kicked in. She won't take orders or advice from anyone when she is in this state. She doesn't want to be one with Siem, the same way he doesn't want to be one with her, except she doesn't want him to leave her, either. He would leave her if he got the chance without looking back.
Her greatest dream is to find someplace where everyone feels happy and protected. She also secretly yearns for the approval of Siem who, despite being evil, is the closest thing she has to family. A few friends who can care for her like Siem doesn't wouldn't be too bad either.
Likes
Having stories read to her, especially when the storyteller puts in effort.
Hugs. She may be afraid to hug others, let alone have any physical contact with them, but she gives herself one when she deserves it and pretends it's from Siem.
Places that feel happy.
Dislikes
Loneliness in a crowded place.
Growing up.
Learning.
Talents
Reading - She reads the most complex and longest of books in only a few to several days. She has borrowed most of the contents of the local library and is a regular there. This is Siem's doing, as he is the one that enjoys reading and learning. To Dorothy, reading is homework. Homework that never ends.
Chess and other games that require strategy: She wins against the oldest and most skilled of players... probably because she has an older and more skilled demon within her playing the game through her hands. She usually doesn't enjoy playing, but she does find the last few moves where the stakes are higher exciting.
Playing the piano: She refuses to let Siem play for her. Instead, he appears on the seat beside her and gives her piano lessons. She has as much skill as an 9 yr old when it comes to playing the piano and she likes it that way.
Demonic Weapon
It's a shield that covers her entire body. It takes the form of red and black ribbons. It's hidden within the "gem" implanted in her chest and is activated by thought or emergency activated by Siem when something goes to touch her with malicious intent. The suit seems to do everything for her, even when she's not fighting.
-
Protect
- Completely wrap her up and shield her from harm.
-
Project
- Ribbons will be projected from her shield at an enemy. They can work as a grapple hook and drag her to places, or they can pierce through an enemy.
-
Follow the Leader
- Her ribbons will relentlessly chase the enemy like a bomb locked onto a target. It isn't good to chase them too far, or she'll get tangled.
-
Battle Bot (?)
- The suit sort of upgrades itself to become larger, to make a large monster-like robot creature. She can control the weapon from within by thought. If this form is sustained for too long, she can pass out.
-
Toto
- the ribbons can unravel from her and take the form of a small dog. Not sure about the use in this, but Dorothy finds it cute.
Magic abilities
Active
Pandora's Box: When all of her uneasiness and dark thoughts congregate inside of her, it can take a physical form and corrupts anything surrounding her, the size of which depending on how awful it is. This is the "ultimate attack" used when everything looks and feels like it's hopeless. Being hopeless gives her this ability. While she may look alive after this (eyes looking less dead and looking more healthy in general)... this isn't really useful. At all. If you want destruction and corrupted people left in her wake, then yay? She can get rid of hopelessness by passing it onto someone else and consequently driving them mad or just making them really depressed (depends on how that person deals with being hopeless), but she can't bring herself to do that so instead she lets it build up until it explodes. EDIT // Actually, then again, perhaps this power is useful. Demons have feelings too and she can take their hope away.
Know Your Enemy: By touching a person or an item belonging to a person with a fair amount of their DNA covering it, Dorothy can glimpse at the inner workings of a person. At first, she usually sees their most traumatic and/or sorrowful memory but if she grows closer to the person, she may be allowed further access into their mind. This is a power she has some control over, but not always. This power has the fault of giving her sympathy for the enemy, which is why her weapon is the body shield.
Death Stare: For this she has to be focusing on one target, stay very still and not blink. With this "attack", she paralyzes her opponent in fear. Your eyes are said to be gateways to the soul, and in her case, the gateway to Siem. When she uses this ability, it's not only her gaze paralyzing her opponent, it's her Demon Spirit. This allows her to get the enemy with her project attack. She cannot allow herself to be distracted at all during this.
Passive
Enhanced senses: Typical stuff that every Demon Hunter has. Strong sense of smell, hearing, sight, etc.
Emotion Reading: Gets a read on the emotional state of a person by sensing their aura. This happens whether she wants it or not. She doesn't like going outside where it's crowded because of all the emotions and also the chance of touching somebody skin-against-skin and getting a glimpse at the darkest region of their mind. Also, she cannot get emotional readings on demons or those possessed by demons.
Demon sense: Not very strong compared to others. She relies on her emotional readings to detect demons.
Demonic Soul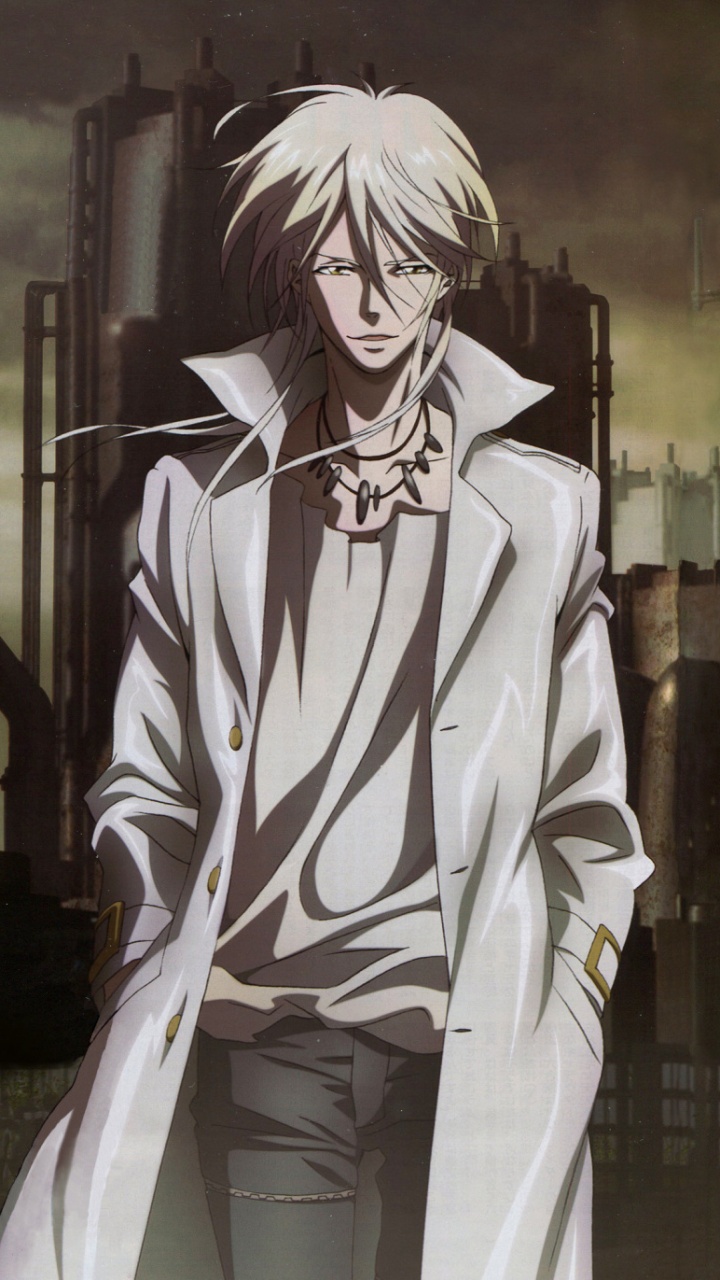 Name
Siem (pronounced like the "sim" in "simon")
Character Description
Siem is very intelligent and at the moment, very humiliated due to being outsmarted, defeated and crammed behind the ribcage of a screaming baby. Despite being forced to do the work of good, Siem can't deny that he grows ecstatic at the prospect of a fight - whether he and Dorothy are fighting a human or demon. Being much older than Dorothy, he has raised her from the inside out. He wants to leave her body through whatever means possible and seemingly does not care when she is hurt in battle, only complaining that her moves are slow and teaching her what to do next time.
Siem is manipulative and gets what he wants and sulks when he doesn't. He often is whispering into Dorothy's ear and telling her what to say to get out of situations. Dorothy is vaguely aware that she shouldn't trust him but often gets tricked when he toys with her emotionally. He may be a totally evil arse, but his lying tongue comes in use. He's also very self-righteous, which influences Dorothy's character a lot and causes her to grow arrogant.
He doesn't show himself to others often, usually only to Dorothy in their own home. He also enjoys reading and extending his vocabulary and forces Dorothy to read constantly so he can read and learn through her eyes.
Despite calling Dorothy an "empty doll" and seemingly using her only as a tool, deep down, he holds some care for her. Probably.
History
Dorothy was donated to Vanguard by a teenage mum. Pretty standard. She doesn't know whether her mum is alive or not and is curious about finding her, like any child would be.
She spent her life being taught how to be a Demon Hunter while having some older guy bored out of his wits stuck in her head. Siem was the one who taught Dorothy her first words. Believe me, it was a surprise to everyone when she came out with, "Kill yourself!" Not only that, she first spoke at 13 months, though children usually begin talking at 18-24. After Siem had his laugh, he began to give the doctors more threatening messages through Dorothy's mouth, such as "I won't forget this" and "I'm getting out" and of course "As long as I live, everyone you love is not safe". Siem also realised he could control some of young Dorothy's actions and taught her how to walk. He could play other games with her, such as "Hit him. *smack* ... Hit him again." and "Grab the pen... grab it... front pocket... good, good... now raise it higher... and put it in his eye."
Toddler Dorothy was obviously dangerous and very easily controlled by her Demonic Soul, but eventually she learnt to stop doing what the voice in her head told her too after being punished countless times for it. Siem descended into boredom yet again.
Dorothy's power to see into someone's darkest memory did not develop until she was six. She hugged one of her trainers because she could sense they felt mournful and suddenly she was filled with the horrific memory of holding someone dear to her as blood poured from a gaping wound in their chest... this made poor Dorothy scream, run and hide under her bed. She had to be dragged back out, trembling and confused. Siem was excited by this new power and tried to coax Dorothy into touching others. The trainers wanted her to try touching people so that they could observe her power. She was made to by some more ambitious trainers despite obviously not wanting to. Sorrowful, violent and horrific images corrupted her young mind. Siem relished them. Dorothy learned why people hate.
Just as Dorothy discovered her hatred towards Demons and her pity for humankind, her powers grew stronger to the point she could not control them at all. Being stuck in a place crowded with so many mixed emotions and people hiding sadness was not good for her overly-sensitive emotion sensing ability. The effect on her growing brain made her feel constantly stressed and overwhelmed. The trainers trying to calm her and help her get over her panic but after the constant begging to be alone and extreme reaction to touching, they decided that the crowds and constant probing was not good for her.
She was sent to live with a nice elderly couple that supported Vanguard in a nice, family-friendly suburb. Dorothy discovered that no matter where you are, humans will always hold negative emotions behind their smiles. The move helped. But it would never cure her. Her disease was the power that the Demon Soul gave her.
Now Osborn is dead and Robin is soon to follow her late husband to the grave. Siem has been posing as her much older brother for the entire time they've lived with the Burrells. Dorothy began her life as a Demon Hunter only a year ago. Yeah, when she was eight. By some miracle, her training and intelligence (Siem) has kept her alive. She may be talented enough to fight but is still one of the very youngest and most inexperienced on the field.
And that's pretty much it. Very irresponsible for the Vanguard to leave a dangerous little girl living with a very old lady and an evil demon while other evil demons try to kill her but... well, Zero's got his own place already. They obviously don't care that much, right? Maybe she fell off the radar somehow.
AND THE REST
Equipment: Holy water, a well balanced lunch (courtesy of Siem not allowing her sugar), hand sanitizer, lip balm, torch, sunglasses, an overdue library book and a jigsaw piece she thought she lost.