---
▬▬▬▬▬▬▬▬▬▬▬▬▬▬▬▬▬▬▬▬▬▬▬▬▬▬▬▬▬▬▬▬▬▬▬▬▬▬▬▬▬▬▬▬▬▬▬▬▬▬▬▬▬▬▬▬▬▬▬▬▬▬▬▬▬▬▬▬▬▬▬▬

---
░
░
░
░
░
░
░
░
░
░
░
░
░
░
░
░
░
░
░
░
░
░
░
░
░
░
░
░
░
░
░
░
│
│
│
│
│
│
│
│
│
│
│
│
│
│
│
│
│
│
│
│
│
│
│
│
│
│
│
│
│
│
│
│
│
│
│
│
│
│
│
│
│
│
│
│
│
│
│
│
│
│
│
│
T I A N N A . G W Y N N






✿ "Teamwork, what's that?" ✿



|| Tiannas Playlist || On Spotify ||

✦ Name: Tianna Sylvia Gwynn
✦ Daughter of Megan Gwynn "Pixie"
✦ Nicknames: The Queen, Her Majesty (behind her back)
✦ Superhero name: "The Titania" meaning the fairy queen.
✦ Age: 21
✦ Gender: Female
✦ Sexuality: Asexual
✦ Ethnicity: Brittish/Welsh (her mother)
and Russian + a tiny bit Polish (her father).
✦ Species: Hybrid mutant / fairy
✦ DOB: 18 September (virgo)
✦ Height: 5'6
✦ Weigh: 85 lbs
✦ Hair: Normally dark Blonde, pink when using her powers
✦ Eyes: Normally hazel, black when using her powers
✦ Hex code: #cc78a3
---
▬▬▬▬▬▬▬▬▬▬▬▬▬▬▬▬▬▬▬▬▬▬▬▬▬▬▬▬▬▬▬▬▬▬▬▬▬▬▬▬▬▬▬▬▬▬▬▬▬▬▬▬▬▬▬▬▬▬▬▬▬▬▬▬▬▬▬▬▬▬▬▬
---
---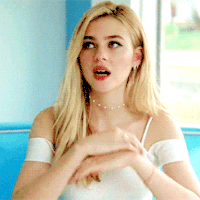 X
X
✦ A P P E A R A N C E ✦
When seeing Tianna for the first time, the first impression is often how much she resembles a fairy. It's just her whole aura and the way she walks and behaves- like she is some kind of "fairy goddess". Probably thinking about herself as having greater value and standing above everybody else. Her look is very "angelic" but also elegant. Her face features are close to perfection, but also gives the impression of being cold and mean: pointy noise, long elegant neck, full lips, a youthful "ageless" face.

Most of the time, her hair is a dark kind of "cold/silver" blonde. But whenever using her powers, it turns into a pastel pink shade. Tianna is not particulary happy about this.


"Pink? Are you kidding me? I hate pink!..."



Her height is slighly above average and she got that classy, skinny and slender (but still curvy) siluette - like some elegant goddess. Being part fairy, she is extremely light in weight. If ever carrying her, she would feel like "air". Despite this, she is not bony at all. Having a skin smooth as velvet and a soft femenine body. A look most would kill for. Now you are probably thinking about how popular she would be with the boys- but you're wrong. They tend to avoid her like the black death. Tianna's just got that face expressions and aura telling people to stay away. Cold and emotionless, sharp/intensive eyes and a stone face. The lack off smile on her lips is also adding to the deterrent effect.

Her sense of fashion would best be described as "strict but bold". She loves tight clothes with sharp shapes and is not shy to show some skin. Black/white or very dark muted colors, but you will never see her wear pink or bright colors! I can promise you that. The pink hair is more than enough for her xp Some "unique" things typical for her style would be glitter and silver. Tianna loves sparkly things and silver is just her color. She is also very fond of leather. She hates pants, instead she is always wears leggings! It's just the most comfy thing ever- but far mor stylish than jogging pants... Over her leggings she sometimes puts a pair of tight shorts. Soo: leather, glitter, silver, leggings and shorts -there you have Tianna!

✦P I E R C I N G S / T A T T O O S✦
Ear cuffs - Tianna often wears ear cuffs on her ears. Something that makes them look even more fairy-like. Always silver ones, but the motive seems to change from time to time. Wings, flowers or leaves are the most common ones.

Fairy wings tattoed on her back - Tiannas real fairy wings is something she can "hide" completely and she only uses them if really necessary. But on her shoulder blades, where they "pop up" if needed, she has fairy wings tattoed on her skin.

Belly button piercing - She has a belly button piercing. Same here, always silver but the motives changes.
---
---
✦P E R S O N A L I T Y✦
"Do i look like a fucking people person?"

Despite being all "fairy like" i would say Tiannas personality is more like a porcupine. Get too close and you will get stung. She is simply not a people person, and don't see the meaning in socializing with others. Sure she can flutter her eyelashes and put on a fake smile. Even "honor" someone with a word or two. But most of the time she will just act arrogant, selfish, unhelpful and ignorant. Ask for her help, and she will just check out her nails and ignore you. If you are lucky, she will even give you one arrogant cold glance followed by a rude answer."talking to me?" not that she is playing dumb: she simply gives you another chance to change your question, or even better - turn around and run away.

She is just not a very... happy... person. Tianna hates her mutan/fairy powers, thinking she has been "cursed". Because of this, she simply refuses to use them. And when NOT using her powers (being all human), she is ridiculously proud. Walks with straight posture and serious expression. But whenever happen to use her powers, she is just so uncommitted, half-hearted and just doesn't care. Most of the time messing up big time (she can't control her powers 100%) and just shaking her shoulders with an innocent

"OOohhppss"

.

If you ask Tianna, she would probably say that she is nothing like her mother Pixie. Megan Gwynn being childish and just so lively (loves to dance). Tianna on the other hand, is probably the "grown-up" in the family - questioning every action and being dead serious and calm as a corpse. Later on, some of pixies immature genes has begun to show in Tiannas personality - to her chagrin. Mostly her "grumpy" side. But admiting she's becoming a bit like her mother is something she would never do. Her mother is just so annoying and is on a lower level than Tianna.

"Would you just grow up for once! You are my mother- not the other way around! Geeh, mom, you've sunken sooo low"

.. seriously, just thinking about Pixie makes Tianna roll her eyes and sight.

Despite growing up with Pixie (little miss sunshine) Tianna is a total stranger when it comes to laughing, smiling and understanding jokes. She don't see the meaning in jokes. They just makes her uncomfortable. Sarcasm and irony is also quite strange in her eyes, i mean why? Still people often think she is using them both- when she is truly dead serious about what she's saying. If there is one thing she can't stand- it is jackasses and clowns. Just people fooling around gives her headache.

It is quite hard getting her "approval" and get close to her. Becoming her friend is quite an audition to be honest. She do put the candidates through tests and really asks herself if a relationship would be beneficial for her. Being alone for too long really does make her consider the "dark side" and becoming evil. But at the same time. Everybody needs friends, right? People are stronger together. And sure, she do find the thought of "someone actually liking her" really wonderful. Not that she would dare to hope for it.

If you are asking wherer or not Tianna is good or evil. I would say she's indifferent. She just could not care less. She hates the people, not their "side". She's suppose to follow her mothers footsteps, becoming an x-men and be good blaah blaah blaah. Using her powers to do good. I guess she is training to be of some use for "fighting for a good cause". But she's just so annoyed with everything! Plus, they can handle themself... Why should she help? And it's not like her powers would be an asset or something...

"With great power comes great responsibility" Tiannas powers are not very great (how she sees them). So then she is thinking how she doesn't have any responsibilities!

"this doesn't apply to me..how lovely then..."



✦L I K E S✦
☼ Plants and trees ☼ sleeping ☼ being alone ☼ taking a shower/bath ☼ honesty ☼ stars ☼ smell of vanilla ☼ sunrises ☼ early mornings ☼ vanilla buns "you got some on your face..." ☼ glitter ☼ the ocean ☼ fairy tales ☼ herself ☼

✦D I S L I K E S✦
ϟ Jackasses and "clowns" ϟ jokes ϟ teamwork ϟ helping others ϟ smell of smoke ϟ fire ϟ

✦Q U I R K S / H A B I T S✦
◘ checking her nails ◘ raising her chin ◘ pull her pink hair (cuz she hates it) ◘ complaining ◘ question everything ◘ using a very old fashioned language ◘ take people for granted ◘ insulting people, all the time! don't take offense. feel honored. she mainly does it to the ones she "likes" ◘
---
--- ✦ H I S T O R Y ✦

The history of Tianna is not very interesting or dramatic. There is no deaths of relatives or feuds/grudges against other superhero/villain families.

Tiannas father was a psychologist, an ordinary human, whom Pixie was seeing for treatment after the M-day and the deaths of 42 students who died in a bus crash. Pixie remained her powers, but she was not her usual self after that. Fredrick was nothing special really, but he did help her "get back on her feet" and they parted without any romantic feelings what so ever. Many years later, they came to meet again. This time something was different. Probably Pixie who had changed after all the fights and missions she'd done with the x-men.

2 years later, Tianna was born. Fredrick and Megan had moved in together. They had started a new chapter, a life including their precious little "princess". At first, everything was normal. But when Tianna was 2, her blonde baby curls turned pink once in a while and soon after came the hallucinations. Megan was ofc immune to the pixie dust, however Fredrick was not so lucky. Let me tell you this, hallucinations can change people... even the best of them.

Fredrick really tried to fight them. He managed for 3 more years. Even when seing demons telling him to kill, and not knowing if he was present in "reality, nightmare or wonderland". Even a shrink can turn mad.

When Tianna was 5, Fredrick simply walked out the door. Megan tried to tell her daughter "daddy loves you, he just went away for a while" and Tianna waited and waited. Her dad never came back tho, and Tiannas hallucination powers grew stronger and stronger.

I don't think Megan was ready to raise a kid on her own. Not knowing what to do with Tianna, she sent her away to different schools. Hoping for her to learn more about her powers and control them better. And before all, start using them for good. Pixie herself retired the "dangerous" job being a part of the new x-men, and instead she started as a teacher at Xavier School for gifted youngsters.

Her mother had a very successful road to the top, and it's not an easy task to suppose to walk in her footsteps. A lot of pressure on her shoulders, weighing her down to a point where Tianna just went: "fuck this shit" and stopped trying.

After jumping from school to school, she got enrolled to the Descendants academy. And i do believe this place is the only school she finds "endurable", and where the teachers and principals can "control her". Tony stark has become her favourite , but mainly- she got him wrapped around her finger.

The students are not that bad as well. Tho she would never let them know that. And even if the jackasses drives her mad most of the time, she do feel a bit safer here. Like she can't do any real harm. Most of the other students had terrible childhoods and demons already present in their minds. And i don't believe they think a little pixie dust is especially scary...
---
▬▬▬▬▬▬▬▬▬▬▬▬▬▬▬▬▬▬▬▬▬▬▬▬▬▬▬▬▬▬▬▬▬▬▬▬▬▬▬▬▬▬▬▬▬▬▬▬▬▬▬▬▬▬▬▬▬▬▬▬▬▬▬▬▬▬▬▬▬▬▬▬
X
x
x
x
x
x

✦

W I N G S / F L Y I N G

✦
Tianna can fly, and she can carry up to 3 people and a quite heavy weight. However, she do have the habit of insulting the people she carries, "gosh you need to diet!"

✦

P O W E R F U L . H A L L U C I N O G E N I C . D U S T

✦
This is the the power she can't control. Often making people see hallucinations by mistake. Im not sure which one, her personality or the hallucinations, that are the main factor for poeple avoiding being near her.

✦

S P E L L . C A S T I N G

✦
She can cast some basic spells. She's a total beginner tho.. Her mother however is quite talanted with magic, and she was even a candidate for the Sorcerer Supreme. Pixie tries to teach her daughter, but Tianna is just ignoring her mothers attempts to "connect".

✦

T E L E P O R T A T I O N

✦
Just like her mother, Tianna can teleport herself, and others.

✦

S O U L D A G G E R

✦
Her weapon of choice in close combats is probably her souldagger. It's able to harm most, even the ones claming to be indestructible. It's especially effective on "evil" ones.

✦

S L E E P I N G . S P E L L

✦
This one is quite handy sometimes... Got insomnia? Just call Tianna- she'll make you sleep.

✦

D E M O N S . B A N I S H M E N T

✦
Thanks to her souldagger, she can "clense" out the darkness and banish/hold back demons. What a pathetic power really...
Why would she ever wanna use it?


Strengths
Impenetrable mind. Hypnosis, hallucinations, mind control and so on. Tianna is immune to that kind of powers, so sorry- it won't work.
Indifferent. The fact that she's not on anybodys side makes her quite talanted at mediating when people are fighting.
Psychological and perseptive. Maybe she inherited this trait from her father. She do know how peoples mind works and how to push the right buttons.


Weaknesses
Muscle power and close up combats. Tianna is fragile like a baby bird...
Not a genius... She is worthless at math, chemistry and that kind of stuff.
Her attitude. I do think her attitude is holding her back.
▬▬▬▬▬▬▬▬▬▬▬▬▬▬▬▬▬▬▬▬▬▬▬▬▬▬▬▬▬▬▬▬▬▬▬▬▬▬▬▬▬▬▬▬▬▬▬▬▬▬▬▬▬▬▬▬▬▬▬▬▬▬▬▬▬▬▬▬▬▬▬▬
---
---
When first arriving to DA she refused to attend any classes at all, really driving teacher Coulson mad. It was however Mr Stark who got her to open up. More like, she wrapped him around her finger. And her demand for joing the others, was this huge pompous "indoor greenhouse/forest" in her penthouse.

Tianna really loves plants and nature, and its really the only thing right now that can "calm down" her mind. Her penthouse is probably the only place where her hallucinations obeys her. So visiting her place, is something calming and quite enchanting. Here - you will be able to hang out with "the queen" without having to worry about seeing flying pigs. Sure, her hallucinations is under control here, but i won't promise anything regarding her delightful personality...



▬▬▬▬▬▬▬▬▬▬▬▬▬▬▬▬▬▬▬▬▬▬▬▬▬▬▬▬



FC: Nicola Peltz
Played by: Emmyz
Hex Code:

#cc78a3