name: Jack Greyson
age: 17
hair color: Blonde
eye color: Blue
race: Kitsune (half fox)
weapon of choice: Bow and quiver
personality: Jack is a highly energetic boy who loves all things artistic and all things animal. Jack loves nothing more that to have fun. He is rarely ever serious and prefers just to run around and play all day. He is a child at heart.
history: Jack grew up in a very rich family in a big city in the middle of an ocean far away from any other cities. Jacks mother died when he was a small child, leaving him and his father alone. jack spent most of his life from that point on parenting himself. Jack was very, very ill for 8 years of his life and never got much of a chance to make human friends.
skills: Jack is fast on his feet and very agile, He also has a great sense of smell and hearing.
pix of you self in anime form:
(jack usually wears a hat to cover his fox ears, though his tail is almost always visible.)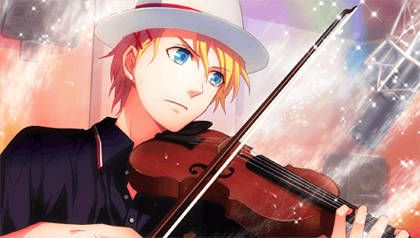 (Jack is also brilliant on the violin)