---
---
---
---
"Love will fucking destroy you."
---
---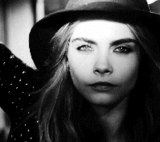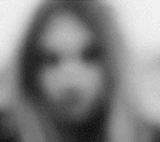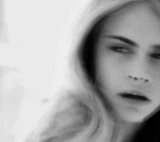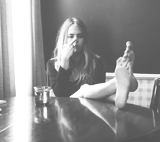 ---
---
---
---
| Full Name |
"Yeah, I know. My initials are KKK." Kylie Kimberly Klaire [ Ky - Lee ]

| Nickname |
"There's not a whole lot you can do with a name like Kylie." People typically just call her Kylie or sometimes Ky or K.

| Age |
"Freshly graduated." Eighteen years-old

| Gender |
"Ouch, babe, you can't tell?" Female

| Role |
"Sick of this town and all the people in it." Girl Two
---
---

---
---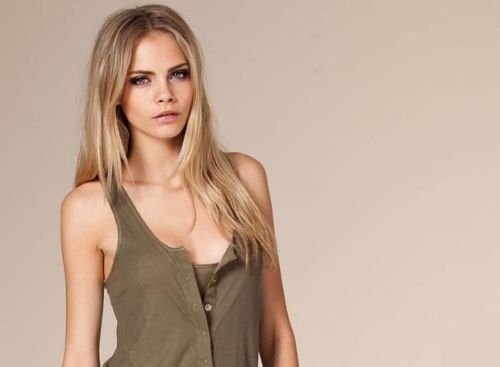 | Markings |
"My mother would kill me if she knew."
Piercings
When it comes to piercings, Kylie has several. She did them all herself, or had her best friend do them. She had one in her nose, and a total of seven going all the way up her right ear, as well as three in her left ear. Just recently, she pierced her own belly button ring too. Her mother only knows about her nose, because she can't take it out or it will close, but she keeps all the others out around her so she doesn't know about them.
Scars
Kylie hates her scars. They remind her of things she'd rather forget, so she really hates people seeing or touching them. She thinks they're ugly and they're her biggest insecurity. She has burn scars on the back of her neck, under her hair, as well as a long cut scar on her upper right thigh.
Tattoos
Finally, when it comes to tattoos, she has a couple. They're small and in places she can easily cover them because, if her mother knew about them, there'd be no end to the shit she'd get, so she hides them from her. She's got the quote "Love will tear us apart" in a small font under her left breast as well as a tribal lion at the small of her back.
---
---

---
---
| Likes |
"I like having a good time."
♥ Art
♥ Parties
♥ Bad boys
♥ Gracie
♥ Cats
♥ Big dogs
♥ Smoking

| Dislikes |
"This fucking town."
✗ Her mother
✗ Apple Creek
✗ Church
✗ Little kids
✗ Her mother's parties
✗ Being told what to do
✗ The color orange

| Fears |
"I'm fearless."
☠ Losing Gracie ➛ Kylie has lost a lot of people in her life, so her biggest fear, naturally, is losing more. Gracie is the person she cares most about in the world, and losing her would absolutely devastate her.
☠ Her father ➛ Kylie is afraid of ever seeing her father again. After he ran out on them, it left a hole in her life, and she's not sure what would happen if she ever saw him again, she just knows it'd be horribly ugly.
☠ Getting stuck ➛ There's nothing more Kylie wants in her life than to get the hell out of Apple Creek, go to college, succeed, and live her life. She's terrified she'll get stuck in Apple Creek and end up just like her mother.
---
---

---
---
| Personality |
"I'm fucking insane." Kylie is a little bit crazy. A lot has happened in her life, and it's had a pretty huge impact on her. She's the kind of girl that hides her feelings behind wild behavior, and a lot of partying. Generally, she's pretty sheltered. She smokes cigarettes, and drinks liquor, and has even smoked pot and shoplifted a couple times, but she's never done anything too serious. She couldn't. He mother would literally kill her.

However, she does push the rules as much as she can. She hates her mother, and the box she's always trying to put her in, making her her image of the perfect daughter, so she tends to rebel, not only to piss her off but to forget all the bullshit that's happened in her life. She's lost a lot of people, and people are always expecting something out of her, and it drives her absolutely nuts.

She's wild, and reckless, and always getting herself and Gracie into trouble. She loves doing stupid things, as long as Gracie's there by her side. She'd never admit it, in a thousand years, but she's extremely dependant on Gracie. She doesn't know what to do when she's without her, and that's why she's so terrified to be separated from her after their summer's over.

Kylie's the loud girl. She's not afraid to have fun, or get angry, the only emotion she's afraid to feel is pain. She doesn't let herself. Instead, she gets pissed or goes to a party, or heads to Gracie's house and comes up with some plan that gets them into trouble. She wants people to think she's tough. She never wants anyone to pity her because of what's happened in her life, so she doesn't let them. She shows people that she's happy, and crazy, and, if pissed off, a force to be reckoned with. She's actually, fairly sensitive, she just doesn't let people see it.

One thing about Kylie is that she does what she wants, when she wants, and if you try to get in her way, she'll cut you down without so much as thinking. Once she's got an idea in her head, there's no getting it out, she's pretty much dead set on it.

Her whole life, she's had other people trying to define her, and tell her who she's supposed to be, and she hates it, so she spends all her time trying to not be that person they want her to. This causes confusion for her. It keeps her from understanding who she really is ant it's hard. At times, she feels like she's going insane, and the fragile strings holding her together will finally snap.
---
---

---
---
| History |
"I can't wait to get the hell out of this town. It's suffocating me." Kylie blames some of her insanity on the town, Apple Creek. She feels like she's going stir crazy, being stuck there. It's the kind of town people are born, raised and die in.

It's also the kind of town where, if you skip Sunday service, you run the risk of being shamed for the rest of your life. The rest of the world seems to have forgotten about Apple Creek, Ohio. It might as well be on it's own planet. This is where she's lived her entire life.

She's never once left Apple Creek except to go to little sites just outside out town boundaries where the teenagers hang out, but that's about it. Her entire life has been centered around the little town and she's sick of it.

Besides the preacher, her father was everyone's favorite person. He was the mayor. To the people, he was smiling, good-humored, kind-hearted, and open. Everyone loved him, and the way he ran the town and no one questioned him even a little.

He was Kylie's favorite person in the world. It was clear that, of all his children, Kylie was, by far, his favorite, and she was glad to be the golden child.

Her mother is, and has always been, a horrendous control freak, and there was no one she'd be harder on than her father. She watched her mother rip into her father on a daily basis, and, when he wasn't around, since she was his favorite, she'd turn her attention on her. It was tense in their household. Their mother would push their father to his breaking point, but for some reason, Kylie never blamed her father. Her mother was the monster, not him.

Her father, however, was not perfect. She may have idolized him, as had the whole town, be he could be bitter and cruel at times. It's hard for Kylie, because her memories of her father are conflicted. As a child, he could do no wrong to her, but as she got older, her memories became more and more painful, and then one day, when she was twelve, they woke up, and he was just gone.

It was a huge loss for the entire town, as well as her family, especially his children, who were now left alone with their mother. The entire town pitied them, and Kylie couldn't even go to the grocery store with her mother without being whispered about.

Her mother became the new mayor making her even more of a control freak, and after about a year of pain at their father's loss, the children were about ready to break. And one of them did.

Her oldest sister committed suicide when she was thirteen. Everyone thought it was an accident, and her mother was good and controlling the publicity, but Kylie and the family knew the truth.

If that wasn't enough, later that year, there was a fire. Her beautiful, huge, gaudy home went up in flames. The insurance replaced everything, to her mother's relief, but they couldn't replace the lives of Kylie's six siblings it had claimed. She'd nearly been killed, but she'd been on the first floor with her mother, where as her siblings had been on the third, making them harder to reach.

At fifteen, just as she was starting high school, she met Tyler. He didn't exactly fit in the churchly little town of Apple Creek, and he certainly didn't fit with the mayor's crazy daughter, but she wanted him anyway. Everyone was constantly trying to push them apart, but she was head over heels, willing to do anything he said.

And then, after two years, at seventeen, just like her father, he disappeared, leaving her no explanation, and it devastated her. It's been a year since his disappearance, and she's clung that much harder to Gracie since then, unable to go even a day without seeing her. Her mother pushes her to be the perfect daughter, and she tries, but for some reason she keeps failing, so to avoid the pain of actually putting in effort and never being good enough, she acts out. She hates that she's a constant disappointment, and there's nothing she wants more then to get the hell out of Apple Creek and away from her past.
---
---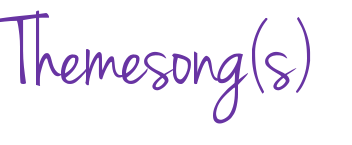 ---
---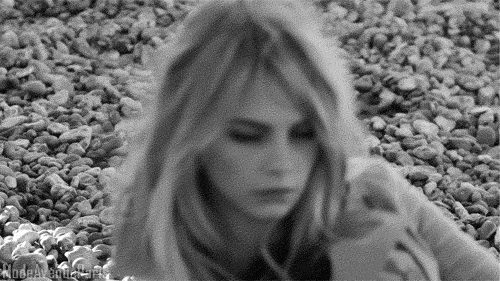 Sounds of Madness
Shinedown
Yeah, I get it,
You're an outcast.
Always under attack.
Always coming in last,
Bringing up the past.
No one owes you anything.
I think you need a shotgun blast,
A kick in the ass,
So paranoid. . .
Watch your back!!

Oh my, here we go...

Another loose cannon gone bi-polar
Slipped down, couldn't get much lower.
Quicksand's got no sense of humor.
I'm still laughing like hell.
You think that by crying to me
Looking so sorry that I'm gonna believe,
You've been infected by a social disease.
Well, then take your medicine.

[Chorus:]
I created the Sound of Madness.
Wrote the book on pain.
Somehow I'm still here,
To explain,
That the darkest hour never comes in the night.
You can sleep with a gun.
When you gonna wake up and fight... for yourself?

I'm so sick of this tombstone mentality,
If there's an afterlife,
Then it'll set you free.
But I'm not gonna part the seas
You're a self-fulfilling prophecy.
You think that crying to me,
Looking so sorry that I'm gonna believe,
You've been infected by a social disease.
Well, then take your medicine.

[Chorus]

I created the Sound of Madness.
Wrote the book on pain.
Somehow I'm still here,
To explain,
That the darkest hour never comes in the night.
You can sleep with a gun.
When you gonna wake up...
When you gonna wake up and fight...

[Chorus]

When you gonna wake up and fight... for yourself? [x3]
____________________________________________
____________________________________________
Traces
Sky Ferreirat
You were just a boy
With an appetite
Hate it when you leave stains in my bed
I know I should've read
All the warning signs
But I fell for all your white lies again

Nothing you do, no nothing you say
Is gonna take the damage away
Oh, nothing you do, no nothing you say
Is gonna take the bruises away

You've bit bit bitten off
You've bit bit bit bitten off
More than you can chew
I I'm getting rid of you
I I'm get get get getting rid of
Get get get getting rid of traces of
Traces, the traces, the traces of you

I was just a girl, in the fantasy
Dreamin that you would be good for me
But now I see your greed
Now that I bleed
This time I'm gonna go set you free

Nothing you do, no nothing you say
Is gonna take the damage away
Oh, nothing you do, no nothing you say
Is gonna take the bruises away

You've bit bit bitten off
You've bit bit bit bitten off
More than you can chew
I I'm getting rid of you
I I'm get get get getting rid of
Get get get getting rid of traces of
Traces, the traces, the traces of you

Ate my heart in every way,
Ate my heart in every way
Lockin the cage
Starin at you I'll stray
Can't get your way today

You've bit bit bitten off
You've bit bit bit bitten off
More than you can chew
I I'm getting rid of you
I I'm get get get getting rid of
Get get get getting rid of traces of
Traces, the traces, the traces of you
Get get get getting rid of
Get get get getting rid of traces of
Traces, the traces, the traces of you
Get get get getting rid of
Get get get getting rid of traces of
Traces, the traces, the traces of you
Get get get getting rid of
Get get get getting rid of traces of
Traces, the traces, the traces of you
---
---
KYLIE
Code: Select all

[hr][/hr][hr][/hr]
[center][img]http://i1180.photobucket.com/albums/x403/desire99600/temp7_zpsde607105.png[/img][/center]
[hr][/hr]
[center][img]http://media.tumblr.com/1a0a2b1291dda88241392f12275cca69/tumblr_mi7b7n8C8k1ri7enpo1_r1_500.gif[/img][/center][hr][/hr]

[font=times new roman]Post[/font]
Matt
Code: Select all

[hr][/hr][hr][/hr]
[center][img]http://i1180.photobucket.com/albums/x403/desire99600/temp_zpsb69da4a5.png[/img][/center]
[hr][/hr]
[center][img]http://media.tumblr.com/27e2365e172b0c52d066631d272f673a/tumblr_inline_mkmxc7T2yx1qz4rgp.gif[/img][/center][hr][/hr]

[font=times new roman]Post[/font]
CHELSEA
Code: Select all

[hr][/hr][hr][/hr]
[center][img]http://fontmeme.com/newcreate.php?text=Chelsea%20Gilbert%20&name=CURJTRIAL.ttf&size=45&style_color=E876E0[/img][/center]
[hr][/hr]
[center][img]http://25.media.tumblr.com/36f7fad59764712896d6efb87e8f91f0/tumblr_mv9m3xVAXg1ryeoy9o1_500.gif[/img][/center][hr][/hr]

[font=times new roman]Post[/font]