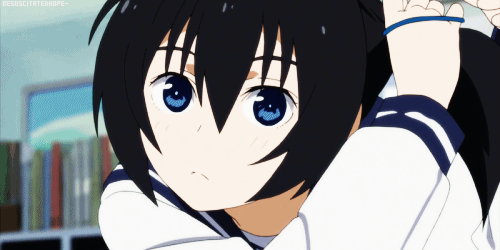 ---
---
Name
Catherine Marine Belfonte

Nickname
She introduces herself as Catty, and thus goes by Catty. Other nicknames of hers include: Cat, Cathy, Kitty Cat, or Little Demon by her parents.
Usually she is just fine going by whatever anyone wants to call her - as long as its not actually Catherine that they are using.

Age
15

Gender
Female

Role
Human Female #1

Sexuality
Bisexual


Face Claim
Mato Kuroi|| Black Rock Shooter
---
---
Guilty Of...
Several accounts of Shoplifting, all linked to her through the powers of security cameras.
Likes
Meeting new friends
Dancing
Singing (but shes really bad at it)
Playing and Joking around
Listening to music
Taking things
Vanilla ice cream
Warm weather
Adventuring
Animals - but mostly just her cat Lucy
Playing pretend - even though she's too old
Dislikes
Math...Well school in general actually
Getting bullied
Being called names
People who don't understand her
People who are shy around her
Fist Fighting
Getting hurt
Having to clean up after herself
Hard work
Waking up early
Strawberry flavoring
insects
Fears
Astraphobia
- fear of thunder
Arachnephobia
- fear of spiders
Athazagoraphobia
- fear of being forgotten/ignored/abandoned
Autophobia
- Fear of being alone
Skills
Thievery
- She's quite the adept thief.
Dancing
- She's been taking classes since she was very young.
Communication
- Considering how much she likes to talk this is a no-brainer.
Listening
- She may be quite talkative but she also knows how to listen and lend advice.
Flaws
Stubborn
- she won't stop or take no for an answer.
Naive
- she is extremely trusting of others, even if they may have bad intentions.
Hot-Headed
- She is quick to anger if you push her buttons just right.
Blunt
- She says things the way she see's them, even if it gets her in trouble or she hurts someones feelings.
---
---
Personality
Adventurous
- Discovering new things, meeting new people, anything to go on the next adventure. She is rather brave and when it comes to finding her way in the world she takes things into her own hands.
Crybaby
- The simplest things can get her down and make her cry. She is really sensitive to being yelled at, or called names. She doesn't take well to being punished either. She literally bawled for two hours when she was finally caught shoplifting. When she starts crying even just talking to her will trigger an even stronger emotion, and its unlikely that she will calm down for a very long time. If she doesn't cry about something then she will get mad about it and pout for a very long time. Its easy to say she is pretty childish when she wants to be.
Deceptive
- Though she is pretty predictable, there is also a side to her that isn't. She can play the innocent act really well, often times never really showing her true intentions. Though she really only ever used this side of her to get out of trouble or continue on with stealing.
Friendly
- She is extremely friendly, and not at all shy. She is always introducing herself to new people and trying to make new friends. Although sometimes her friendliness can be taken as creepy. She invades space a lot and likes to tease others, but isn't really able to handle it when other people do this to her. Usually when she first meets someone she automatically deems them a friend - even if they don't particularly like her. As you can tell this can get pretty annoying for other people.
Curious
- Along with adventurous, Catherine is a very curious girl by nature. She is always getting into things she probably shouldn't be getting into and making trouble for herself. If she finds something she doesn't understand (which is a lot of things) she will try and find someone to tell her about it - ALL about it. She is always asking questions, and pestering people to tell her things.
Illogical
- She doesn't always use her best reasoning skills or logic. She tends to say things that don't make complete sense and sometimes tries to solve a problem using logic that doesn't make any sense at all. She is a bit of a train wreck when it comes to keeping things in order, and making things make sense. In fact, shes a little bit of a train wreck in general.
Spiteful
- When she is angry she goes over the top. She will literally deem the person/thing she is angry at evil and try and get revenge on that person/thing no matter what. Unless she is apologized right away its best you watch your back. Or she may just pull an awful prank on you.
Biography
Also beeeee detailed
---
---