---
---
---
---
Nickname
Cypher has always gone by her middle
name, and introduces herself as such.

Age
16

Gender
Female

Role
Alien #2

Height
5'5"

Hair Color
Orange

Eye Color
Bright Blue

Sexuality
Pansexual

Face Claim
Subaru Konoe || Mayo Chiki!
---
---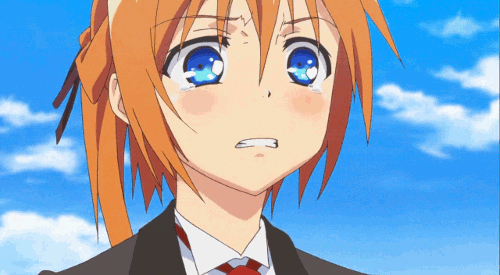 Likes
✔
Arcade Games
✔
Carmel and Chocolate(together)
✔
Music
✔
Suspense Movies
✔
Proving Her Strength
✔
Small Animals
Dislikes
✘
Dim Lighting
✘
The Rain
✘
Beds or couches that are too soft
✘
Restrictions
✘
Physical Contact(when it's not her initiating it)
✘
Cluttered Rooms
Fears
☠ Being Restrained |
There is nothing that she both despises and fears more than being unable to move freely.
☠ Thunder/Lighting |
The only thing she can do is cover her ears and hide under something until the storm passes.
☠ Being Helpless |
It's been pounded into her head from childhood that those who cannot help themselves have no purpose or reason in the world and therefore are not needed.
Skills
♥ Hand-to-hand Combat |
Cypher began her defense and battle training at a young age and is a force to be reckoned with when angered or threatened.
♥ Musician |
Be it piano, guitar, flute or practically any kind of of instrument, Cypher can play it even if it's the first time ever seeing it. All it takes if a few minutes for her to understand what to do.
♥ Negotiation/Persuasion |
Well, often times it's more like Cypher will keep pressing her point until the other party gives up.
Flaws
★ Independent |
Don't even open a door for her unless you are prepared for her to pull you away annoyingly so she can open the door herself. Cypher doesn't rely on others for any sort of help; always doing things herself and never asking for assistance or advice.
★ Boyish |
Simply for the fact that Cypher was raised in boys clothes while participating in sports initially meant for boys, she some times tends to show boyish characteristics. Not that that's such a horrible thing, but on her planet ladies are suppose to act like ladies even when in boys clothing, so she was often scolded whenever she raised her voice or even chewed her food wrong.
Other
●
As a common custom on her home planet, Rem, Cypher has always dressed in professional and traditional boys clothing. She's only recently begun to wear girls clothing after coming to Earth.
●
The only ones to call Cypher by her first name were her parents, while her middle name is used by any other person.
---
---
Personality
Considered an eccentric being to both humans and some of her own race, Cypher's personality seems to differ. Sometimes it depends on her clothing choice, time of day or weather and other times her attitude may change depending on the situation or who she's in the company of. This often tends to rouse confusion in those who aren't used to being around her when her personality changes. She may be incredibly friendly and easy-going at first, then she may brush you off in a harsh and blunt manner later on without reason. However her neutral self is usually polite and a little distant, but all in all not bad company if the time is right if you' don't mind her meowing at stray cats and spacing out in front of cake shops.

Some have come to suspect she has multiple personality disorder, but that isn't the case at all. Cypher's just not good at keeping a constant mood at all times, and even the smallest thing may cause a shift in her state of mind. One thing that doesn't seem to change though is her strong will and extreme independent nature. Far past the line of simple stubbornness, Cypher has always been a self-sufficient person. Even as a toddler she was always trying to do things by herself, her parents rarely having to do anything for her. She hates the idea of receiving help from someone, mainly because she feels like she owes them a favor in return even if they say otherwise. Her independent nature has also lead her to suppress and ignore any sort of emotions she finds unpleasant. She has many friends on her home planet, but not one of them have ever seen the well-composed Cypher in a moment of weakness.

Cypher is also the type that basks in determination and confidence, a trait that many would find inspiring. After all, who wouldn't look up to such a beam of strength and elegance. Well, when I say elegance I mean when she's not stuffing her cheeks full of chocolate or wiping the drool off her face in the morning. In all honesty Cypher can actually be quite the mess, which goes against how most first perceive her. She shouts angrily at video games, will dirty her clothes on her hands and knees while searching for animals to catch or even go about the entire day without showering after working out the same morning.

Despite her odd behaviors and differentiating attitudes, Cypher is quite the intelligent teen. Though she's more likely do better in physical activities than ones that require a lot of thinking, she's still a rather bright individual who is both diligent and persistent. She's not one to give up on something just because she's not very good at it and will argue with anyone who says she's not fit for whatever she's doing.
---
---
Biography
Remichles, or more commonly known as 'Rem', is occupied by sophisticated and well-mannered citizens. Though it's not a particularly large planet, it's suspected to be one of the very first planets to ever support life. It's highly advanced, equipped with a shield that covers the entire planet to protect it from outside threats. The buildings that cover almost the whole of Rem's surface look to be pulled out of the Victorian era, with beautiful mansions and towers built on different levels, stacked up like books on a shelf. There is very little oxygen on Rem, but those who live here are easily capable of living without much air and oxygen filters are given freely to visitors at the only entrance and exit that the planet's shield has.

To outsiders the customs and traditions here may come off as rather strange. On Rem, females are required to dress in boys clothing until marriage. Males are given feminine middle names, while females have middle names that are more masculine. Every citizen is called by their middle name, their first names used only by parents, sometimes siblings, and by their partners. All children are required to receive at least basic defense training once they enter their first year of school and are also occasionally given lessons in medicine.

Cypher was born on Rem two years after her sister to parents of high stature, who would reside within the higher level mansions. Her younger brother was born four years later, resulting in Cypher becoming the middle child. After barely passing the entry exam she managed to make it into the same school as her older sister, one of the most prestigious schools East Rem could offer.

Her charisma and confidence made it easy for her to gain plenty of friends in school, though her parents being political heads also played a role in her popularity. It wasn't long before she heard about the experiment soon to be conducted on Earth. Her sister was the first choice, not that Cypher minded. Traveling to a new place would intervene with her training and studies anyway, however she was secretly disappointed. Her sister was the perfect choice, but if only Cypher could have the opportunity to see new places.

Only a week before the ship would leave to the experiments location, her older sister grew sick. Nothing serious, but she wouldn't be well enough on time for the set date. Even an advanced civilization such as Remichles had it's common cold. After some debate between bother her parents and her sister, it was decided that Cypher was to go in the older girls place. Not quite the reason she was hoping for, but she proudly and most gladly accepted the request.
---
---