---
---
.::Age::.
17
.::Gender::.
Male
.::Grade Year::.
Senior
.::Nationality::.
Japanese
.::Club/Extracurricular::.
-Baseball
-Anime/Manga Club
---
---
.::Eye Color::.
Copper

.::Hair Color::.
Light brown

.::Blood Type::.
O-

.::Height::.
5'5"

.::Weight::.
137lbs
.::Physical Description::.
Ryou definitely doesn't look like he'd be a senior in highschool. At best, he
might
pass for a freshman with his short height and baby-ish face. The amount of times he'd been asked his age is ridiculous. It certainly sucks when you're a bit slow on the aging scale, but hey. Being a late bloomer isn't all that bad.

The poor kid stopped growing a few years back and hasn't been even an inch taller since. While being rather short is something that runs in the family, it would be a lie to say that his younger brother and both parents still being taller than him isn't embarrassing.

Aside from height, Ryou isn't all that bothered by his appearance. His hair, although stubborn when it comes to staying down, is at least not an ugly mop on his head and works quite well if he constantly goes for a 'messy and just rolled out of bed two seconds ago' type of look.

The thing that he admires most about himself, though, are no doubt his eyes. He won't call them brown (because obviously that's too boring for him), and instead insists that the colour is copper. While that may be true, staring at himself in the mirror just to get a good look at them really isn't necessary.
---
---
❤
Music
❤
Animation
❤
Hamburgers
❤
Large crowds
❤
Spending time with his friends
☠
Feeling lonely
☠
Visiting the zoo
☠
Animals
☠
Waking up early
☠
School daysRyou is the type of person who could ask the same question a million times, always hear the same answer, and still have to ask about it again later. While it's also his poor listening skills taking effect, the boy tends to feel a need for reassurance. Even with simple things, Ryou will want to feel confident with it before he can relax.

With that said, relaxing seems to be the kid's main issue. He can barely sit still for five minutes without feeling the need to jump up and do something. Doing one thing for too long bothers him, and because of this it's not rare to see him tapping his fingers or kicking his feet. His a ball of energy, one could say. Maybe not for his own good.

Around friends, Ryou will try to impress. Heck, he'll even lie a little if it means getting to see people admire him. A bit of an attention hog, Ryou will do whatever if it means getting himself a few moments in the spotlight. Whether it means acting rudely, being nice, or flat up acting like a jerk, he'll try to get turn the attention towards him, not caring if it's positive recognition or not.

Still, even if he does act a bit two faced at times, Ryou can also be seen as a friend who's good to have around. He likes to keep conversations going and to have fun, and he's definitely not the type who will shy away from an adventure.

---
---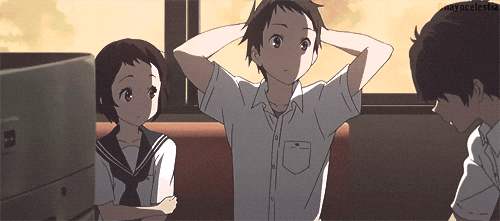 Ryou always had whatever he needed. His parents had never been broke, he had never been short on entertainment, it was an easy ride. Throughout his whole life, Ryou has had whatever he asked for handed to him. While this of course makes the boy sound spoiled, you might as well know that indeed he is. He's never lived through any crisis's. For him, the world has always been gentle and kind.
When he actually had to leave the house, Ryou was slapped in the face with reality.

In school, he was the kid who bragged about having friends but really had barely any. That was okay. Not everyone was super popular, right? Well, it's certainly a different thing when everyone had people to hang out with and he had the overweight kid who could barely run. However, Ryou tried not to let his failure of a social status get to him too much. Yeah, getting laughed at by the girls was embarrassing. Sure, having the boys through soccer balls at you was a bit of a downer. And totally, who wouldn't start crying after their best friend began picking on them, too. Still, things weren't horrible. At home Ryou was able to pretend as if he was a descendant of royalty, or... something along those lines. Not that any of his pretending mattered, his parents eventually found out about how much of a loser their son really was anyhow.

A few years back, though, Ryou managed to make a small group of friends. None of them were as perfect as he expected, but hey. None of them hated him, either. He stuck with them not only because he knew he'd never be as lucky again, but also because they were the people who didn't chase him around the school yard with sticks. It felt nice to be appreciated and part of a group, but then again not having anyone gang up on him was one of the better features of having a social life.
Not long after he finally fit in, two of Ryou's friends moved away. The other three? They went off and found new people to hang out with. His time of happiness was cut short, and Ryou was once again the kid sitting alone in the classroom during lunch.

Outside of school, he got himself a job as a delivery boy for the flower shop near his house. It didn't pay well and the days were slow, but the shops owner had a daughter who was absolutely stunning. To be honest, Ryou only asked for the job just so he could have a chance to talk to her.
He never did.
Each day when he'd walk into the store, he'd tell himself that that would be the day he worked up the nerve. Each day, he'd chicken out at the last second and go and rearrange the window displays. It was embarrassing not only for him because his face would flush red, but for the girl as well because Ryou would simply just turn around and walk away. In a summary of the tragic love story, the girl never liked him more than an employee and found herself an actual boyfriend. Ryou? He was crushed and quit the job.

At home, Ryou always had a good relationship with his parents. They never nagged at him for anything other than to try and focus in class, and the three rarely got into any fights with each other. Mostly because they rarely talked. During breakfast they'd wish each other well and at dinner they'd share how their days were. Inbetween, they never spoke a word to the other.
With his younger brother, Ryou always felt a resentment. It was when the complaints from his teacher began rolling in that their mother announced she was pregnant, so immediately Ryou jumped to the conclusion that his brother would be his replacement. He was an obvious disappointment, his parents needed a better child. The worst part was that his brother, Ataru, grew to be more successful than Ryou was, even if he was quite a few years younger. The feeling is more of a jealousy more than a hatred for his brother, but their silence towards each other doesn't help the already failing family.