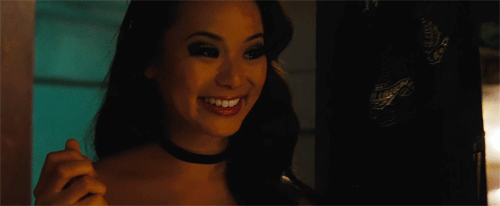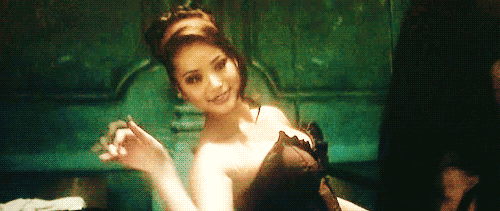 Name: Olivia Li. Her given Chinese name is Li Mei-Zhen

Age: Olivia was 18 when she was turned. Her real age is 132.

Race: Vampires

Alliance: Vampires

Sexuality: Bisexual

Likes:Olivia being a vampire naturally likes blood. She likes the taste, texture, and the brilliant red color of it. Olivia wants to be a leader and enjoys giving orders to those who are newer to the coven than her, which is nearly everybody. She likes the thrill and adrenaline rush of fighting, especially with a formidable opponent. She likes to run, especially without stopping and considers herself a top-notch free-runner. She has times where she enjoys reading and finds the more popular, modern novels that romanticize her kind truly hilarious.

Dislikes: Olivia has no love for Slayers at all, and takes a certain joy from putting one down. She cannot stand vampires who have rejected what they are. She thinks they should embrace it and enjoy the gift they've been given, rather than making their selves suffer. She doesn't like sitting still for too long. She feels she needs to release the boundless energy she has. She isn't very fond of going outside, seeing has how she nearly always has an uncomfortable rash when she does so. She loathes being told what to do. She has been in the coven longer than most and will not take orders from a "child", as she calls them.

Talents: Olivia is cunning and manipulative and she finds that a talent in and of itself. It takes a certain measure of ability to fool a vampire and she does so with little effort. She is also exceptional at Parkour and finds her way around obstacles in her path almost too easily. Her vampire speed and reflexes aid her when she is free-running. As a human, she was rather good at cooking, and as a vampire she is still pretty good at it, but she no longer finds joy in the taste of human food, so doesn't cook very much unless she is requested too.

Weaknesses: She is distrusting of many including her own kind. She is quick to think the worst of people and doesn't take anything at face value. While she is great at free-running, she is a sub-par fighter. This has made her the object of a lot of ridicule within her coven, though they aren't stupid enough to say it to her face. She also has a soft spot for animals, which she considers a weakness.

Personality: Before she was turned, Olivia was a bright and happy person despite being essentially a slave and being subjected to abuse on a daily basis. Over time, she grew more way and cautious of others and began to distrust everyone. She began to see the world for what it really was, a cold and heartless place where everyone was selfish. After she turned, she adapted her personality to this world, becoming cynical just like everybody else. She takes a lot of pride in being a vampire and loathes anybody who thinks it's a curse. Being one of the older vampires in her coven, her humanity is nearly lost. She feels no remorse for her victims and no need for redemption for her actions. She realized long ago that no measure of self-loathing will bring back the person she was once and has accepted this fact.

She is considerably intelligent and thinks of herself as one of the leaders in the coven. She is more than a little upset that she was not chosen as second-in-command, but realizes that it is probably due to her lack of fighting skills. She works hard to improve herself everyday by working out intensely and is learning to become better fighter in the hopes that she will be more respected. She is more inclined to seduce and kill males than women, due to her past. She has had her fair share of "children", as she calls those she has turned, and has some measure of affection for them.


History: Li Mei-Zhen was born to Chinese Immigrant parents in the mid-west in 1881. She grew up working on the railroads with the rest of her family for little to no wage. Despite the harsh conditions and prejudice she often endured from her "bosses", she always tried to make the best of her situation. When she was ten years old, she was sold off to a rich family in South. She was not meant to be their daughter, but a housemaid that tended to their every need. Her only rewards were the bed she got to sleep in and the scraps she was fed from the table. The family gave her an adopted name, though she can't remember what it was, and ever since she gave herself a new name to keep up with the changing times.

She served this prominent southern family for many years and was subjected to all forms of abuse by them. At this time in American history, Chinese Americans were viewed negatively and it was socially acceptable to treat them horribly. Her turning happened when she was 18. By this time in her life, she had been raped many times over by many of the males of the family and treated like a pest by the females. She held no love whatsoever for this family and wished them all to an early grave. One particular day, the family was entertaining a very peculiar guest. It was evident that they feared him for some reason, though she couldn't fathom what it was. After dinner, the man approached her and offered her an opportunity for vengeance. He would change her to be just as he was, giving her the power to kill them all. She was hesitant at first, but in the end she agreed to this man's proposal. The change was painful, but she felt she had been subjected to much worse. Once she had changed, she immediately sought the blood of those that enslaved her and killed every last member of the family, including the children.

Olivia left the south and traveled for a time before settling down with this coven. She adapted well with them and has been one of the oldest members and takes great pride in her elder status.

Other: Olivia is left-handed and harbors a secret love for the coven leader.