Name: Geminus Dualfang
Age: 18
Human form pic/description/both: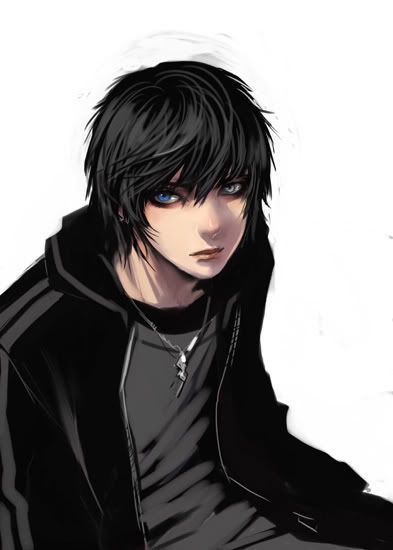 (Similar to this,but a few changes.)
He has a lean figure,unpronounced muscles.He's shorter than most of his age.Has jet black hair,messy and worn till his neck.He has heterochromia iridum in the form of a red eye and a blue eye.Stands at 5'7.5".
Werewolf form pic/description/both: He takes on the form of a lean black and white spotted werewolf,with a posture closely resembling more of a human than a beast.His eyes tend to glow lightly when he begins using his elemental powers.Has a bushier tail than other werewolves.
Personality: Pacifist,but protective.Brave when required to be.Fights when his pack elder tells him to.
Resistance to weaknesses: Average
Extra powers: Elemental Fire and Ice,if the situation is right,Elemental Water.
Rank: Pack member
Bitten by (if born a werewolf, skip): -
Opinion on vampires: Bad.That's what he's been taught anyway.
Opinion on the Templar: Confused as to why Templars would hunt werewolves,considering that most of them don't do bad things.
Opinion on humans: Doesn't understand why werewolves are feared and hated,as well as be considered monsters.
Bio: Born when the two of the alphas,Jeod Firepaws and Krisha Snowhowl met and mated.Geminus is unique,since he was born being able to wield both his parent's elements.This special trait granted him a name of his own,Dualfang,instead of using one of his parent's name.Despite being born unstable,the elder decided to keep him in the pack instead of tossing him down the cliff,which was a tradition within their pack.As he grew,he became stronger,but not as strong as his fellow packmates.He was weaker than most,but his elemental powers were evident.Though unskilled,his can unleash devastating attacks,freezing and burning his adversaries,making up for his lack of strength with speed and the power of the elements.He can also make human actions easier than his packmates in werewolf form.His dexterity in werewolf form is also not to be trifled with.His pacifistic nature played a part in his less muscular frame,as he avoided conflict and fighting that would have toughened him up.A secret that even he doesn't know is that his True Elemental Power is Water,which only happens during the Full Moon.
Other (optional): Has an incredibly large fascination towards the moon,even more so compared to the other werewolves.
Quotes (optional): "The Red Moon,the Blue Moon?Bring them both.","Survival of the Fittest doesn't apply in this world.I'm proof of it."
Theme song (optional):