For over a millennium Cormyr was ruled by the noble house of Obarskyr. The crown passing through bloodlines leading back to 26DR. Between the friendships of Manshoon and Marlin Stormserpeant, young noble of Suzail, in 1479DR, plotted to unearth the remaining seven of the nine who remained sealed in the magic of Mystra spread across the lands. Marlin prematurely unleashed the two they both acquired. Marlin would fail to carve any deep fissure into the ruling family. His failed attack resulted in his own death.
Marlin's underground connections with the local Red Wizard enclave in Suzail provide him with an undead form to find, summon, and unleash utter destruction to the royal families guards, the War Wizards, protectors of Suzail. After 17yrs of fighting, by 1496DR, Cormyr fell under a difficult reconstruction that compared heavily to the cities tragedy in 1018DR when Red Dragon's tore it apart. As corruption seeded through the local steward-ships over the years, notable figures outside of Cormyr began to become involved in ensuring a peaceful return to the region would prosper. The outside influence seemed to have spurred a return to power with the notion of an infant from the bloodline of the only living Obarskyr. By 1551DR, the child King Obarskyr would mature while an elected Regent would protect over the interests of the region. This emerging evidence caused an outrage in Calimport. The thieves guilds that made up of a powerful crime syndicate tasked a former Tharchion of Thay, Lazornan Kren to overthrow the volunteer government of Cormyr.

In early winter of 1559DR Kren would hold the seat of power and notoriously branded the killer of the Obarskyr bloodline, with the prestige of the Order of the Purple Dragon in retreat, King Kren begin to reassemble the governance of the entire region. By 1567DR, the rumors of treaties made by King Kren with tribal hordes that scatter the edge of the Cormyr region and the merchant stories across the long passes began driving heavy discussion with High Lords in Waterdeep. The Lords of Waterdeep approve and initially fund the formation of 1400 men led by Lord Aelthorian Brom. Lord Brom's men would reform and assemble under a banner that only saw Cormyr ruled by one King and that was their eight year General.
By 1575DR, Lord Brom has assembled approx. 13,000 men of all different races to support his advance to reclaim Cormyr. Lord Brom positioning his main force in the stronghold city of Arabel. His extent of protection has provided a barrier in the northern civilized regions of Cormyr, but has slowed his advance to maintain his posture defensively. Outside assistance for supplies and men have not been in support due to his proclamation to separate from the Lords of Waterdeep to the next reigning King of Cormyr. Lord Brom's recent capture of Castle Crag, a former Order of the Purple Dragon fortification, spread news about interested adventurers willing to take on his call.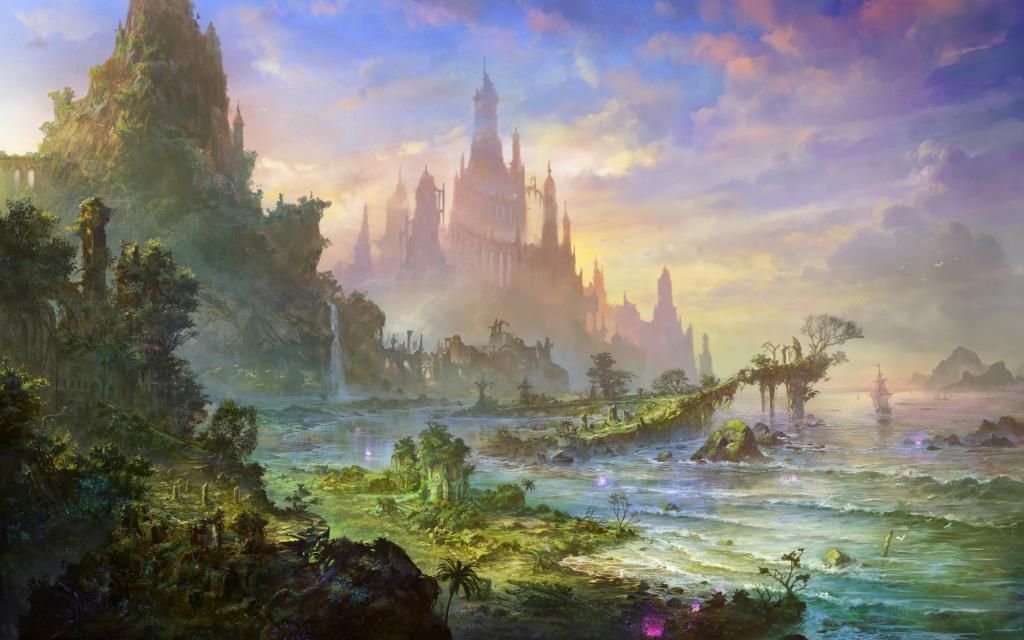 Currently, King Kren, the Red Wizard King of Suzail, still supported by covert assistance through the crime syndicate known as Raven's Loft, is using their antagonistic skills to disrupt front scouts of the Wizard King's construction of oddly mazed designed walls that stand 20 feet high, littered randomly through the landscape of the woods and open plains. The flanking tribes and bandits taking advantage of the situation pose just an equal amount of threat. Feeling confident, the Red Wizard King has a heavier interest in a city that dominates the Dragonmere Sea with its naval prestige. Westgate, the city at the "neck" of the Dragonmere Sea has invited discussion on the matter. Calimport, Waterdeep, Thay, and even Westgate seafarers are mildly influenced in how they can contribute to the Wizard King's cause.
1. No God-modding or meta-gaming.
2. This will be a literate role-play. Please provide substance of the present story around you when posting
3. If your character dies, just make a new one.
4. Make your posts understandable to everyone.
5. This role-play has a PG-13 rating.
6. I'm the GM. My words are the story. How the politics or story spirals comes as much from the character's involved.
7. Take any arguments you may have with other players to PMs or straight to me.
8. Any changes to your character in skill or ability please gain approval.
1 posts here • Page 1 of 1
Jamakas walked the streets of Cormyr quietly, doing his best to remain incognito. He noticed two soldiers making their way down an alleyway, and he decided to listen into their conversation.

"A war is approaching, two hundred soldiers were sent to the three isles, to await until the naval ship is ready to be launched, along with the convoy of the king. Two days until they leave."

Jamakas saw this as his chance, to stow away on that ship, and do what is necessary for Cormyr to earn its freedom.
---
1 posts here • Page 1 of 1
Arcs are bundles of posts that you can organize on your own. They're useful for telling a story that might span long periods of time or space.
There are no arcs in this roleplay.
There are no quests in this roleplay.
Here's the current leaderboard.
Those who provide services of some sort on a regular basis or serve under his Command. Those who serve in his Order of the Lion.
Guild members of Ravens' Loft, all associated/contracted members, and all those looking to advance your freelance positions to directly support the syndicate and the Red Wizard King's goals.
Welcome home, Promethean. Here, you can manage your universe.
Arcs are bundles of posts from any location, allowing you to easily capture sub-plots which might be spread out across multiple locations.
You can create Quests with various rewards, encouraging your players to engage with specific plot lines.
Settings are the backdrop for the characters in your universe, giving meaning and context to their existence. By creating a number of well-written locations, you can organize your universe into areas and regions.
Navigation
While not required, locations can be organized onto a map. More information soon!
By creating Collectibles, you can reward your players with unique items that accentuate their character sheets.
Once an Item has been created, it can be spawned in the IC using /spawn Item Name (case-sensitive, as usual) — this can be followed with /take Item Name to retrieve the item into the current character's inventory.
Give your Universe life by adding a Mob, which are auto-replenishing NPCs your players can interact with. Useful for some quick hack-and-slash fun!
Mobs can be automated spawns, like rats and bats, or full-on NPCs complete with conversation menus. Use them to enhance your player experience!
Current Mobs
No mobs have been created yet.
Locations where Mobs and Items might appear.
You can schedule events for your players to create notifications and schedule times for everyone to plan around.
Add and remove other people from your Universe.
The Forge
Use your INK to craft new artifacts in The Fall of Cormyr. Once created, Items cannot be changed, but they can be bought and sold in the marketplace.
Notable Items
No items have been created yet!
The Market
Buy, sell, and even craft your own items in this universe.
Market Data

Market conditions are unknown. Use caution when trading.

Quick Buy (Items Most Recently Listed for Sale)
Cormyr Regional Map
City Map of Arabel
Discussions
Topics

Replies
Views

Last post
Most recent OOC posts in The Fall of Cormyr
This is the auto-generated OOC topic for the roleplay "
The Fall of Cormyr
"
You may edit this first post as you see fit.