---
---
Since the beginning of time, Man has seen the rise and fall of great empires and civilisations. Even in the far future, in the 6th Millennium, Man sees the fall of one of, if not the greatest empire Mankind had ever seen: an empire of true unity and diversity. This empire was the Terran Empire, ruled by the Emperor. This empire saw Mankind break out of the Sol System and advance further into alien territory along the Orion Arm. They conquered alien worlds and made them habitable when Terra's resources began to grow scarce. The people were peaceful in nature, but would never hesitate to fight an enemy that threatens them. It was the perfect world. However, as Man continued to fulfil their duties and destinies as the masters of the universe, they garnered the attention of an intergalactic organisation: the Federation of Orion. They realised how much of a threat Mankind was, and finally, in 2800 AD, these aliens finally showed themselves to Man, and Man realised that they truly weren't alone. War was declared when an Orion vessel attacked and raided HMS Fredericus. Fredericus successfully repelled the attack, however. At first, the Empire, a Consulate at the time, was hesitant to declare war upon an unknown enemy, thinking that these just might be an equivalent to pirates. Less than a Terran month later, however, an entire well-organised Orion fleet laid siege upon a Human colony, killing billions and enslaving hundreds of millions. Finally, the consulate declared war.

For millennia, Mankind pushed back the enemy. Under the control of former Consul and First Emperor Paul I, the consulate was transformed into an empire, and the forces were well-organised. In the fortress-mining planet of Sevastopol II, which contains more iron and fuel than any other planet under Human control, the alien forces landed in 4968 AD. A large-scale war lasting nearly thirty years lead to the fall of two-thirds of Sevastopol, leaving only a small mining deposit in the small pocket Humans controlled. This penetrated through the thick armour on the Terran war machine, and damaging its heart. The hammer that drove the stake into the heart itself was when Sevastopol II's last mining sites were bombarded with plasma, leaving nothing and killing everyone. The next to go was the thriving planet of Marcovin, which, after a bloody battle that cost the lives of a twentieth of the Imperial Army, was bombarded with plasma and killed every civilian, and those that managed to escape in ships were tracked down and captured. They were turned into slaves In retaliation, the empire ordered the hunting and execution of over a million aliens hiding in Human colonies away from the prying eyes of Terra. The two incidents drove the economy to a path of destruction. A deep recession was caused. Stocks went down. The war continues on, for the capitulation of Mankind would be its destruction.

Deep in the darkest corners of the empire, as the social order continues to dissolve into disorder, a group of radical individuals rise. They are the Anarcho-Progressives, a radical terrorist organisation of violent individuals who seek to destroy the social order and impose an unrestricted freedom for Man to do evil. Propaganda has labelled them 'the Devil's Advocates,' men who hate the empire and wish to declare peace with the destroyers of Mankind. An agreement was reached between the two groups, and the terrorist group was given alien technology to allow them to wreck havoc, bombing gatherings and grand traditional buildings. Surrounded on two fronts by foes, the Terran Empire declines. Many think that it's either they capitulate or die trying; in truth, both choices lead to death. So, the Emperor raises his fist, and cries out the old battlecry:





---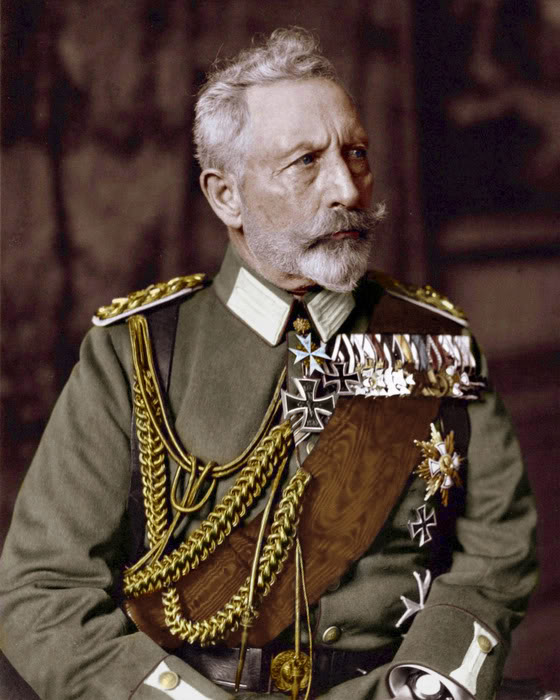 The Emperor
The supreme ruler of the Terran Empire, and the direct descendant of Paul I. Like his descendants, he despises democracy, as he believes that democracy is easily manipulated by corrupt men. He is a good statesman, a traditionalist at heart, but at the same time, a futurist. He is a Machiavellian, cold and calculating, ruthless against his enemies, but is, and always has been, family-oriented, and believe them to be the heart of the society.
Name:
Aurelius Constantinus I|
Age:
52|
FC:
Kaiser Wilhelm II|
TAKEN by ImperatorBellum
The General
An aristocrat and a general. A cousin to Emperor Aurelius, the general has close ties with the government. He is the honorary leader of the empire when the Emperor is unwell. As the general, he is also in charge of strategising and managing the army's resources effectively.
Name:
Dux Philip Bellum de Constantinus|
Age:
|52
FC:
|Erich von Manstein
TAKEN by ImperatorBellum
[img]FC[/img]
The Colonel
The Colonel is considered one of the greatest soldiers in the Empire. He leads his regiment in the front, and his high rank and skill in combat made his exploits romanticised as he becomes a celebrity at home.
Name:
|
Age:
|
FC:
|
OPEN
[img]FC[/img]
The Prince
The Prince stands as the next heir to the throne. Barely into his twenties, he already has connections to the government. Like his father, his duty is to the nation against the enemy. He is the sort of prince from stories, young, handsome, lively, adventurous–if you count riding to battle and scouting to be 'adventurous.' Deep down, he is cold and calculating like his father, and is family-oriented, as well.
Name:
|
Age:
|
FC:
|
OPEN
[img]FC[/img]
The Princess
[img]FC[/img]
Officio Sicarius
They are the leader of the assassins and secret policemen working for the government to suppress rebellions.
Name:
|
Age:
|
FC:
|
OPEN
–
Name:
|
Age:
|
FC:
|
OPEN
---
[img]FC[/img]
The Leader
The leader of the Anarcho-Progressives is a violent communist militant who wishes for uncontrolled freedom under a new government.
Name:
|
Age:
|
FC:
|
OPEN
[img]FC[/img]
The Dagger
A skilled assassin who works for the Leader of the Anarchists. She uses a wide variety of disguises, and is skilled with knives and poisons.
Name:
|
Age:
|
FC:
|
OPEN
[img]FC[/img]
The Weapons Specialist
The Weapons Specialist is an engineer of sorts in charge of weapon creation and bomb-making. He is also the man responsible for overseeing the weapons trading between them and the Federation of Orion.
Name:
|
Age:
|
FC:
|
OPEN
---
---
Code: Select all

[center]
[img]NAME[/img]
[img]image of character[/img]
[hr][/hr]
[font=]
[size=200]G E N E R A L • I N F O R M A T I O N[/size]
[b]Name:[/b]
[b]Alias:[/b]
[b]Age:[/b]
[b]Gender:[/b]
[b]Allegiance:[/b]
[b]Role/Rank:[/b] (if any)[/center]
[hr][/hr]
[size=200]F A C A D E[/size]
[left][img]image[/img][/left]
[center][b]Appearance:[/b] (one paragraph)

[/center]
[size=200]I N S I D E[/size]
[right][img][/img][/right]
[center][b]Personality:[/b] (one paragraph)
[b]Likes:[/b][list]
[*]
[/list]
[b]Dislikes:[/b][list]
[*]
[/list]
[/center]
[center][size=200]B A C K G R O U N D[/size]
[b]History:[/b]
[/center]
[/font]

---
[center]

1. I am the GM; my word is the law, and the law is not mocked. Dura lex sed lex.
2. If you wish to reserve, also include the blanked out details; also place the number '9430' on your character sheet and on the OOC.
3. Respect each other. Simple as that.
4. Try to post at least once every two days. If you can't, tell me why through PM.
5. Do not godmod, your character cannot be a Mary Sues, etc.
6. You may have more than two characters, but make sure that you're able to manage them.
[/center]
Taking place in...
There are no characters in this universe yet!
0 posts here • Page 1 of 1
0 posts here • Page 1 of 1
Arcs are bundles of posts that you can organize on your own. They're useful for telling a story that might span long periods of time or space.
There are no arcs in this roleplay.
There are no quests in this roleplay.
Here's the current leaderboard.
There are no groups in this roleplay!
Welcome home, Promethean. Here, you can manage your universe.
Arcs are bundles of posts from any location, allowing you to easily capture sub-plots which might be spread out across multiple locations.
You can create Quests with various rewards, encouraging your players to engage with specific plot lines.
Settings are the backdrop for the characters in your universe, giving meaning and context to their existence. By creating a number of well-written locations, you can organize your universe into areas and regions.
Navigation
While not required, locations can be organized onto a map. More information soon!
There are no groups in this roleplay!
There are no characters in this universe yet!
By creating Collectibles, you can reward your players with unique items that accentuate their character sheets.
Once an Item has been created, it can be spawned in the IC using /spawn Item Name (case-sensitive, as usual) — this can be followed with /take Item Name to retrieve the item into the current character's inventory.
Give your Universe life by adding a Mob, which are auto-replenishing NPCs your players can interact with. Useful for some quick hack-and-slash fun!
Mobs can be automated spawns, like rats and bats, or full-on NPCs complete with conversation menus. Use them to enhance your player experience!
Current Mobs
No mobs have been created yet.
Locations where Mobs and Items might appear.
You can schedule events for your players to create notifications and schedule times for everyone to plan around.
Add and remove other people from your Universe.
The Forge
Use your INK to craft new artifacts in The Fall of the Eagles. Once created, Items cannot be changed, but they can be bought and sold in the marketplace.
Notable Items
No items have been created yet!
The Market
Buy, sell, and even craft your own items in this universe.
Market Data

Market conditions are unknown. Use caution when trading.

Quick Buy (Items Most Recently Listed for Sale)
There are no characters in this universe yet!
None
Discussions
Topics

Replies
Views

Last post
Most recent OOC posts in The Fall of the Eagles
This is the auto-generated OOC topic for the roleplay "
The Fall of the Eagles
"
You may edit this first post as you see fit.