---
---
---
---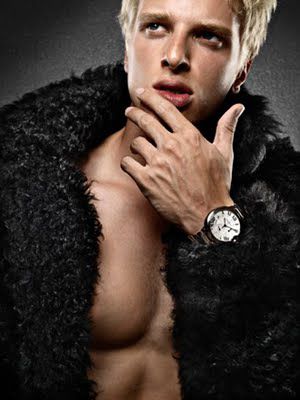 | Full Name |
Claude Alexandre Marceaux
| Nickname |
Usually, he just goes by Claude, but he allows his pets to call him Neuf. This nickname came about when a pet claimed touching him was like visiting cloud nine. In truth, he hates that nickname. Only pets, which he views as lowly life forms, can call him Neuf because they are unworthy of his real name. If anyone else calls him Neuf, he will find a way to make their life miserable.
| Appearance Age |
25
| Real Age |
578 (Halo for 519 years)
| Gender |
Male
| Role |
Halo Elder 1, Coven Leader of France
---
---
| Eye color |
Watery blue
| Hair Color |
Light blonde
| Skin Tone |
Light tan
| Height & Weight |
6'1", 171 lbs; a large, but not bulky, build.
| Distinct Markings |
He doesn't have any significant markings on his skin, only a dark mole under his left eye.
---
---
| Likes |
✰ Beautiful things

✰ High quality wine
✰ Nature
✰ Fashion
✰ Exotic fruit
✰ Art - dance, music, paintings, etc.
✰ Relaxing at the beach
✰ Falling in love
| Dislikes |
✹ Ugly things
✹ Vampires
✹ Sappy romance novels
✹ Pickles
✹ High-tech devices
✹ Being disappointed
✹ Ignorance
✹ Disobedience
| Fears |
☾ Moonlight
☾ Discord
☾ Betrayal
☾ Death
---
---
| Personality |
Not many humans have heard of Claude Marceaux. They'd know Jacques Beauvais, the French fashion designer; Enrique Lucien, the highly-decorated movie director; and Anonymous V, the mysterious art collector. They wouldn't know that all three are the same person. Claude likes to work in the shadows, keeping his true identity secret. He can't stand the chaos that comes guaranteed with the celebrity status. He has OCD; everything needs to be neat and organized. If you mess anything up, he will freak out on you. Often, he can be found in his studio, plotting the next fashion trend or debating whether to buy a Rembrandt or a Renoir (or both).

The proper word to describe Claude is flamboyant. He often comes across as girly and nit-picky and usually calls people nicknames like "Love" and "Darling". He likes to touch people, placing a hand on their shoulder or stroking their hair. His behavior leads many to believe he is gay. One would be half-right in that assumption. He swings both ways, as long as the object of his affection is beautiful.

Claude has an all-consuming obsession with beauty. Even his favorite word is beautiful. For him, every single day is a quest to find something beautiful, whether it be an object or a person. Objects can include anything from nature's wonders to perfectly carved ice sculptures. But what he finds most beautiful are humans. When he isn't absorbed in his artistic mind, he is absorbed with humans. He can never grow tired of humans, and not just because he needs their energy to survive. It's because humans are so easy to love.

Claude is a compulsive lover. He always finds the beautiful characteristics first: physical traits such as the color of their hair or eyes, and non-physical traits such as their personality or the way they laugh. In reality, he falls in love with these traits, rather than the actual person. He will court the person, brazenly declaring his love. He will only drain a little bit of their energy at a time, just enough for them to feel pleasant, and will never kiss them. This is because he wants the other person to love him for who he is, not for the euphoria of a Halo's touch. He does keep pets for his required energy consumption, but he does not love them in any way.

However, Claude's love for a certain human is always short-lived. A week or so into a relationship, he begins to notice the ugly parts of the human: they take advantage of his money, they start seeing someone else, they dress unfashionably, etc. He sees this as a betrayal of his love. When he can't take it anymore, he explodes into a vicious whirlwind of anger, ranting about beauty, ugliness, and betrayal before killing the person, draining all their energy with a single touch. After a few days, he recovers from his rage and goes off to find another human to love.

Very rarely will Claude fall in love with another Halo. He thinks of other Halos as close friends and, in the case of his Coven, as family. There is one exception, though. Ever since Claude became a Halo, he has had his eyes fixed on Serine. He views her as one of the most beautiful people he has ever seen, though he doesn't dare say it aloud. He knows Serine's heart belongs to Anthos, but it doesn't stop him from dreaming.

In Claude's eyes, everything in the world is divided into three categories: beautiful, ugly, or something in between. He despises ugliness as much as he loves beauty. His definition of ugliness doesn't necessarily have to be a physical definition. A most common example of an ugly thing to Claude would be a painting without heart. He can tell if something was painted with soul and sweat or if it was painted by a machine. Because of this intuition, he might even buy forgeries if he finds them to be beautiful. But ugly paintings are very trivial matters.

To Claude, Halos are the embodiment of beauty. Some Halos are more beautiful than others, but none are ugly. The opposite, the embodiment of ugliness, is Vampires. They are foul creatures of the night that should be exterminated. Claude's hatred towards Vampires is simply the result of the long feud between the two species. He carries no ill feelings towards a specific Vampire; he hates the species as a whole. The one exception is Anthos. Claude decided this a long time ago. If Serine loved someone so much that she would forsake all of her holiness for him, then Anthos couldn't be such a bad guy. In fact, Claude himself muses he would probably fall in love with Anthos if they ever met.
---
---
| History |
Claude was born an angel to two loving parents. From a very early age, he realized he wasn't like the other Angels. Claude's love was not the kind of love that was common in Heaven. That fact was made clear when he fell in love with his own mother. Claude attacked his father, claiming he was not worthy for such a beauty, which earned him a severe chastising from God. He was only nine at the time, so God let him off. But then, Claude just had to fall in love with God. Claude had learned that his love was not welcome in Heaven. He tried to keep it under control and did quite a good job of it. He managed to hide his true self for fifty years, but that was his limit. Of course, when he finally expressed his feelings to God, God rejected him and cast him down to Earth.

For quite a while, he secluded himself in human society, taking only the energy he needed and acting like a nobody. He slowly climbed the rankings within the Halos and eventually earned his position as an Elder. Naturally, he was chosen to represent Lust and now lives in France with his Coven. For years, he didn't do much concerning the human world. Fairly recently, however, he began getting more involved. He started a fashion line some seven years ago, directed three award-winning movies, and began collecting paintings by a variety of artists. He also used to play on France's national football team (soccer for Americans), but got his ass handed to him by Spain, so he quit.

A little less than a month ago, he was attacked by Hunters while visiting an art gallery. The two Coven members who were with him were killed, but he managed to hold his ground until more of his Coven arrived to help. The Hunters, outnumbered, fled. Claude is still recovering from his injuries, which are mainly severe burns and cuts made by heated blades.
---
---
| Species |
Halo
| Power |
He has the ability to create non-living objects out of thin air. He can control who can see and touch these objects and also where they will appear. Larger objects or more intricate objects require more energy to make.
| Sin |
Claude's sin is lust. He fell in love with God and was thrown down to Earth. Claude didn't intentionally take the Fall, but looking back, he doesn't regret anything. Now, he can love whoever he wants and no one can tell him otherwise. Not even God.
| Bond |
He simply hates the whole 'bond' thing. He loathes the longing in his heart for someone he doesn't love. What's more, he's bonded to a Vampire, the ugliest of all creatures. He hasn't lashed out yet only because he realizes the logic behind the bond, and because he'd do anything for beautiful Serine.
---