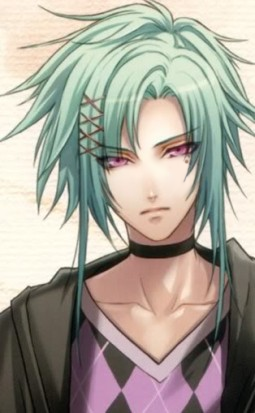 Feng-Hua Zhao
Nickname
Finny; His "American" name.
Age
19
Gender
Male
Looks
Feng is seen and accepted as a very beautiful person. Being of obviously Chinese/Asian descent, Feng has extremely feminine features: long hair that could reach mid-back is usually worn up, fair skin, slender figure, long nose and thin even lips. He dyes his hair often, and for now it is a sea foam green, as his naturally brown hair is something he hates, the same reason as to why he wears pink/red/magenta eye contacts, to cover up his naturally black eyes. On his face is a slight blemish, a beauty mark actually, that annoys him to no end under his right eye. With a slightly average height(5'6"), lanky but well built figure with long legs, Feng is seen as a calm, collected and serious looking person with great charisma and grace.
Personality
At first appearance, Feng is thought of as a very pretty looking (fe)male, whose face seems stuck on remaining indifferent. This is true. He isn't very welcoming to many, and is unable to respond to open affections. Feng is quiet, keeps to himself, and barely speaks, only speaking when he finds it necessary. When he does talk though, it is spoken in a very gentle and proper tone, using large words and vocabulary. However, he has been thought of as a prideful and conceited man, seeing as his natural strut of confidence leads many to think that he's some guy who thinks he's all that. His lack of talking usually clear those suspicions though.

Despite his silence, it is usually only a matter of time until he would need to release his frustrations, and then the rampant violent outbursts come along. Feng has several few anger issues. He is extremely annoyed with comments pertaining to his feminine appearance and his habits. At first, he would appear like it wouldn't bother him, and he would go around doing what he does, ignoring everything. But when it goes too far to a certain extent, he will snap, and surprisingly to some who had faced his wrath, despite his girly looks, the guy could pack a punch -- hard. Stubborn when he would set his mind on doing something, as he doesn't like it when he cannot accomplish a task, and will be practicing it over and over until it is burned into memory. Feng is very thorough with everything he does and makes sure that it is done flawlessly. He is sensitive towards perfection and has a strong obligation to go around to make sure all is.

However, a strong flaw in his character is that forever would he hold a grudge, until he could be convinced to forgive and forget or otherwise(chances are very low), which has caused many broken friendships and relationships in his social life. Easily misunderstood when people beat around the bush, he is not a very empathetic person, and gets very confused or jumps to conclusions until the blunt truth is spoken to him straight. Feng is a rather determined and strong willed individual who does not allow setbacks to hold him back or anything to dampen his spirit as he enjoys freely being about.

Skills
:Feng has an great talent at modeling and as a makeup artist, being very professional because he does his own makeup for all of his modeling gigs, and since he has been doing modeling since he had been around 13-15. He has a sharp eye for fashion and how well people can coordinate their style. Unfortunately, because of this, he automatically judges people on first appearance.

:Although he wouldn't call it a skill, but rather more like a curse, he had has an extreme acute hearing from being raised in a very quiet environment, and was trained as a child to hear even a feather dropping.

:He can moderately speak 4 languages in total, currently studying a fifth. These languages would be Mandarin, Cantonese, English, German and French - the one he's studying.
Likes

:Fashion.
:Flower gardening and admiring nature.
:Scarves.
:Classical music.
:Pale and vibrant colors.
:Stargazing and the nightsky when lit with stars.
:Tea.
Dislikes

:Coffee.
:The color yellow, strongly.
:Being unable to do something.
:Being touched.
:People who keep pestering him about his appearance.
:Makeup smudges.
:Loud noises that disrupt his slumber.
:Fire & Clowns.

Hexcode
#339966
Other
:Feng has a great fear of fire, and downright hates clowns. He gets antsy around them.

:He has an extremely poor sense of direction.

:Rises with the sun, on the dot. Being a very light sleeper, he is easily disturbed by the slightest noise, or light that would fall upon him.

:Listens to just about anything, but prefers classical and traditional music personally, despite not being able to play a musical instrument to save his life. He can perform traditional dances however.
Trust Me - The Fray
Looking for something I've never seen
Alone and I'm in between
The place that I'm from and
The place that I'm in
A city I've never been
I found a friend or should I say foe
Said there's a few things you should know
We don't want you to see
We come and we go
Here today, gone tomorrow

Were only taking turns
Holding this world
It's how it's always been
When you're older, you will understand

If I say who I know it just goes to show
You need me less than I need you
Take it from me
We don't give sympathy
You can trust me trust nobody
But I said you and me
We don't have honesty
The things we don't want to speak
I'll try to get out but I never will
Traffic is perfectly still

Were only taking turns
Holding this world
It's how it's always been
When you're older you will understand

And again maybe you don't
And again maybe you won't

When you're older
You might understand
When you're older
You might understand

DISCLAIMER: Before I am accused of "art theft", I do not, will not, and can not own the following images presented. They're copyrighted and are owned by their respective and original artists, not me. I did not get written consent from said original artists, and should they find this, and wish for me to take this down, I shall. They are not mine, and I will respect their wishes. If you are the original artist, please notify me immediately if you wish for it to be taken down. It is of my apologies.