An alien invasion threatens to wipe out mankind's only hope for survival....
2039 A.D. Earth suffers from a sudden invasion by alien forces. The world had never seen an enemy like this. Strange mech robots descended from the sky wreaking havoc across the globe. Nineteen years passed after that event, and with chaos ruling the globe, the only way to rescue the world from utter destruction is to survive and fight against those who forced the human race into complete annihilation.
It is now 2051. All of mankind has been wiped out and the planet is devastated. Only 6 humans are left and they aren't your average Joe. These 6 individuals have been physically enhanced specifically to fight against the alien race. They have one goal, one mission. And that is to defend against the invasion long enough for Earth's final trump card is completed. A weapon that was being created was said to be mankind's last hope for taking back Earth. It has been nineteen years and the 6 have been fending off the alien race time and time again from complete take over. But the leaders of the alien force have been planning something big as well.
There were fifteen of them. Beings from another planet who were responsible for the numass invasion. Powerful beings who were clearly more technically advanced than us. But even still, the humans put up such a resistance that after nineteen years of fighting, the 12 took the lives of eight of their members leaving them with only seven. To this day, those seven were called the Seven Apostles. And now they are back. With alien reinforcements on the way, the Seven Apostles ready themselves for the third invasion that is planned to be their last. Their goal: wipe out the remaining twelve and annihilate mankind from the face of the planet.
The 6 realize that the aliens are closing in. The project for Earth's ultimate weapon was called project 12, where the weapon would be on standby for 12 years to ready itself to fight the alien force. Due to the urgency of the situation the 6 decide to use the weapon 2 years early. There is only one problem. None of them had even seen, touched, let alone used this so-called weapon.
So this is where our story begins. In a hidden facility, way under what is left of San Francisco city, the 6 decide to open the stasis tank where the weapon has been in storage for 10 years. You will be playing one of the twelve. Remember, you are not regular humans but you also are not gods. Please do not give your character too much power as in no telekinesis AND super strength. You can only have one supernatural power and don't make it too powerful either. This is only an enhancement to defend against the aliens. All of the 6 have received mad combat training and are the best of the best when it comes to fighting. Please choose a specialty or certain weapon your character uses, almost like a class. There will be 3 males and 3 females in this RP.
Leader of the 12(male):
Male 2: reserved for
Gintoki Sakata
Male 3: reserved for
Me
Second in command(female): reserved for
Darkdiva_14
Female 1: reserved for
Ririo
Female 2: reserved for
anything14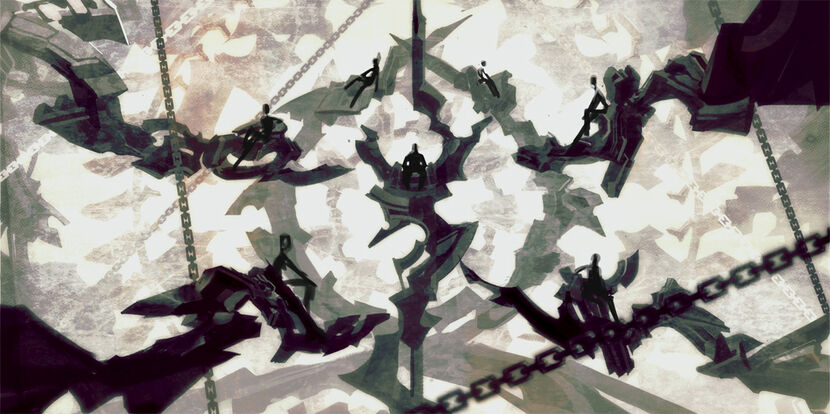 You may also play as one of the Seven Apostles if you wish. We do not need these characters to start but every good story has to have villains. You will be commanding the alien forces as well as being very powerful yourself. This is an alien race with advanced technology, please make them powerful but not to powerful where the 12 have no way of defeating them. If you need any reference see this page
http://blackrockshooter.wikia.com/wiki/Seven_Apostles
.
Apostle 1 Leader: White Rock Shooter
played by Me!
Apostle 2-7: reserved for me but please ask me if you wanna play as one!
Character Skeleton:
For the 6 humans
Name:
Code Name:
Appearance: (Add a ANIME picture please) At least a paragraph about your character's looks and also include things not seen in the pitcture if any.
Personality: (At least a paragraph)
Power Enhancement:(Nothing to powerful)
Specialty:(Class/skill.... What they are good at in combat)
Weapon of choice:
Opinions on using the unknown weapon:
History: (optional)
Other: (anything else?)
Seven Apostles
Name:
Appearance: (Add a picture please)
Personality: (At least a paragraph)
Power:(Nothing to powerful)
Specialty:(Class/skill.... What they are good at in combat)
Weapon of choice:
Opinions on the humans:
History: (optional)
Other: (anything else?)
Have fun and post at least once a day. And no one liners. Please post a paragraph or two UNLESS it is a dialogue scene and you are talking to someone and waiting for their reply. Writer's block is understandable but make an effort to make your posts lengthy. USE GOOD GRAMMAR!! No spelling errors or anything like that. I would like this RP to be neat. I'll add this and more to the rules section.
Taking place in...
0 posts here • Page 1 of 1
0 posts here • Page 1 of 1
Arcs are bundles of posts that you can organize on your own. They're useful for telling a story that might span long periods of time or space.
There are no arcs in this roleplay.
There are no quests in this roleplay.
Here's the current leaderboard.
There are no groups in this roleplay!
Welcome home, Promethean. Here, you can manage your universe.
Arcs are bundles of posts from any location, allowing you to easily capture sub-plots which might be spread out across multiple locations.
You can create Quests with various rewards, encouraging your players to engage with specific plot lines.
Settings are the backdrop for the characters in your universe, giving meaning and context to their existence. By creating a number of well-written locations, you can organize your universe into areas and regions.
Navigation
While not required, locations can be organized onto a map. More information soon!
There are no groups in this roleplay!
By creating Collectibles, you can reward your players with unique items that accentuate their character sheets.
Once an Item has been created, it can be spawned in the IC using /spawn Item Name (case-sensitive, as usual) — this can be followed with /take Item Name to retrieve the item into the current character's inventory.
Give your Universe life by adding a Mob, which are auto-replenishing NPCs your players can interact with. Useful for some quick hack-and-slash fun!
Mobs can be automated spawns, like rats and bats, or full-on NPCs complete with conversation menus. Use them to enhance your player experience!
Current Mobs
No mobs have been created yet.
Locations where Mobs and Items might appear.
You can schedule events for your players to create notifications and schedule times for everyone to plan around.
Add and remove other people from your Universe.
The Forge
Use your INK to craft new artifacts in The Final Six. Once created, Items cannot be changed, but they can be bought and sold in the marketplace.
Notable Items
No items have been created yet!
The Market
Buy, sell, and even craft your own items in this universe.
Market Data

Market conditions are unknown. Use caution when trading.

Quick Buy (Items Most Recently Listed for Sale)
Newest
"What I fight for is none of your concern. If you value your life then don't get in my way."
Trending
"What I fight for is none of your concern. If you value your life then don't get in my way."
Most Followed
"What I fight for is none of your concern. If you value your life then don't get in my way."
None
Discussions
Topics

Replies
Views

Last post
Most recent OOC posts in The Final Six
SWEET! Just 1 issue. I think ya should confirm with everyone who asked for a reservation, if they're still in. Some people might not check the OOC that often, n' thus won't know that we're still set. I'd just IM them or somethin' as a precautionary. :o
Everyone, your spots are reserved! Sorry for the delay! Tell all your fellow RPers to join us cause we need a few more to start. Please begin workin on your charries so we can get this up an running. X3

edit: actually we need only ONE more person to start... :P We can do this!!!!
MATTTTTTTTTTTTTTTTTTTTTTTT~ Do ya remember me? I played as a male BRS in yer 1st BRS based rp if ya don't. xD
Anyways. Could I reserve the Male 2?
May I reserve female #2, if it is okay with you?
I would like to reserve Female #1. Thank you~
Can I reserve the second female in command?
This is the auto-generated OOC topic for the roleplay "
The Final Six
"
You may edit this first post as you see fit.