Stereotype and assumption are dangerous; they lead to humanity recognising a carefully crafted falsehood as the truth. Without direct experience, it is easy to believe a façade that plays to the generalisation of the uninformed mind.
To the uninformed, it most certainly
looked
like the inside of an asylum.
When unfamiliar with health care, anyone in a certain uniform becomes a nurse, anyone with a stethoscope and a smart shirt becomes a doctor; ID tags are gospel. When lead to believe that the very workings of your mind have turned against you, do questions on the validity of your imprisonment become the ramblings of insanity?
"Why am I here?!"
"You know why you're here."
"But how did I get here?!"
"I'm sorry, but that's a question you need to answer on your own."
There are common rooms, lonely cells, and strange happenings in the darkness; is it strange, that nobody you meet knows how they arrived? Surely it's not right, to have no contact with the outside world? But the staff never change, visitors never come, and it's oh, so easy to begin to believe that there
is
no getting out.
"What's happening to me?!"
The First Signs of Madness is an adventure/intrigue style RolePlay where players awake to find themselves inside what appears to be the stereotypical assumption of a mental hospital. Drawing on films, books and popular culture, the setting is designed to be familiar in the most chilling sense. Each player has their own room, and no memory of how they arrived therein, although all of their other memories appear to be intact. Strangely, the door is not locked at all...
The aim of the game is to follow a series of tasks and challenges set by the mysterious hospital staff while attempting to form alliances and eventually discover the true secret of the asylum. Escape is the final shining goal, though whether the characters escape with their sanity intact is another matter entirely...
You character wakes up in a magnolia room; the windows are barred, sharp corners taped. They are wearing faded grey nightclothes, and their shoes and underwear have been taken. Those with long hair have had it let down; there is nothing with which they can hurt themselves on their person.

The door, though closed, is unlocked.

Their memories, save for the memory of how they came to be where they currently are, are intact.

It is their task to explore, learn to understand, and work along side each other and the NPC staff to achieve freedom.
Please feel free to submit an inmate; currently welcoming all character-types, though any powers that would allow immediate escape/understanding of the situation have been neutralised by the walls of the Asylum.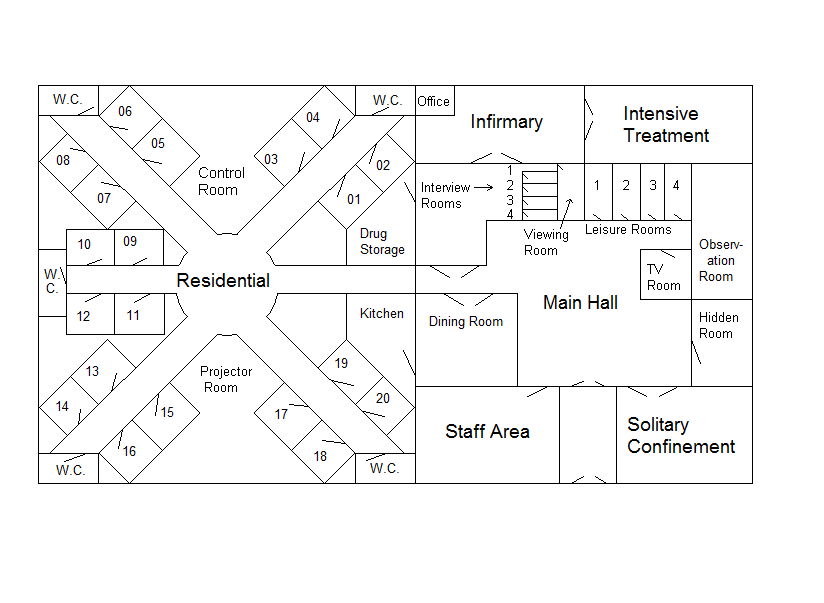 Here is the Asylum map.
Room 1: Agent Tori Sith.
Room 3: Karissa. DECEASED/RELEASED
Room 4: Xavier.
Room 5: Sarah.
Room 6: Devan.
Room 7: Aveline.
Room 8: Arthur.
Room 11: Matt.
Room 13: Jack.
Room 14: Keiko. Mindjacked to Trephan.
Room 20: Elise McAdams. DECEASED/RELEASED
Respect your fellow players; we are all here to have a good time.
Leave OOC problems in the OOC; there will be a thread available for grievances/discussion and such things are encouraged there, but please don't let any OOC problems affect your character.
Try to be inclusive of other players.
Remember that the walls of the Asylum are not easily broken; please be inventive about escape attempts.
NPC staff are currently under the control of the Game Master.
Post tagging:
Time-stamped posts help to keep the underlying plot stable, and prevent characters being forced to wait if they happen to be sleeping/unconscious/unplayable while others are still going through an interaction.
NPC labels:
Intervention
: An intervention post appears when the NPC staff are required to step in and enforce rules to prevent the smooth-running of the asylum from degrading, or when the plot is in danger. In these posts, the NPC staff will do all that is within their power to set characters back upon a set pathway. Characters are free to interact with intervention posts, though outside characters trying to get involved will likely be rebuffed, though this itself is a roleplay opportunity if you so desire.
Intervention posts tend to be centred around one to two characters, and cause short, NPC driven RP sequences.
The post order for an intervention is the NPC, and then whoever else is directly involved in the intervention.
Event
: An event post tends to occur for one character only, and the focus of the event will be clearly stated. These posts use a combination of NPC's and the asylum itself to create an event in the plot centred around a particular character.
While an event is in progress, other characters will be advised, through the narrative, where they are allowed to remain. Doors may be locked during an event, keeping certain characters in certain places, but any lone characters will still be provided with entertainment while an event is progressing.
Events may have two timestamps. The true time will be in bold, the time that it appears to be will be in italics.
Medication, telepathy, and technological trickery will likely appear during events; all will be clearly explained in the narrative.
Asylum
: asylum posts are a type of event that involves a larger selection of characters. During asylum posts, events occur that characters can react to as they see fit. Such things as power-outages, mass releases of anaesthetic agents, and large-scale people moves fall into the bracket of asylum posts.
Currently, the GM and the NPC staff will be in control of these types of post, as they are there for the entertainment of the players in this game.
Those exiting the Asylum will need to pass through security checkpoints.
Arcs are bundles of posts that you can organize on your own. They're useful for telling a story that might span long periods of time or space.
There are no arcs in this roleplay.
There are no quests in this roleplay.
Here's the current leaderboard.
There are no groups in this roleplay!
Welcome home, Promethean. Here, you can manage your universe.
Arcs are bundles of posts from any location, allowing you to easily capture sub-plots which might be spread out across multiple locations.
You can create Quests with various rewards, encouraging your players to engage with specific plot lines.
Settings are the backdrop for the characters in your universe, giving meaning and context to their existence. By creating a number of well-written locations, you can organize your universe into areas and regions.
Navigation
While not required, locations can be organized onto a map. More information soon!
There are no groups in this roleplay!
By creating Collectibles, you can reward your players with unique items that accentuate their character sheets.
Once an Item has been created, it can be spawned in the IC using /spawn Item Name (case-sensitive, as usual) — this can be followed with /take Item Name to retrieve the item into the current character's inventory.
Give your Universe life by adding a Mob, which are auto-replenishing NPCs your players can interact with. Useful for some quick hack-and-slash fun!
Mobs can be automated spawns, like rats and bats, or full-on NPCs complete with conversation menus. Use them to enhance your player experience!
Current Mobs
No mobs have been created yet.
Locations where Mobs and Items might appear.
You can schedule events for your players to create notifications and schedule times for everyone to plan around.
Add and remove other people from your Universe.
Orphanage
By marking a character as abandoned, you can offer them to your players as pre-made character sheets.
"I'm telling my father!"
The Forge
Use your INK to craft new artifacts in The First Signs of Madness. Once created, Items cannot be changed, but they can be bought and sold in the marketplace.
Notable Items
No items have been created yet!
The Market
Buy, sell, and even craft your own items in this universe.
Market Data

Market conditions are unknown. Use caution when trading.

Quick Buy (Items Most Recently Listed for Sale)
A sprawling, ancient looking structure, within which a group of strangers find themselves.
The area directly surrounding The Asylum.
Discussions
Most recent OOC posts in The First Signs of Madness