"So what's pay? Enough for a hireling? Well, it'll be fun either way."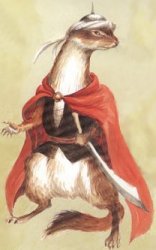 Name:
Kav the Stout
Gender:
Male
Age:
32
Race:
Stoat Kindred
Physical Description & Clothing:
Stoat kindred, while taller than their animal counterparts, are still rather short when compared to humans. Kav is a proud 4'1'', and weighs around 120 lbs. He's somewhat stronger than his kin, and can hold his own in a physical fight. His albino fur is scarred in several places, including a couple scars on his face-- but people still call his scowl adorable. He wears patched leather armor and carries an axe balanced for combat, as well as a pack with survival supplies.
Fur color:
White
Eye Color:
Red
Occupation:
Bounty hunter. Freelancer. Your hireling for all occasions.
Bio:
Kav hasn't had a last name for a long time. He used to, in that pub, but that was from another sort of life. Got a lot of shit in that tavern. Mother was the owner, thing was called the "Traveller's Rest" or something like that. Something generic. Father was some passerby Nord, came in and came out without much notice. Never really remembered either of their names, but still remembers Mother's face. Could pick her out of an army. Picked up a thing or two about Mother's trade, too-- what makes ale good, and what makes taverns great. The Traveller's Rest wasn't a great tavern.
The Shadehands came to the tavern when Kav was fourteen, and Kav left with them. Did grunt work for a couple years until Gavrek, one of the higher ranking Shadehands, died, and Kav stole a spare axe. Varghos figured he could hold his own if he could hold a blade, and though the group got smaller and smaller over the years, the Shadehands still did good work, and Kav lived through most of it. Eventually, he made a pact with the nature spirit Korivan while on a mission in Sylvanus, when apart from the group. It was as good a chance as any to get some magic and help the group, as many of the stronger spellcasters had left already.
Eventually, the Shadehands had only two members-- Varghos and Kav. The two of them, hearing rumours of a great expedition, headed for a familiar city, looking for money to create their own tavern someday, once they become too old for war...
Hometown:
A tavern on the roads, named "The Traveller's Rest".
Home country:
United Teker States, but he couldn't tell you if you asked.
Personality:
Amicable enough, if you know him. If you don't, inititially suspicious and hostile, though he warms up if you aren't trying to kill him. He doesn't talk much about his past, but he has
opinions
about tavern quality, which he will voice.
Likes:
Good beer, good fights, and a good bed at the end of the day. Also, floral arrangements. Reminds him of Mother.
Dislikes:
Badly run taverns, pretentious types, and uncaring leaders.
Skills and Abilities
Close combat skills with an axe, as well as rudimentary survival skills (enough to survive alone in the woods for a couple months if needed.) Good enough to fight toe-to-toe with a city guard, but not a veteran soldier. Kav also knows how to intimidate people, to an extent, though he has little talent for command.
Equipment & Weapons:
A pack full of survival equipment (bedroll, tent, food, water, rope, flint and steel, and a dagger), stitched leather armor, a couple changes of clothes, and his familiar (if slightly notched) combat axe. He picks flowers sometimes, too, so let's add that in too.
Magic:
Korivan is his spirit, and he has a lot of control over Korvan's magic. It falls mainly into two categories:
Nature Control (Major)
Entangling roots, thornspikes, branch walls, etc. Dependent on the flora in the area. Useful in natural areas, nigh useless in cities and areas devoid of plantlife.
You could totally kill someone with this, choking them with thorns or roots or surrounding them in nigh-airtight branches.
Obviously, this is nigh-useless against magic incorporating fire, ice, and in some cases lightning.
Wind Control (Minor)
Strong enough to push humanoids of around 200 lbs (90kg) as hard as a strong person shoving them. Can deflect arrows and bolts, but not bullets. Augments Val's agility in minor ways, aiding his dodges in melee combat. Can propel projectiles (except bullets) to fly faster than usual, making makeshift thrown weapons (i.e. rocks) a viable weapon. Can also raise a cloud of obscuring mist to cover escapes or attacks.
Can backfire when used against lightning, as it attracts lightning to the user.
Not strong enough to create razor wind and slice people, to explode people's bodies, to suffocate people, or to murder people in any other horrible way you can think of that involves wind.