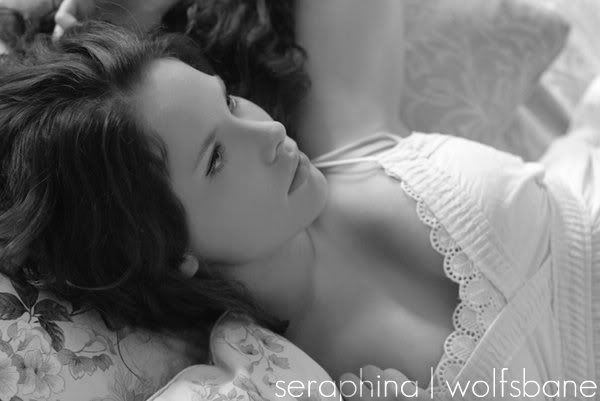 first ; name |
s
e r a p h i n a
last ; name |
w
o l f s b a n e
gender |
f
e m a l e
human
|or| vampire
age |
e i g h t
t e e n
class |
u p p e r
c l a s s
love/crush |
n
o n e
personality ; & ; appearance |
Exquisite. Dark. Breath-taking. Untaimed.
Seraphina is not the normal type arround here. All so quiet, gentle, touchy, all caring more about their Prince Charming and their dresses than the true essence of life. Adventures. This fair-skinned maiden has spotless, porcelain skin with long dark brown hair that flows down a few inches below her shoulders. Her eyes are a beautiful clear-looking light green, both haunting and charming.
history |
Seraphina grew up in a healthy environment,
in a large two-story house and a maid that raised her alongside with her grandma and was like family to her. She has always lived in the city of Dusk, yet always kept to her studies inside her house, coming out only a few times to help with the buying of the weekly food and other small things she is asked to do. She spends her days studying, something she knows is a great priviledge, playing her violin, reading, and helping to tend the house, flowers, and vegetables they grow at their backyard. Love? Yeah sure, she knows it happens. Soulmates? Please! She doesn't want to imprison her life any further with that; she wants to travel the world! Lately, she has been hearing rather odd stories, of a dead-white, blood-sucking creature, although she believes they are just nonesense stories, but then again, how cool would it be to find it?