"I'm not in the business of denying myself the little pleasures of life."
---
---
---
---
---
|Full Name|
"My name is Gavin. Gavin Eric Astor. Pleasure to meet you."
|Nicknames|
"I'm not a huge nickname guy myself, though I have no problem with other people going by nicknames, of course. My name is short to begin with, though, so I don't see the point of clipping it."
|Age|
"Age? I am Twenty-Six [26] years old, still in my prime."
|Ethnicity|
"I'm German and Italian mixed. My mom's a second generation immigrant from Italy, and my Dad met her while studying in America. I speak German fluently, because it's all my dad spoke at home, but can't say a word of Italian- mom refused to speak it at home."
|Occupation|
"What do I do? I used to be pretty big on the college football scene, but it was never really a life goal for me, so I started to study for a profession. Now I work as a nurse a few nights a week. Yeah, I'm a male nurse. If your going to make some archaic crack about it, don't bother."
|Apartment Number|
"We're kind of like. . . floor leaders? I don't know. I'm in apartment 1427, with a couple of friends from University. Mess with them, and you'll see a side of me that isn't as relaxed as you would be used to seeing me."
---
---
---
---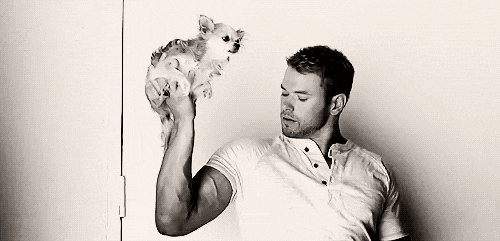 |Powers|
Regenerative Healing - Gavin's power is one that he has yet to be able to apply to anyone else, if that is even possible, which he very much doubts. Basically, he is able to rapidly heal from any injuries. Rapidly is a kind of loose term in these circumstances, though, because the more severe the injury, the longer it can take him to recover from it, and the more energy it saps from him. He can go so far as to regrow amputated limbs, although that would be very tiring for the young man and make it difficult for him to stand upright, becoming woozy. This ability can actually been traced through his mother's line, beginning from a very, very far off ancestor who was believed, due to this ability, to be a demigod. The origins of it are unknown, however. Theoretically, he can use this ability to slow or stop his aging process, becoming immortal, but only one of his family members have been known to have achieved this, and they returned their body to its normal processes after living for two centuries and deciding that they had seen too much death and loss, and were prepared to die.
|Weaknesses|
Sapping Energy - As was previously mentioned, more severe injuries can have the downside of draining a lot of Gavin's energy, making him lightheaded or exhausted. Regrowing things like limbs, though he luckily has not yet had to do such a thing, might have him bedridden for a few days. Organs are similar, which he knows from donating organs to the hospital where he works.
Bleeding Heart - Though me may come across as a more masculine and relaxed sort of guy, Gavin is a bit of a sucker for sob stories and the misfortunes of others, and somehow can find himself always doing things on the sly for those in need. He regenerates organs to donate, will secretly chip in on rent for those who can't cover that month, and always seems to be carrying gift cards in his wallet to give to the needy so that they can go buy food with them. Take away all of his teasing and muscles, and he's just a big teddy bear inside. The problem with this is that he can be manipulated through it, because he likes to believe the best in people. Plus, he's had trouble paying for his own meals before because he gave away a good amount of his income.
Cats - Yes, that's right, Gavin has a severe cat allergy, which has been the case since he was young. Despite the fact that he can heal himself from any illness or injury, he cannot escape the swelled throat and watery eyes of cats. The allergy is quite bad, though, and his throat really can swell up until it's hard to breath through his mouth, or swallow anything, if he is around a cat for long enough, or around one that sheds excessively.
|Skills|
Athletic - Alright, this is partially thanks to his supernatural abilities, which happen to keep him in top physical condition, but it branches beyond that. He's been in sports for the entirety of his life, and his job has him on his feet for twelve hours at a time. Obviously, he's going to be athletic. He's pretty good at catching on to most sports, due to natural hand-eye coordination and stamina. Don't get on his bad side, as his tackles can do some damage.
Emergency Medical Training - Gavin wouldn't have been able to become a nurse without taking the proper classes, and those classes taught him how to deal with a variety of different medical emergencies, whether it be a senior having a heart attack or an epileptic child having a seizure. It's what he's trained for, and he's the sort of person who it is handy to have around in an emergency.
Leadership - He's been on enough teams to know how to best deal with people, and has taken the psychology courses required for his field of work. Basically, Gavin may not exactly be an empath, but he's good with people, and knows how to lead others if need be. He may often come across as very relaxed, but he can become serious the instant it is required of him, and simply has good leadership instinct.
---
---
---
---
---
|Quirks/Habits|
Shirt and Shoes - Gavin has to take of his shoes as soon as he gets home, or else he feels uncomfortable. He's also the type who takes his shirt off when he gets home as well- he rarely wears his shirt around the house, really. He wears pants, of course, but neither shirts or shoes. He'll put on a shirt if someone seems to feel uncomfortable, but reluctantly.

Gift Cards - The man always has gift cards in his wallet to give out to any homeless people he sees on the street. Beyond that, he just really likes gift cards. He repays favors in gift cards, when he can afford it, and gives gift cards exclusively as presents.

Rubs Back of Neck - One can always tell when Gavin is feeling awkward or nervous, because he'll rub or scratch the back of his neck. It's a transparent sigh, so it doesn't exactly take a telepath to guess what the young man is feeling at the moment.
|Hobbies|
Video Games - One of the first things Gavin will do if he feels stressed in anyway is play video games- they are his form of relief, really, and simply something to spend the time even when they are not necessary to calm him down. Despite playing them constantly, he's only average at them. Still, he moves around a lot when he plays, more accustomed to sports. RPGs are his favorite, strangely.

Basketball - Football may have been how he paid his way through college, scholarships making life easy for him, but basketball is one of Gavin's favorite games to play, and he's rather good. He's constantly trying to get a game together, but often will end up just playing one-on-one games or shooting hoops by himself. He'll play with ___ at least twice a week, though.
|Fears|
Fire - He can heal the injuries that stem from burns, of course, but that doesn't make it any less painful while its happening. He'll avoid fire as much as possible, though when it comes down to it, he's still likely to run in if it means saving others. That doesn't mean he'll like it any more, though.

Losing a Patient - Gavin may come across as relaxed, but his job can be somewhat stressful at times, especially when he is working in the emergency care unit, which he usually does. There's always the fear that something will go wrong, and he won't be able to respond quickly enough or appropriately, leading to the death of a patient due to his own incompetency.
|Likes & Dislikes|
▲

Helping Others


▲

Basketball


▲

Sports


▲

Video Games


▲

Feeling In Control


▲

His Family


▲

Residents of the 14th Floor


▲

Hero Stories


▲

Pasta


▲

Speaking in German


▲

Action Movies


▲

Acts of Kindness/Kind People


▲

Flirting


▲

Parties


▲

Romantics
▼

Losing Patients


▼

Seeing Sick Children


▼

The Terminally Ill Ward


▼

Feeling Helpless


▼

Disrespect Towards Women


▼

Horror Movies


▼

Staying Still


▼

Chicken


▼

Cats


▼

Arguments


▼

People Messing With his Friends


▼

Popcorn


▼

People Crying


▼

Fires


▼

Southern Stereotypes
---
---
---
---
---
]
|Personality|
Gavin is among those who are considered to be big brother figures to the fourteenth floor, one of those whom people bring internal disputes to, and who deals with any issues that happen on the floor. In this building, after all, the fourteenth floor is basically a self-governing entity, distinct from the other floors. Luckily, he does have the temperament for helping those who are in need, thanks partially to a very easygoing nature. He's never been the sort to easily freak out over things, and is quite adept at calmly assessing situations. He doesn't distant himself from the issues, that's something that is almost impossible for him, but he can remain cool-headed enough to help people sort out their issues. This is true of many others, of course, but he pairs this with a leadership competency developed through years of being put at the head of the group. He simply knows how to deal with people, even if it is just on an instinct or feeling. He's hardly an empath, but he can read body language fairly well, and knows how to react to a variety of different situations that might have others stressing out until they can't think straight. He's able to handle his job as a night-shift nurse for a reason, with all of its stress, and its because he is able to, 8 times out of 10, keep himself as relaxed as possible. Gavin can be serious when the situation calls for it, of course.

Of course, as strong a leader as he might be, Gavin does have some definite soft spots and weaknesses, and those who know him can easily manipulate them. Though he may be an ex-frat boy, he's still an incredibly trusting individual who wants to believe the best of everyone. He's done some things that he regrets, and believing that everyone is born good, and still has good in them, is a way for the man to cope with such things. He is especially trusting in regard to his friends, who he will stand behind no matter what, following them to the ends of the earth if they ask him to. He usually takes people to say what they mean. This might partially explain the fact that he is such a bleeding heart, always trying to help others, regardless of the situation. He is a sucker for any sort of sob story, really, and seems to be constantly lending out money, or chipping in towards the rents of those who aren't quite cutting it that month. He treats the world as though they are his younger sibling, specifically the fourteenth floor, and seems to have what borders on a white-knight complex, believing that he has to help and save everyone. Maybe that's why he opted to become a nurse. It's definitely why he spends at least one third of his paycheck on charities and gift cards for those in need. It's not exactly difficult to enlist his help, is perhaps the biggest thing to take away from all of this.

One side that definitely gives him away as previously having been a member of one of the biggest fraternities at his old university is the fun loving side that he shows once he's gotten off work. He may function as a big brother figure at times, but that doesn't mean he can't be the sort of big brother who goes to parties and flirts and teases and jokes around. In fact, teasing and joking around with others is perhaps his favorite part of parties, because he's a very extroverted individual. He can be found at Apartment 1416 every Friday night, and otherwise it isn't uncommon to see him hanging out with friends, whether that mean playing video games, shooting hoops, or having a round at the local bar. He sees no problem with enjoying life to the fullest, in fact seeing something of a problem with not doing so. He has a great appreciation for life and its brevity, gained after the loss of his younger sister as a child. Basically, he sees it as a crime to not get something out of life, since it is such a gift. He's very appreciative in general, though, never one to forget his thank yous, and always paying back what he's been given.

All in all, Gavin is an optimistic person who genuinely believes that things will work out in the end. He may be a bit naive in this, but it is true all the same. He believes in people, and he believes in the idea that good things will come to those who work hard and are good to others. Maybe this stems from a religious side, for he has been a member of the Catholic church ever since he was a young boy, and his religion has always had a great influence over his life, in his belief in people, and his appreciation for life. The reason his religion has stuck with him is because it was a major help for him when he want through difficult times. It plays such an integral part in him, that it can be included among his personality traits.
Easygoing || Leader || Bleeding Heart || Trusting || Fun-Loving || Appreciative || Optimistic || Religious
---
---
---
---
---
|History|
Dallas, Texas. That was the birthplace of Gavin Astor, the second child and first son in his family. His mother and father had met in New York, when both were attending Columbia college, his mother on scholarship to be a Pediatric Doctor, his father sent by a wealthy family to get a degree in business. His father ultimately stayed in America with his mother, and the two gave birth to their first child, a daughter whom they named Gabriella, while still living in New York. While Gabriella was still two years old, however, the family moved to Dallas when Mrs. Astor was recruited for a job in a major hospital. Two years later, Mrs. Astor gave birth to their second child, a boy named Gavin. A year later, they would give birth to another daughter, and then another a year after that, named Maria and Hanna, respectively. The four children grew up in Dallas, and never moved from thereon. It was a happy early childhood, really, and Gavin got along very well with his sisters very well, this being especially true of the youngest sister, over whom he was very protective.

Up until this point, Gavin's abilities had not yet been discovered, though it was known that it showed itself in every generation. The past generation had revealed itself in one of Mrs. Astor, Miss Louisa Del Sarto originally, distant cousins. Because of this distance, she had assumed that her children would not be in possession of this ability. It wasn't until he was in third grade that, after falling out of a tree, his mother noticed the deep cut he had gotten rapidly healing and disappearing. This made her instantly aware that her son had inherited the family gift, which could be traced back for many generations. Gavin received a good amount of instructions and discipline in how he was to hide his ability, though there were slips up here and there, like when he didn't cover a cut up with a bandaid fast enough, and the teacher saw it heal. In this situation, he had to pretend that he had faked the cut, earning a light scolding. Other than such incidents, Gavin's childhood was a time of flourishing for him. He was athletic, and therefore easily accepted by his male peers. He took part in several sports leagues outside of school, but was found to have a talent for football, specifically. He came from a family which was rather wealthy, thanks to the success of his mother, and his father's real estate management business. Life was good.

Of course, in stories such as these, something must go wrong, or at least often does. In Gavin's case, it happened when his youngest sister, The Hanna that he had so treasured, was diagnosed with Leukemia. He was in eighth grade at the time, and she was in sixth. She died a year later. He would often think that, had she had the ability of regeneration instead of him, this never would have happened. She would have survived. Her death did give him an appreciation for the brevity of life, but for a year or two after that, had a graver impact on him. He made the football team, began going to all sorts of parties, and made some mistakes. The biggest mistake of all, however, happened the end of his junior year, he was driving home, under the influence. He hit a child who was walking home in the dark. He stayed, with the child, not the sort to hit and run if anything else, but the child was already in critical condition before the ambulance arrived, and it was too late. He was charged with driving under the influence, and had to go to a few classes. More than that, though, it changed him, perhaps for the better, perhaps not. He fixed up his act, though, and was a changed person, not who he was before Hanna died but definitely not who he had become following that. By senior year, he had gained a football scholarship to a major university.

When he went to the university, he had been very rigid for the first year, something often joked about by the other members of the football team, specifically the older ones. Noticing how serious and distant he seemed when he returned home for the summer, his mother spoke with him frequently about what had happened over the past few years, and how he was now acting about it. By the end of the summer, she had convinced him that he didn't have to choose between having fun and reflecting on what he had done. In an effort to loosen up, he joined one of the larger fraternities, instantly being accepted due to his place on the football team, as he had gained a starting position on the team despite being still a younger player, and was beginning to receive national notice. In this fraternity, he became part of who he is today- relaxed, fun-loving, and more optimistic. This, and religion, helped him to move on from the death of his sister, and the boy that night his Junior year, but not forget them. Eventually, he found that a few other members of his fraternity had unique abilities, like he did, and he became close with them. They continued to be close throughout college, including the part where he retired from the field and got a nursing degree. And they continued to stick with each other when they found an apartment building that seemed to have some sort of magnetism for those with strange abilities.
---
---
---
---
---
Happy || C2C
You'll never feel happy
You'll never feel happy, no you won't, until you try!
You'll never feel happy
You'll never feel happy, until you even try [x7]
You'll never feel happy, until you try

You'll never feel happy, until you even try [x3]
You'll never feel happy, until you try

Everybody needs this
Everybody needs this, happy thing
Everybody needs this, everybody needs this, happy thing

This song is not a gospel song
This song is not a funk song
This song is not a wrong song
This song is a real song aaaah!

You'll never feel happy, until you even try! [x4]
I need to be happy! Every, everyday!
And every night!
Everybody!
Again and again!
You know what? you'll never never never never never never never never feel..

You'll never feel happy, until you even try ...

Never never never,
Never never never,
Never never never,
Never never never woooou!

You'll never feel happy, until you even try! [x4]
Haheheuhoho...
Somewhere In The Between || Streetlight Manifesto
You were gone when we found you
You were practically surrounded, you were trapped
But the opposition stalled, their blood ran cold
When they saw the look of love in your eyes

Maybe the times we had, they weren't that bad
And everything else was part of the plan
We sang: "I don't know where we go from here"
This is the alpha, omega, beginning and the end
And we all just idolize the dead

So you were born, and that was a good day
Someday you'll die, and that is a shame
But somewhere in the between was a life of which we all dream
And nothing and no one will ever take that away

You had a love and that love had you
And nothing mattered, you were fine
And some will complain, they're just bitter, what a shame
They know that loving and losing is better than nothing at all

Maybe the times we had, they weren't that bad
And everything else was part of our path
We sang: "I don't know where we go from here"
This is the anthem, the slogan, the summary of events
And we all just idealize the past

So you were born, and that was a good day
Someday you'll die, and that is a shame
But somewhere in the between was a life of which we all dream
And nothing and no one will ever take that away

Maybe the times we had, they weren't that bad
And everything else was part of the plan
We sang: "I don't know where we go from here"
This is the alpha, omega, beginning and the end
And we all just idolize the dead

So you were born, and that was a good day
Someday you'll die, and that is a shame
But somewhere in the between was a life of which we all dream
And nothing and no one will ever take that away

And someday soon my friends, this ride will come to an end
But we can't just get in line again