"I don't need the approval of others to validate myself."
---
---
---
---
---
|Full Name|
"My name? Nailah Dominique Wilson. My mother named me, which seems fair, since my father is the one who gave me my last name. It's pronounced N-I-E-la. The E is a separate syllable."
|Nicknames|
"Nicknames? No, I don't do that. My mother gave me this name, and I prefer for that to be respected, alright? Call me anything but Nailah, and you'll receive no answer."
|Age|
"I've been able to legally drink at my place of establishment for over a year now- I'm twenty-two [22], that is to say. I still have my whole life before me."
|Ethnicity|
"And here it comes. My mom's black, Jamaican, specifically, and my dad's white, British. I've spent a lot of time being considered not black enough or not white enough, and not looking similar enough to either of my parents."
|Occupation|
"I'm a bartender. Basically, I can mix a drink, listen to a story, deal with drunks, and defend myself if need be. I was originally in school to be a Mechanical Engineer. Didn't work out."
|Apartment Number|
"I live in Apartment 1416- party central, and home of two of the most amazing girls you'll ever meet- plus me."
---
---
---
---
---
|Powers|
Pain Infliction - When Nailah tells someone to burn in hell, they'll feel like they really are- burning, that is. She can inflict pain on others that exists only in the mind, and therefore is far more difficult to avoid. She can inflict pain mentally, but she has to be relatively near a person for it to work- a few yards is usually her limit, though strong emotions can extend this by a few feet. That being said, the closer she is to a person, the more powerful the pain. Typically, those with advanced mental capabilities can lessen the effect she has on them. Physical contact, however, is often enough to break through their buffer. As a side note, being very far away from a person, or having to push through a strong mental barrier, can give her headaches. When inflicting pain, her mind is also more susceptible to telepaths. She has a fairly good control over her abilities, as they revealed themselves when she was rather young.
|Weaknesses|
Tobacco - Nailah has a bit of a smoking problem, unfortunately, one that is likely to have consequences later on in life. She has the courtesy to never smoke in the apartment, at least, but that doesn't make it less of an addiction. She smokes when she is stressed, hungry but without access to food, or even simply when she needs to get out of the apartment/bar. She always carries something on her to try and get rid of the cigarette smell, but it's not uncommon to find it still lingering on her. She's tried to quit before, but without success as of yet.
Blunt - One of the things that Nailah is best known for is her tendency to be rather straightforward about things, even when the situation calls for a bit more tact. She grew up working hard to make sure that she doesn't take shit from anyone, and because of this isn't fantastic at treading around the feelings of others. She'll say what she means no matter what, not the sort to play games or dance around the subject. And, for the most part, she doesn't have time for those who act otherwise- she expects the truth, even if its brutal. She's stepped on a few toes with this attitude, and is sure to continue to do so.
Children - Nailah didn't even really get along with children when she was a child, and she certainly doesn't now. It's not that kids hate her, but that she doesn't know how to deal with fragile infants or impressionable youth. She definitely can't handle taking care of kids, mostly because their frequent inability to understand instructions or logic frustrates her to no end. Even if a child likes her at first, they are sure to have changed their sentiments within ten minutes. Anyone below the age of, say, 15, is too young for her to be able to stand. She has a great amount of respect for people who work with kids, because she's certainly incapable of such a thing.
|Skills|
Bartending - Nailah has been a bartender for a few years now, starting back when she was still in school, and though she had the personality for it to begin with, she's learned some things since then. She can mix a drink that will knock a person out or pick them up, and has become pretty good at multitasking and dealing with drunks and assholes- though, of course, her idea of dealing with them is a bit different than the average person's, perhaps. The thing to get out of this, though, is that if you need something strong, she's the one to come to.
Mathematics - Before she became a bartender, Nailah was on scholarship studying to be a mechanical Engineer. She pursued this career choice partially because she loves math, including the math that goes with engineering. She's good at it, too. The young woman has a logical mind that works well with numbers. She's no Tristan, as far as high mental capacity goes, but math is something that she does for fun- it relaxes her.
Self Defense - Nailah's mom was a strong believer in a girl being able to protect herself. Keeping in mind that no one in her family knew about Nailah's strange ability, it makes sense that her mom would decide to put her daughter in self defense classes. Nailah was started in karate classes when she was around seven, and has taken Aikido, as well, a fighting style that uses the strength of the attacker against him. Basically, she can protect herself, with or without her powers.
---
---
---
---
---
|Quirks/Habits|
One Night Stands - Whether this is a quirk, habit, or something in between is debatable. Still, it remains true that, for whatever reason, Nailah never dates, and rarely sleeps with people more than once. She values friendship over romance, seeming to have less patience for the latter. So, she has one night stands, and often leaves before the person wakes up in the morning.
Morning Person - Her work has her staying out very late, so it would make sense that Nailah is not a morning person, wouldn't it? Strangely enough, she always seems to rise very early, even when she comes home very late. She doesn't like to sleep at night, instead running on a schedule of taking a twenty minute nap every few hours. It works.
Crossing Arms - When Nailah crosses her arms, you know that the conversation is over. It's as simple as that. She's done.
|Hobbies|
Basketball - Nailah has been playing basketball with friends since she was young, and played on her high school's team. She's pretty good at it, actually, and is one of the people who will humor Gavin when he's looking to play a game.
Documentaries - Nailah has a thing for documentaries. It doesn't matter what it's about, or whether she's interested in it- if there is a documentary on and she has time, the young woman will probably sit down and watch it. She's not really allowed to pick out movies on movie night.
|Fears|
Commitment - A bit cliche, perhaps, but true nonetheless, Nailah is the commitment shy sort of person. There's a reason why she avoids relationships. It's not even that she's against commitment in general- she values friends above all else, after all. The idea of being romantically tied to a person, though, is enough to give her cold feet. So she doesn't start relationships- they'll just end eventually, after all. Once again, perhaps this is typical, but this probably stems from her father abandoning the family.
Snakes - Being afraid of snakes is a logical fear that originated in the caveman days- it's a survival instinct. That's how she justifies it, anyway. Nailah has been terrified of snakes since she was a little girl, and you might see a different side of her when she's around them. Spiders, rats, guns- she can handle those. Snakes are a different matter.
|Likes & Dislikes|
▲

Documentaries


▲

Cigarettes


▲

Basketball


▲

Her Name


▲

Mathematics


▲

Spicy Foods


▲

Cars


▲

Giving Deserved Punishments


▲

Sex


▲

Options


▲

Friends


▲

Interesting Conversation
▼

Drunks


▼

Show Offs


▼

Cigarettes


▼

Nicknames


▼

Children


▼

Misogynists


▼

Commitment


▼

Most TV Shows


▼

Yoga Pants


▼

Celery


▼

Stupidity


▼

People Hurting Her Friends
---
---
---
---
---
|Personality|
In an argument, Nailah has no mercy, whether she wants to or not. The girl grew up to have a sharp tongue that cuts like a dagger and spares only those whom she very much cares about, though even then there are times when she is a tad bit more blunt than she really ought to be. Her mother taught her to never let herself be manipulated by other people, never to let herself be walked over, and she's taken those lessons to heart, influencing greatly who she is today. The young woman refuses to dumb herself down or soften herself for the sake of another person's ego, because doing so once, she was taught, will only open the door for future problems.

So she defends herself, not only with her powers but with a quick wit and an attitude that makes it clear- she is not the sort of girl who one can win over with pretty words or a few drinks at the bar. In fact, try to run some dumb line by her, and expect to have it thrown back in your face with a bit more sting. If she wants to hook up with someone, she'll make it clear, but otherwise, she has no time for idiots with a pickup line that other idiots have been using for decades. And she'll say so.

She is blunt, after all, certainly not the type to dance around the truth, regardless of the matter. If she's going to say something, she'll say it straight, believing that to be the best method. Nailah is a big fan of the 'ripping off the bandaid' route when it comes to problems or telling people somewhat unhappy truths. The truth is rarely simple, but she prefers it to the alternative. She expects honesty from others, as well, and while she can tolerate liars to an extent, enough of it will try her patience- which isn't always the largest thing in the world, if that isn't obvious yet. The young woman is not impressed by parlor tricks and white lies, by sweet nothings or stupid deceptions.

What does impress her is honesty, and individuality. She values those who are true to themselves above all else, and at least gives credit to those making an effort to find who they are. She's independent, but not just in the sense of taking care of herself. She believes that everyone is an independent being, that need not rely on others to validate their existence or their preferences. If someone likes something, then they like it- there is no need to make sure that it is approved of by peers, extremes excepted. Of course, she does also believe that people have a responsibility to look out for themselves to the best of her abilities. She, at least, doesn't like accepted aid from others unless absolutely necessary.

Nailah has always been intelligent, though not necessarily in the academic sense. She was good at math, of course, but passable at most other courses. No, she is intelligent in a common sense sort of way. In a street smart, sort of way. She knows what to avoid and how to avoid it, has an instinct for the best roads to take, and definitely knows how to best deal with problem customers at the bar where she works. The girl can handle herself, in fact feeling more at home in large cities and slightly sketchier areas. It's what she's used to, after all. In dangerous situations, she has a knack for escape, though she hardly has the immediate 'assess all plans in a second' advantage that people with enhanced intelligence or survival enhancements might. People see things from different angles. Nailah is usually pretty good at seeing them where they are.

While the young woman may have a tendency to be sharp-tongued and blunt, she is no less a devoted friend for it. As her friends are, she is fiercely loyal to those she is close to, standing by them no matter what. Though she might seem it, the girl isn't the sort who has trouble letting people in, not really. And she is incredibly loyal to each friend that she has. If someone messes with one of her friends in any way, they will be answering to her in a very small period of time, and it might not end up very pretty, suffice to say. She is very protective of her friends, especially the more naive or easily hurt ones, and she makes it clear in how she treats those whom she thinks pose a threat to her friends, taking on a sort of mama bear attitude.

She cares dearly for her friends, after all, and will do her best to stop them from feeling pain, because she experiences that pain vicariously. Kindness is not limited to her friends alone, though, and her sharp tongue may mislead people to believe that she has a different level of kindness than she does. When the situation calls for it, she can be surprisingly sweet. She's the one who determines whether the circumstances call for it, though, and she can be very picky about it.

Sharp-tongued || Blunt || Independent || Not Easily Impressed || Intelligent || Loyal || Protective || Kind
---
---
---
---
---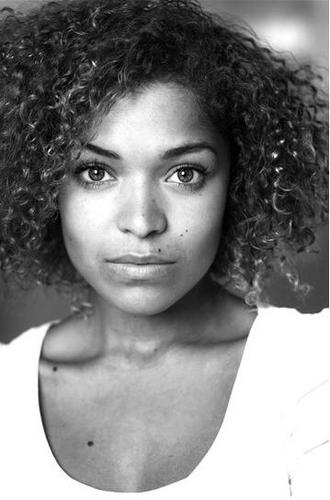 |History|
Nailah was born in London, England, in a very small flat on the fringes of the city, where her parents had lived for the past several months. The two of them were still in a honeymoon stage of a marriage which had happened exclusively due to Nailah's mother's pregnancy with the baby girl who would be born as her daughter. Still, they were happy enough, and even happier when their daughter was born, perfectly healthy in what seemed to be, and was later confirmed to be, every way. Of course, there would be something different about that little girl they cradled in their arms on the first of June, but they couldn't see that yet. She would not develop her strange abilities until a few years later, and by then things would have changed in the family, as might have been expected of a couple who rushed into marriage as her parents had. But, before anything else, they moved to America. Nailah was only one and half years old at the time, and terribly fussy as she began to teeth. The home environment was made significantly less cheery by her incredibly pair of lungs, which regularly filled their tiny apartment with plenty of noise. They tried to enroll her in a local church's daycare service, but were turned down after a single day with the difficult child.

They would have a difficult compromise of setting up work shifts so that someone was already home, but Ainsley and Mason, her parents, made it work, somehow. At the very least, Nailah was very rarely alone for her first years, which is perhaps how it should be for the benefit of development in very young ages. A few years later, however, things changed. She was still very young, only four years old, when she woke up to see her father, suitcase in hand, leaving the apartment. She asked him where he was going, but he just told her he loved her very much. And then he was gone. Her mother was particularly strange for the next week, and then a policeman came to the door to report some bad news- Mason Wilson had died in a car accident the next state over. When asked, Ainsley mentioned that he had been going to visit some friends. Nailah didn't understand this, because her father had never mentioned it. But she accepted it. It wouldn't be until later that she understood this lie- her father had left the family behind, but Ainsley was allowing him, in death, to act otherwise.

The next year, Nailah began elementary school in the area, and was soon seen as the sort of child that teachers either despise or adore. She had a constant comment to make, regardless of whether it was necessary, and was incredibly stubborn about everything. It was easy to gain the impression that she viewed her mother as god, for she seemed to consider "Well my mom said. . ." as the final word on everything. She was a bright student, but of course, it isn't always very difficult to be considered bright in elementary school. Back then, she was more of a reader than she is now. It was a way to pass the time when mom was at work, anyway. She read all sorts of books, but what she loved best were the nonfiction books, really. This would be the early version of her love for documentaries, perhaps. They didn't have cable in her house, so it was a welcomed substitute. She read other books, as well- The His Dark Materials trilogy made her lose her faith in the existence of a god. Harry Potter gave her a love for those who knew lots of things- like Hermione. There were other books, but these were the two important ones. By the end of elementary school, her reading habit declined greatly, as she turned to what would be her true joy- math.

But, before we touch on the rest of her school career, something very important must be touched upon in regards to Nailah. And that would be a seemingly small event in the fourth grade that would reveal her strange abilities. She noticed someone picking on another kid, and it irritated her. She was the sort, at this age, to give help where it wasn't asked for, and was very nosy in this way. However, before she even swung a fist at these bothersome kids, one of them collapsed onto the ground and began to cry in pain. Nailah was shocked, but her first instinct was to get away from that, and fast. The kid's pain disappeared just as she had gotten a good distance away. Situations like this began to happen more frequently from then on, until she finally came to the realization that she was making these people hurt without touching them. The girl quickly knew that she should keep this a secret and thus did so, hiding it even from her own mother. She'd seen things about people being persecuted for being different, had read about Salem witch trials and such. She wasn't risking it- for once, the girl was able to keep her mouth shut. And she continued to for a long time, even if she used her powers whenever she saw the need.

Now, back to the chronological order. When she entered sixth grade, she took a test which lined her up for an advanced mathematics track. Her mother was thrilled to find her daughter on this track, having always told her that intelligence is the most important thing someone can have. Ainsley had taught Nailah many lessons which the girl continues to reflect in her behaviors- never to dim herself for others, never to allow herself to be pushed around, to treasure her friends, to be wary of romances, etc. Nailah, though she was all attitude during these middle school years, had a great amount of value placed upon her mother's words. In the absence of a father, perhaps, she was a momma's girl, so to speak. She went through middle school without much of a hitch, helped perhaps that many people began to associate messing with her with sudden and strong headaches that couldn't be explained. She was teased, at first, for something that she didn't see a problem with- being half black and half white. But, aforementioned classical conditioning did lessen that teasing significantly.

High School and middle school slid by as she gained a reputation for the person you didn't mess with, the rumors spreading so far and so thoroughly that an unintentionally grown wall of woven vines with thorns surrounded her, save for a few roses who slipped in through the cracks and became the people that she would hold more dearly than anyone else. To be fair, she did have a sharp tongue that cut with unintentional malice, and the look of disdain she was capable of giving could freeze over the hottest summer day. It was a look she learned from watching others, and a tongue taught by her mother, though never turned on her. She didn't know how the bites felt in reverse, or did but thought hers were softer. So she had friends in high school, but not many, and they were of a strong fabric. They were the ones who stuck around when, Senior year, she became a statistic because for a moment, she couldn't even think, everything freezing in her mind despite the fact that she should be able to slay her attacker with a single glance. After that, her mind never stopped working again.

Skip forward to college, and the most beautiful of the flowers, the ones that flourished the most in her thorny garden, helped her take a weed-whacker to her walls so that she could become the sort of person who made friends more easily, who loved more easily. Of course, she was still a statistic, and therefore wary. Nailah worked hard in college. She was there on scholarship, after all, and couldn't afford to lose it. Studying to be a mechanical engineer- she was going to design and build things. She made a flaw in sketching out her strategy for getting by, however, and lost her scholarship. She didn't want her mom to know, so she found a way to support herself- working as a bartender locally. She learned to deal with what it presented, though sometimes only just barely without getting a little bit more hostile towards her customers. And her friends, the roses, found a place that accepted people like them- ones with strange abilities. They moved in together, and still live there. The bartender, the musician, and the ex-party girl.
---
---
---
---
---
|Theme Song|
Black Sheep || Gin Wigmore
[Backing Vocals:]
Oh, oh, oh

Oh, oh, oh, oh
Oh, oh, oh, oh
Oh, oh, oh, oh
Oh, oh, oh, oh

[Verse 1:]
I got lots of jealous lovers that all wish they had me back
Got a pistol for a mouth, my old mama gave me that
Making my own road out of gravel and some wine
And if I have to fall then it won't be in your line

[Pre-Chorus:]
Everybody's doing it so why the hell should I
Everybody's doing it so why the hell should I

[Chorus:]
I'm a bad woman to keep
Make me mad, I'm not here to please
Paint me in a corner but my colour comes back
Once you go black, you never go back
I'm a black sheep
I'm a black sheep

[Verse 2:]
I wasn't born a beauty queen but I'm okay with that
Maybe radio won't mind if I sing a little flat
I wear my boots to bed, hang a cross up on the wall
To save me from a shallow grave that wants to take us all

[Pre-Chorus:]
Everybody's doing it so why the hell should I
Everybody's doing it so why the hell should I

[Chorus:]
I'm a bad woman to keep
Make me mad, I'm not here to please
Paint me in a corner but my colour comes back
Once you go black, you never go back
I'm a black sheep
I'm a black sheep
I'm a black sheep
I'm a black sheep

[Repeat Verse 1:]
I got lots of jealous lovers that all wish they had me back
Got a pistol for a mouth, my old mama gave me that
Making my own road out of gravel and some wine
And if I have to fall then it won't be in your line

[Chorus:]
I'm a bad woman to keep
Make me mad, I'm not here to please
Paint me in a corner but my colour comes back
Once you go black, you never go back

[Outro:]
Once you go black, you never go back
Once you go black, you never go back
Once you go black, you never go back
Once you go black, you never go backHero Of This Story

He never ever saw it coming at all
He never ever saw it coming at all
He never ever saw it coming at all

It's al-right, it's al-right, it's al-right, it's al-right
It's al-right, it's al-right, it's al-right

Hey, open wide here comes original sin
Hey, open wide here comes original sin
Hey, open wide here comes original sin

It's al-right, it's al-right, it's al-right, it's al-right
It's al-right, it's al-right, it's al-right
It's al-right, it's al-right, it's al-right

No one's got it all
No one's got it all
No one's got it all

Power to the people
We don't want it
We want pleasure
And the T.V.s try to rape us
And I guess that they're succeeding
Now we're going to these meetings
But we're not doin' any meetin'
And we're trying to be faithful but we're cheatin', cheatin', cheatin'

Hey, open wide here comes original sin
Hey, open wide here comes original sin
Hey, open wide here comes original sin

It's al-right, it's al-right, it's al-right, it's al-right
It's al-right, it's al-right, it's al-right
It's al-right, it's al-right, it's al-right

No one's got it all
No one's got it all
No one's got it all

Power to the people
We don't want it
We want pleasure
And the T.V.s try to rape us
And I guess that they're succeeding
And we're going to these meetings
But we're not doin' any meetin'
And we're trying to be faithful but we're cheatin', cheatin', cheatin'

I'm the hero of the story
Don't need to be saved
I'm the hero of the story
Don't need to be saved
I'm the hero of the story
Don't need to be saved
I'm the hero of the story
Don't need to be saved

It's al-right, it's al-right, it's al-right, it's al-right
It's al-right, it's al-right, it's al-right
It's al-right, it's al-right, it's al-right
It's al-right, it's al-right, it's al-right

No one's got it all
No one's got it all
No one's got it all