In Description...
Full Name:
Safir Garethson
Age:
24
Gender:
Male
Race:
Human
Class:
Knight
Physical Description:
Rough in appearance, he appears older than he actually is with his broad face, strong structure, and long sideburns. His hair is brown, paired with dark eyes and full lips that is pulled down in a frown. It gives him a stern appearance, coupled by his height of 6'8 feet and thick bone structure makes him a very intimidating man. He has a couple of scars from practice accidents, but are nothing serious and most are healed over fairly well. He weighs well over 200 pounds, most of it being muscle.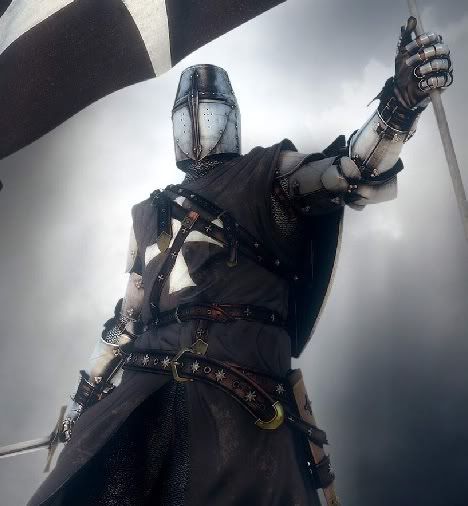 When not wearing his armor, he is dressed in a light tunic of varying color and some thick trousers. He still keeps his sword belted around his side, as if it was a measure of protection from his father. He also dons a pair of light shoes when not wearing the heavy marching boots that come with his armor.
Not optional:
Faction:
Children of Fire
Moral Alignment: Lawful Good
In Equipment...
Starting Armor:
He is given a set of armor and a tunic with the insignia of the Children of Fire. The Armor, polished and sleek was given to him by his father- a veteran knight proving that the armor had seen it's fair share of combat. The tunic, made by his mother- a sign of devotion to the Children of Fire. The armor is a powerful tempered steel, layers of strong plate-mail over a sheet of underlying chainmail that gives him near invincibility from physical threats. His helmet is an angled cylindrical shape with two slits cut out for the eyes and a multitude of small holes for breathing.
He also has a kite-shaped shield, painted with the insignia of the Children of Fire. It offers another sheet of protection, has been enchanted to be able to block magical attacks. It has one handle, which allows Safir to bash and pummel others with his shield to stun them or set them up for a kill.
Starting Weaponry:
The weapon he starts out with is his father's steel broadsword. Simple in design, but proven itself may times over in combat. It is four feet long, and has a leaf-blade shape meant for bashing and stabbing if necessary. It puts blunt force with cutting power, letting Safir hurt an armored opponent by breaking bones with a deft swing. He also can use the crossbow, but isn't too great of a shot at anything longer than medium-range. He carries a pack of twelve bolts at all times.
Fighting Style:
He has some training with his father, who was eager to see him fight for the Children in an effort to defend their lands. Safir's fighting style is brutish, seeking the quickest way to end the fight using strong stances and powerful blows. His swordsmanship is as good as one can get without practicing on live targets, and Safir incorporates his fist-fighting with his swordsmanship since he is armored to the teeth.
Weapon of Choice:
The Sword.
Other:
He carries a canteen of water, a satchel containing some medical supplies and another satchel for rations. He has a sack that carries bolts for his crossbow, a sheath to carry his sword as well as a whetstone in his satchel of supplies to sharpen his sword. He has a small pouch of coin, and some cleaning tools in a third satchel to clean off his armor and prevent rust as best he can.
In History...
Born in a small village on the mountain ridge that separates the continent into halves, Safir's parents and the inhabitants of the village were largely separated from the world. Being self-sufficient, they could manage their own little internal economy. Safir's father was a retired soldier- a Knight that served under the human armies long before the gods started dying, and his mother was an enchantress turned tailor. While neither of them were devout worshippers of the gods, they still placed a medium of faith in them when it came to things like crops and weather. When the world erupted into brutal war, the village in the mountain remained unaffected as usual. The little town was too high for the Civies to contest against the Primah, and the Primah were too high to risk making treacherous climbs down the mountain side to establish a base in the town themselves. The worst that Safir and his family had to deal with was the occasional tax collector from the Primah races.
Growing up in a time of war when he was an adolescent, his father decided to teach Safir the arts of how to defend himself. It didn't take long, and a year was a very long time when one looked at it through the eyes of a villager. Practice came easily because there was so little else to do, and even his friends in the village got into the practice as a way to shave off hours in the day. Safir's size gave him a natural advantage over his aging father, but his father was honed by decades of experience, and even at the waning of his strength managed to easily subdue his son with deft maneuvers. His mother remained in the sidelines, supporting him in everything he did.
The shock came when the dragons returned and seized a huge chunk of the continent. A horde of white dragons blotted the sky, and took the mountains easily with the advantage of their wings and power. Astara, their leader did not directly interfere in their lives, which lead many of the villagers and villages under their control to believe that the Dragons were the most efficient way to a peaceful resolution of the war. Of course, none of them had any idea what was foretold by the dying gods either. They eagerly signed up to become Children, Safir included. Donning his father's armor, and gathering his materials, his mother gave him a farewell gift- his tunic and and enchanted kite shield. He was more ready than he would ever be.