---
---
---
---
"Whom God wishes to destroy, He first makes successful in show business."
~ Francis Ford Coppola
---
---
---
---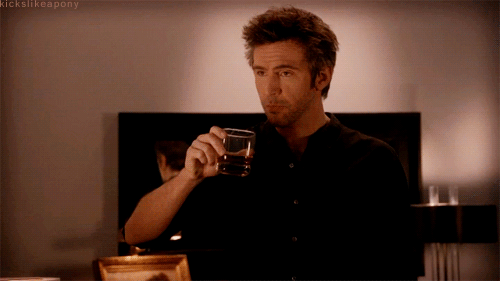 FULL NAME
Aristotle Proximo Lincoln
NICKNAMES
Aris - His most common nickname, which is what most refer to him as
Ari - Less common, reserved for closer companions
DATE OF BIRTH:
November 12
AGE
Forty-three
OCCUPATION
Director / Broadcaster ; former Actor
GENDER
Male
SEXUALITY
Pansexual
DIALOGUE COLOR
#bf673f
---
---
---
---
PHYSICAL DESCRIPTION
Aris has quite an average build for a man of his inflated personality. He stands at about five feet, eleven inches and weighs one hundred, fifty pounds. Over his life, he has retained an athletic build, but he would be a fool to think it hasn't deteriorated slightly since his acting days ended. His hair has always been a mousy shade of brown, but it has begun to gray with age, leaving him with a slightly grayish-brown shade. Naturally, it sort of sticks up on end, but he often works product through it to tame it and make it presentable. His facial hair he leaves scruffy in a perpetual five o'clock shadow style.
His eyes are a brilliant, deep shade of blue that seem far more expressive than most. In general, he's an extremely expressive person, which is a side effect of being an actor virtually his entire life. His sense of fashion is often at the forefront of Arcadia's male fashion - he keeps up with trends as quickly as they appear and disappear. His wealth allows him to go above and beyond just being flashy, making his sense of style ostentatious and braggadocious.
PERSONALITY
Aris is the epitome of privilege and the repercussions of a childhood that was doused in it. From birth, he had just about anything he could want for. Or, rather, anything material, for he still had to work for attention and respect. His parents did a shoddy job raising him, and for this reason, he is quite emotionally stunted. If it bothered him, however, he would have sought some sort of counseling or therapy. Likely, he feeds off of the gossip abut him and his personality as much as he does any other attention.
He craves attention of any sort, positive or not, for he is aware that publicity is publicity. It was a lesson he quickly caught on to as a boy, and it has helped him move above and beyond his peers. Aris is flashy and showy, saving absolutely no expense or shred of humility. He enjoys the finer things in life to whatever extent he wishes to. Aris has little modesty, thus, and further, never holds back in social situations. Though he is aware of the precarious position his reputation is in as a celebrity, he lives in the moment and does what he wants when he wants. Thus, he exudes an arrogant aura that makes him the subject of most people's animosity. On the other hand, he is still well-spoken and quite capable of spinning situations in his favor. He's very openly flirty with others, and he uses it to his personal advantage often.
Despite all of his awful traits, Aris still does have some morals. He cares greatly for his family and is surprisingly present in their lives despite having a very active career and social life. He is not explicitly malicious if he does not have to be - but he certainly is not above lashing out if he feels that he or his children are threatened. All he does, he does for them and to ensure that they can have the childhood he never did.
LIKES
✔
Attention - As a child who was raised in the movie industry, he has always thrived on attention, and his entire career has been built around it. Essentially, he feeds off of it and each move he makes is a way to ensure he remains the center of Arcadia's attention.
✔
His Children - Aris's children mean the world to him, and he would do whatever necessary to ensure their safety and success in life. It is quite obvious that he does not hold as much regard for anyone as he does for his children.
✔
Alcohol & Cigarettes - He most certainly abuses alcohol, and it is extremely uncommon to find Aris without a cigarette on hand. They are only remnants of other drug habits he has had over the years, but they are also the most chronic.
✔
Social Gatherings - An extrovert through and through, Aris thrives off of contact with others and often makes appearances at most social functions to get his "fix" of sorts. It tends to stretch him quite thin, but in the end, he feels rewarded.
✔
Old Literature - A favorite hobby of his, when he isn't out and about, is to sit in his apartment with a book, preferably something pre-twenty first century, as he thinks it makes him appear more well-read. Further, he finds the story-telling ability of a people so far gone to be charming.
DISLIKES
✖
Commitment - The idea of committing to anyone, even though it really is not expected of him, worries him nonetheless. His parents were never committed to him nor each other, and so he finds it difficult to make those bonds with anyone.
✖
Competition - Though he loves being at the top of his game, he hates any challenge to his position or job and shies away from any sort of conflict. Often, if he must compete, he seizes up from the pressure.
✖
Waking Early - If he had his way, he'd function only at night. Mornings are often accompanied by hangovers and an overall feeling of exhaustion.
✖
Warm Weather - Aris is quite quick to overheat in the summer, and so he prefers the cold. It also allows him to indulge in sweaters, a weak spot for him.
✖
Shouting - He may love the constant murmur of conversation, but Aris despises loud noises as they quickly become overwhelming. They likely also remind him of his parents arguing, or of him arguing with his son's mother.
FEARS
☠ Losing His Children - As his children mean the world to him, to lose them whether through death or custody battle, he would be distraught. And so, he makes them his priority, hoping to secure their presence in his life.
☠ Loss of Fame - Second only to losing his children, Aris fears the day that he is no longer socially relevant.
☠ Dogs - He once had a pretty awful experience with a dog on set, and since then, he's been terrified of them all. Dogs of any size are the subject of his fear, and he avoids them at any cost.
---
---
---
---
BIOGRAPHY
Aristotle Proximo Lincoln, as his overly pretentious name would likely suggest, was born into a great deal of his wealth. His mother, Callista Lincoln, was a director, and his father was an actor, Proximo Hoult. The two met at a party, as couples in Arcadia often do, and they established a close friendship that blossomed into a passion for each other. Both parties agreed it was never love - but love had always been a very monogamous concept, and perhaps their affection was a form of love, but they would never truly acknowledge it.
Love or not, their union bore them a son, whom they named Aristotle - a large name for a small child that was quickly shortened. His childhood was a glamorous one, given his parents' occupations. Both remained in his life, as parents often do, but it was his mother who truly cared for him, and so she placed her name on his birth certificate, despite a brief legal battle between her and Proximo who, eventually, was deemed incapable of raising the child.
Even as a child, Aris was thrust into the lime-light. He quickly became a bit of a star, for his parents often pulled him into their projects. By the time he was in his teens, he was known across Arcadia. The problem with so much fame at such a young age is that it has the tendency to stunt one's esteem and emotional development. Essentially, Aris was raised by a nanny, but his closer companions included his fellow child stars and his parents' Gildeds. His days were spent cramming school lessons between takes, and his nights were spent dabbling in substances he shouldn't have even known about.
The Republic's darling became something of an insufferable brat, and the tabloids captured it all, especially a particularly grand breakdown following his father's death by overdose - which was never determined to be accidental or intentional. Whether Proximo's passing truly shook him or he and his mother saw it as the perfect time to turn himself around, Aris
did
change his behavior and quickly filled in where his father's presence had once loomed.
And so, Aristotle's fame grew, surpassing that of his mother with ease though she guided his every action. He quickly found that this set-up grew tiresome, and by the time he was twenty, he shrugged her off and never looked back. He was entitled in that sense - his mother and father had made him a culmination of their efforts, and he had overshadowed them both without acknowledgement. Or perhaps he was due that after losing his childhood to the monster that is fame.
For years, Aris topped the charts as Arcadia's best paid actor. His wages far exceeded those of his peers and, rumor had it, were scandalously higher than the wages of government officials - taboo in the post-America world given the plethora of responsibilities that were placed on the shoulders of the Doyens. He acquired his first Gilded when he was about thirty. His love for her was unlike his love for any other, despite this, his first child, Orion, was mothered by a costar named Colette.
The following custody battle was a long, arduous one, but Aris was eventually deemed the more capable of providing Orion with more resources than Colette could. She would, though, still have a place in his life, albeit a smaller one.
Between the birth of his son and his first daughter, Aris began to take a step back from the spotlight. Life was catching up to him quickly, even though he was only in his early thirties. He could feel his life becoming more hectic, and it was harder to spend the time he wanted to with his young son. Instead of acting, he began producing movies, and when they failed to live up to his expectations, he began directing them. In the end, it probably took more time from him, but it invigorated his career and gave him the personal control he desired.
It frightened Aris to have been so close to losing his son as a part of his life, and so he decided the only way to ensure he would not have to fight for a right to his children was to have their mother be someone who couldn't possibly sue him for parental rights - his Gilded. Emilia was her name, and she bore his daughter Helena quietly and secretly. Even the maids and butler were unsure who her mother was, though they had their suspicions. Helena's birth was illegal, but Emilia knew that if she were to report Aris, she'd lose her lifestyle. Further, she had not a clue what would happen to her daughter.
And so life carried on for Aris, but his Gilded began to spiral into a slow, unnoticeable depression. She watched from afar as her daughter aged, and then, when Aris decided he wanted another child, she watched as Cecilia was also ripped from her. It consumed her, pushing her over the edge and driving her to take her life. The scandal consumed Aris's life for quite some time, and he fell out of the public eye for quite some time as he recuperated.
He acquired his current Gilded, Luisa, quite shortly after his reappearance into high society. Though still directing, he also took up television appearances, hosting talk shows here and there and dipping his toes into the world of reporting news every once and a while. Aris lives comfortably, without much repercussion for his deeds - but everything is certainly culminating, waiting for the day where it all just falls apart before him.
MISCELLANEOUS
Father - Proximo Hoult -
deceased
Mother - Callista Lincoln -
deceased
Son - Orion Julius Lincoln -12
Daughter - Helena Claudia Lincoln - 8
Daughter - Cecilia Olivia Lincoln - 6
---