---
---
"The Future Belongs To Those Who Believe In The Beauty Of Their Dreams"
~ Eleanor Roosevelt
---
---
---
---
FULL NAME
Magnolia Thyme Krane
NICKNAMES
Magi: Common and over used, doesnt particularly enjoy it.
Lia: Again rarely used, hates it.
TicToc: A play on her middle name being Thyme, might through a fit when this one is used but secretly likes it.
Birdy: Her favorite.
DATE OF BIRTH:
June 30th
AGE
Twenty-Two
OCCUPATION
Gilded
GENDER
Female
SEXUALITY
Demisexual
Sense she hates explaining what demisexaul means she will just say straight or heterosexual when asked by someone she doesn't know well.
DIALOGUE COLOR
Dialogue:
#541010
|| Thought:
#a33e3e
---
---
---
---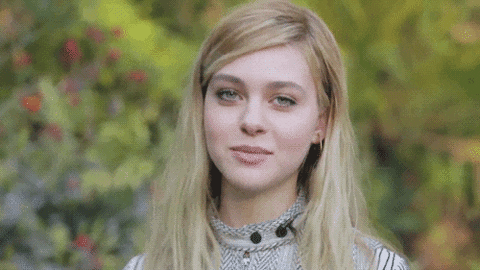 PHYSICAL DESCRIPTION
Magnolia is a delicate young woman, standing at barley 5'2Ft and weighing a total of 120LBs when soaking wet. She is often misjudged because of her slight build for being weak and is also often thought to be far younger then her twenty-two years. Often referred to as pixie like, sapling (because she appears to be willowy in body shape but is short.), and doll like due to her dainty body and the fact that she is a natural relaxed beauty.
She has a mass of silky dirty blonde waves, jewel colored doe eyes rimmed by her naturally thick and long lashes, full lips and high cheek bones. Magnolia is known for her normally relaxed makeup and clothing style. She can make a simple pair of jeans and a loose T shirt look good, though she does prefer to dress up and wear clothing that actually fits her body. Magnolia is also really into heels, finding any excuse to wear them.
On a typical day, Magnolia can be found wearing a nice pair of jeans, either converse or low heels, a tunic top, some cute jewelry and one of her many over the shoulder purses. Her makeup is kept simple, normally a dark shade of lipstick, a slight smokey eyes, and mascara is all her wears and her hair is either in a braid or thrown into a sloppy/messy bun.
Her skin has been etched with
swirling golden vines
, mostly on her arms, back, and thighs. For the most part Magnolia is not as designed as some but its still blatantly obvious that she is a Gilded.
Magnolia's Style
PERSONALITY
✦
Optimistic
✦
Temperamental
✦
Observant
✦
Distant
✦
Intelligent
✦
Quirky
✦
Competitive
✦
Motivated
✦
Loyal
Magnolia is chalk full of endearing contradictions: Optimistic,Motivated, Competitive, and loyal yet at the same time she is Distant and temperamental. She is the sweet neighbor girl who would pick fights to protect her friends, would make up games that would include everyone, who would always look for the bright side of things but at the same time she was the girl who came off as snotty because instead of actively trying to make friends on the play ground should pull away from the group and sit and watch.
As she has aged, Magnolia has gained a handful of friends who adore her because not only is she fun to be around now that she knows them but also because she knows when something is wrong simply by their body language. Her friends are her motivation in all things, they keep her balanced. She wasn't ever close to her family so the few friends she has keep her balanced and motivate her to make a better life for herself and them. They are what keep her calm, her friends are the few people to ever see her in what she calls her 'house wear'which is just in reality her lazy wear or what she wears when she doesn't wish to get dressed, they are the few people who have ever seen her so frustrated that she broke down and cried. Where she hasn't spoken to her family sense she became an adult, she hasn't stopped talking to them sense the day they became her friends.
Though contradicting to her complex personality, Magnolia's wants in life are rather simple. She just wants to own her own home and business and to be able to live peacefully. Honestly, her inspiration for her dream is old history books, how land was traveled and settled, how if you earned enough you could walk over to the bank and purchase the land for your business. Then slowly build it up, the idea of it is so marvelously simple and appeals to her though she understands on a logical and rational level that in the modern times that nothing is that simple but ever sense she heard about it she has wanted to do just that.
Her dreams also frighten her because just as quickly as she gets her business up and going it could fall apart do to the constant change in the 'Ins', being a Gilded also scares her because what if she is thrown out like a common household item after just a few days? Though frightened by these things, her most dominant trait being optimistic just doesn't allow her to worry for to long because its just in her nature to look for the good things or the bright side and the pros out weigh the cons.
LIKES
✔
Warm Tea or coffee: Sitting outside in the early morning light before the city starts to sir with a warm cup of coffee and sitting outside as the lights dim and the world goes to sleep with a warm cup of tea is the best way to wake up and go to sleep.
✔
Large comfy sweaters: There is just something soothing and comforting about being cuddled in a sweater that is twice the size of her body.
✔
Training/Exercising: Not only does it keep her body in shape but it helps her keep her anger in check by giving her a release.
✔
Loud Music: The louder it is the better because she likes the feeling of almost being at a concert, except this way she doesn't have to deal with annoying people or crowds of any sort.
✔
Reading in bed: Its relaxing and peaceful, add some banana pudding or pomegranate smoothie and it becomes even better.
DISLIKES
✖
Soda: She just doesn't see the appeal and she doesn't like the feeling of the carbonation. A glass of iced sweet tea or warm coffee/tea is much better in her opinion.
✖
Being judged: Due to her distant behavior she has been judged as being snotty and it really bothers her.
✖
Being asked her age: She gets it, she looks young but if she is in a bar and being served then obviously shes at least twenty-one. So, please dont ask if shes still in High School and how she got in.
✖
Being looked down on: Who likes being looked down on? Its really that simple.
✖
Romance: Shes believes that romance, true love, or any other 'romantic' notion is a lie. It doesn't exist.
FEARS
☠Spiders: They have eight legs, hundreds of eyes, and sharp pinchers. Why wouldn't you be afraid of spiders?
☠Being forgotten: She grew up in a modest home that was filled to the brim with her numerous siblings and half siblings. Being somewhere near the center she was often forgotten and over looked because she was rather quite. Its now a deep rooted fear that when shes gone no one will remember her.
☠Failing: No one likes the idea of failing but this fear is connected to the one previous, she believes that if she fails at her dreams that no one will remember her when she is gone so she cant fail.
---
---
---
---
BIOGRAPHY
Born on a oddly stormy summer night, Magnolia was the fourth child born to Elizabeth Krane, two of which came from a previous marriage, and the third child to be sired by Thomas Krane. The youngest of seven children she was doted on for awhile but like all things this quickly came to an end when her mother announced her was expecting once again, as her mother grew bigger she could do less around the house and it was expected of her at only four to help her older sisters with the chores. After Malcolm was born things went back to normal for the most part until Elizabeth got sick and passed away.
Thomas remarried and together had four more kids, totaling the house hold up to two adults and twelve kids all under the age of eighteen. Margaret and Margo were the oldest at fourteen, then there was Micheal at twelve, Magnolia was next at eleven, and baby Malcolm was seven at this point. With his new wife Cynthia, Thomas had twins Thomas junior and Tabatha, Tristan, and Teddy. It was a loud house with all the children running about and more then once a child or two was forgotten, it was mostly Magnolia because of her quite demeanor.
It got so bad that Magnolia stayed at one of her few friends during childhoods house for a few weeks and upon her return the only one who noticed that she had been gone at all was two year old Tristan who mentioned that he had missed her. When Magnolia was fifteen life got a little easier to bare because the Twins both left on the eighteenth birthday. This was also the year she was asked for the first time if she would like to be a Gilded, at the time she said no because she wanted to finish school and her parents supported her decision.
At seventeen Thomas and Thomas Jr. were in an accident, upon their deaths the house became much quieter because Cynthia spent all of her time holed up in her room and the younger children just couldn't understand that their father and older brother were never coming home. Yet, through all of this Magnolia still some how managed to get forgotten. At the church the funeral was held at, at the Lawyers office after the will was read, even at the old bakery where her father had spent years working at after they picked up his last paycheck. It was at this time that she realized that though they loved her, her family just didnt notice that she existed so a year later on her eighteenth birthday she accepted the offer to become a Gilded.
MISCELLANEOUS
✦
F A C E C L A I M
Nicola Peltz
✦
F A M I L Y
FATHER: Thomas Krane{D}
MOTHER: Elizabeth Krane{D}
STEP MOTHER: Cynthia Krane~40
SIBLINGS:[Maternal Half]Margret and Margo Black~25
[Full] Micheal Krane~23
[Full] Malcolm Krane~18
[Paternal Half] Thomas Krane Jr.{D} and Tabatha Krane~16
[Paternal Half] Tristan Krane~13
[Paternal Half] Teddy Krane~10
✦
P E T S
Two Pitbull mixes, a female blue nose named
Ari
and a male red named
Mozy
---