God Name: Caylea.

Title: The Goddess of Day, Light and the Sun. She is the creator of day and the sun that brings it to light.

Gender: Female.

Alignment: Good | Neutral.

God Appearance: Caylea's new body takes on the appearance of a young girl, noticeably in her teenage years, estimated at an age of around sixteen to eighteen, with fair skin, dazzlingly big hazel-brown eyes and a complexion of youth. She does not see herself as anything about average because narcissism gets on her last nerve, but would not consider herself hideously unattractive either. Her features are in proportion, despite her eyes being too large for her own good, and her mouth being thing and strangely narrow. She has a thick head of golden-brown hair, reaching down to her neck and having a wispy fringe that falls over her eyes some, somewhat pinned back by two pale pink flower pins. She stands at a height of 5'0" with a weight of 90lbs, making her a decent weight for her height and giving her a sort of slender look, her legs considerably long. Overall, she has more of a cutesy and adorable look to her than being womanly beautiful.

Personality: She is an extremely optimistic young woman who is kind-hearted, soft-spoken and amazingly quirky. She surrounds herself in a bubble of positivity, so to speak, and while she does understand that outside of her little bubble negative things do happen in the world, but it is her refusal to accept such ideas that makes her so different from so many other people. If there is one thing she loves to do the most, it is to ask questions, find out information and act on her curiosity, making her an inquisitive person. She can be very social and always want to chat to people, asking them how their day has been or generally just meeting new people, making friends and forming relationships with both Mortals and Gods/Goddesses alike.

Being Goddess of the daylight, she will always try to 'shed light' on other people's days by doing things that she thinks will make other people happy, even if they upset her. She may be strictly positive but that does not mean she doesn't feel negative emotions in certain situations. She is an emotional girl and is hurt easily by the harsh words of other people, and feels that her bubble is sort of like protection. Under very exceptional circumstances, for example if her friends or people are in a position of danger, then and only then will she act violently towards another person.

Opinion of mortals: She favours her own people above the other mortals, but treats them all with as much respect as she would treat her own civilization and other Gods alike. Like stated above, she can be extremely defensive over the mortals, even if they are not her own, especially if they are in a position where they have no power to defend themselves. She has no problem sticking up for them.

God's Domain: Naturally, her domain lies within the sky, where she feels protected and guarded by the blinding light of the sun. There she cocoons herself, so that no one may reach her whilst she is peacefully resting. To describe this domain would be an impossible task as no one has ever seen it and lived to tell the tale, either because they've been burnt to a crisp by the heat radiating from her body or her naturally territorial nature has caused her to act out against them. That or they've been grounded and can't possible reach her at such a height. Of a night time, she has no home in the sky as the sun disappears, which means that she will sleep within the confines of her Kingdom, Cerix, and inside of a room that is almost as bright and hot as the sun itself, making it impossible to enter.


---

Avatar Name: Yet to be chosen.

Avatar Appearance: --

Personality: --

Magic Abilities: --

~~~~

Hero(es): Yet to be chosen.

Rank/Reason: --

Personality: --


---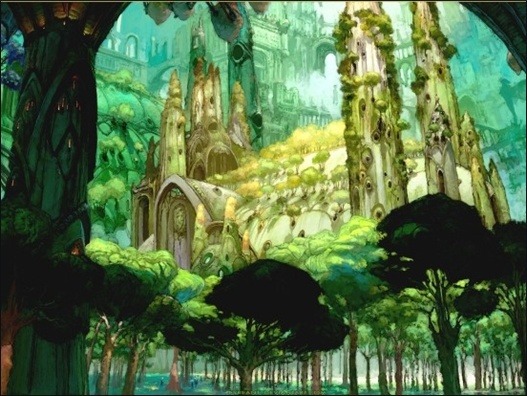 Terrain Preference: Areas where there is much light, preferably on the top of mountains, large hills, clearings in forests where the sun shines down upon them.

Name of Kingdom/Empire: Cecerixan.

Capital: Cerix (shown to the right), which is a large city that sits deep within the forest of Cecerixan, in the centre of an extremely large clearing. The city is very large, homing thousands and thousands of people, who bask in the glow of the sun. Of a night time they retreat to the thousands of buildings, holding an eternal light given to them by their Goddess. The entire city is covered in greenery, the buildings are taller than most modern skyscrapers and the city itself does not hold walls for protection but the forest around Cerix is heavily guarded with soldiers of the sun.

Major Cities: There are three major cities within Cecerixan, the first of which being Cece, a city up within the mountains, where they feel comfort in being closer to their Goddess and the thing that gives them light. They are where the richest and most privileged of Caylea's people live, purposely separating themselves from the poor and unfortunate. The second city is Yela, where the communists of Cecerixan situate themselves. Here they believe in the equality of men and women, and are proud to label themselves middle class. Their home lies out in large fields and meadows, where they farm for their food and materials. This city is much more of an extremely large village than an actual city. The third and most impoverished of the three major cities is Rixan, where those without wealth are pushed aside and left to suffer on their own. Their home is left without the gift of Caylea's light, mainly because only the purest of hearts have their fire burning for an eternity, and the people living with Rixan are thieves and crafty merchants.

Society: The attitude of the people of Cecerixan is solely dependent on which city the come from. Some can be territorial, other can be calm and collected, whilst the people of the poorer cities can be crafty and a bunch of liars and cheats. As a whole they are a fairly wealthy country, due to how much the people of Yela farm materials, food and other things. They also use their gift of light to trade certain items with other countries, crafted and enchanted by Caylea's sunlight. The most common weapon and armour sold are the ones made entirely of light energy, taking the form of a gold-like material, which is extremely hard to slice through and can blind enemies with its glow. The countries who rely on the sunlight and daylight in order to survive are also reliant on Cecerixan, earning them quite a few allies who help to protect them. Their army, what with the armour they craft, is fairly strong but are lacking in number as most soldiers work to defend the surrounding forest of Cerix.