Elden Edderast
Title:
Lord-Sir Elden Edderast XIV the Fair, Benefactor of the Arts, Monarch of the Fae, and Protector of Children
Gender:
Male
Alignment:
Shifts between Chaotic and Lawful Neutral, leaning slightly toward Good at most times
Personality:
Elden shifts between two sets of outward behavior at random, from Aloof, Capricious, and Boisterous to Focused, Calculating, and Paranoid. Beneath both of these facades, however, Elden simply wants to keep his Subjects, the Fae, happy and safe. His protectiveness of Children stems from an incident with his mother, Anansi, that he may or may not have over-reacted to.
Opinion of mortals:
Elden is, at worst, indifferent to most mortals. However, he has a soft spot for Children, deep respect for Artists, and undying hatred for any that would harm the former or destroy the latter's work.
Interference:
Elden Edderast meddles in Mortal affairs a bit more than might considered average, mostly concerning Artists and Children. With Artists, he might gift a mortal that has earned his favor with an incredible idea or concept that could most assuredly be made into a masterpiece in said artist's hands. To Children, he sends out Sprites, small, slight things carried upon insectile wings. Should a sprite see a child in an unloving, neglectful, or abusive home, the sprite will whisper to the child an incantation that, when uttered, will whisk the child away to Arcadia, where the child will grow into a Faery as opposed to growing up as a normal member of their respective race.
Domain: Arcadia
Arcadia is a vast, sprawling wilderness of Forests, Plains, Mountains, and Valleys. Pictured above is Elden Edderast's palace,
Saolchrann
at the center of
the realm. Arcadia is teeming with life in the form of Fae-touched offshoots of mundane animals, though it isn't entirely welcoming to Mortal visitors, as its lakes and rivers are suffused with the mystical energies of The Wyrd to the point of explosive toxicity to most non-Fae life if one were to drink directly from the streams. Within lay the four Houses of The Fae, the organizations that keep Arcadia running smoothly.
The Lamplighters
keep the Witchlights burning, thus warding away the Unseelie.
The Troupe
manages all affairs artistic, cataloging the greatest creative works of mortalkind for an unknown but vitally important purpose.
The Hexen
deal with all manner of contracts and assorted contractual obligations in dealings between Fae beings and Mortals, serving as the closest thing Arcadia has to a bureaucracy.
The Wild Hunt
is Arcadia's equivalent to a military/protective force, and is involved in any situation in or involved with Arcadia wherein excessive violence is required. There is a fifth group known as
The Unseelie
that represents some nebulous but deeply unsettling dark side of The Wyrd. They are sealed within the deepest reaches of The Hedge by the Witchlights, strange motes of Wyrd energy that give off light which is wholly toxic to Unseelie Fae.
Subdomain: The Hedge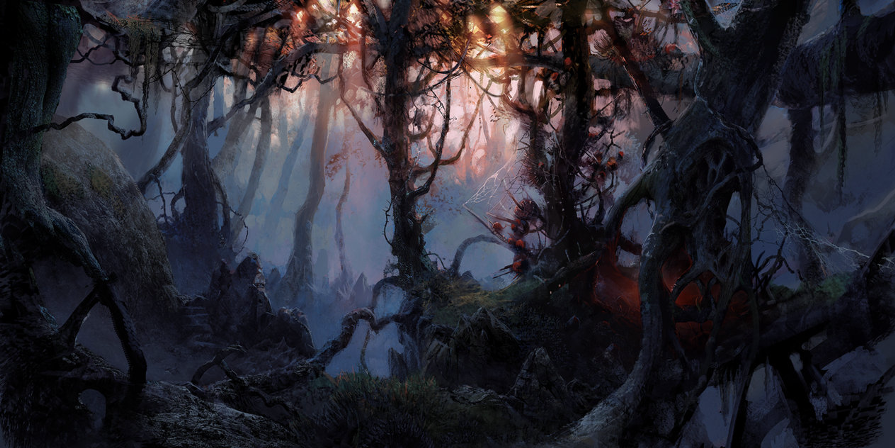 While Arcadia is a scenic and picturesque vista, almost like something our of a dream, The Hedge is a realm entirely grounded in nightmares. This perpetually-twilit realm serves as some combination of Borderland and Wall, surrounding Arcadia. While this is the easiest-to-find method of entering Arcadia, it is also the most dangerous. The
Unseelie
Fae claw at the borders of Arcadia and Ashariel as though they are blocked by some invisible force, which thankfully, they actually are. They cannot enter Arcadia proper thanks to the diligent and coordinated efforts of
The Lamplighters
and [/b]The Wild Hunt[/b], and they are barred access from Ashariel (during the day, at least) because they suffer conflagration when exposed to sunlight, a condition that is said will persist until the obligations of some ancient, long-forgotten contract are met... But, the
Unseelie
are not the only dangers of The Hedge.
Schmerzwalds
are an equally omnipresent threat within The Hedge. A
Schmerzwald
is a patch of forest wherein Black Thorns grow. Black Thorns are the plants that give The Hedge its name, and in places, they can seem almost like a solid, impassible mass, or an enormous, twisting, shifting maze. These Thorns are avoided and feared for their ability to tear viciously, not just into one's body, but into one's very soul. A person may go into The Hedge a shining paragon of order and virtue, only to emerge a bleeding, mad, broken husk of their former selves. The members of
The Wild Hunt
ride upon soulless, constructed steeds which are immune to the
Schmerzwald's
soul-rending terror in order to better patrol The Hedge, and will punish the most heinous of child abusers by chaining them to their steeds and dragging them through any patches of Thorns they come across at a pitched speed.
Avatar: Anais
Personality:
Anais is the first child that Elden took from an unloving home, and is the only such child that has not been physically altered by The Wyrd. Aside from physical immortality, agelessness, incredible sorcerous prowess, and the knowledge and experience that comes of living for such colossal lengths of time, she physically remains the same child that was whisked away to Arcadia so long ago. Even with the immortality and untold secrets of the ages, Anais remains a wide eyed, kind-hearted child. The same cannot quite be said of her companion, The Stag. While he is by no means cruel, he is a gruff and indomitable creature. Long ago, he was assigned to keep Anais safe from harm, because while she may wield incredible power, she is still but a child in stature and form, with all the vulnerability thereof.
Magic Abilities:
Anais: Control over Plant Life, Wyrding Blasts, Teleportation, Invisibility.
The Stag: Toughness, Toughness, Toughness, Thundering Shout, Earth-Shaking Stomp.
Name of Kingdom/Empire:
Capital:
Major Cities:
Society:
[People]
[Economy]
[Politics]