---
---

---
---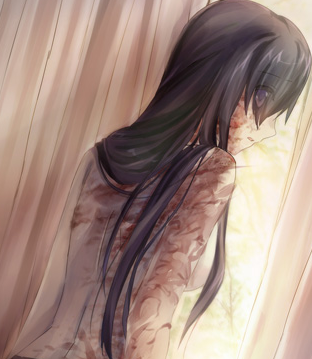 To Remember the Falling Star

⌈"I will be her favorite."⌋
---
---
Staind
||Outside
Radiohead
||Creep
Drowning Pool
||Tear Away
Yes
||Owner of a lonely Heart
---
---
---
---
⌈Take a look and remember my face, because I want you to remember it when the world is in ashes and know that the flames came from me.⌋
---
---
⌈Nickname⌋
[Midknight|Number 0-0-2-0-3|A few less flattering names]

⌈Age⌋
[24]

⌈Gender⌋
[Female]

⌈Race⌋
[Genetically Modified Human]

⌈Role⌋
[Knight/Inventor]

⌈Face Claim⌋
[Hanako|Katawa Shoujo]
---
---
---
---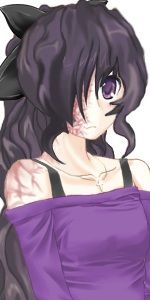 ⌈"They are inferior to us. We are the future. The destiny of our species, it is the gift of Mother, and those who do not embrace it will burn with the old world."⌋
---
---
⌈Hair Color⌋
[Black]

⌈Eye Color⌋
[Purple]

⌈Skin Tone⌋
[Pale]

⌈Height⌋
[5'7]

⌈Weight⌋
[134 lbs.]
---
---
---
---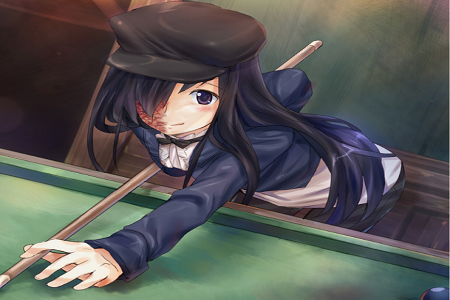 ⌈"What clever name are you going to call me? I know what I am, I am a freak, a defection, but my mind creates works of beauty and wonder that your mind cannot even begin to understand. I am a defection, I am a hideous failure of an otherwise beautiful process but I will help usher in a world of perfection. Her world."⌋
---
---
⌈Potential Interest⌋
None at the current moment: Minerva is far too bitter and prideful to show interest in someone. She would only get rejected, and she will not serve as amusement of others. She will not have people laugh at her for being the cripple that thought she can be loved.

⌈

Skills
⌋
★ Inventor || Minerva is an extremely smart woman with a strong grasp on mathematics and various scientific fields. She is very good with her hands and loves creating new objects, sometimes weapons, sometimes armor, sometimes small little gadgets, and even, occasionally, works of art.
★ Renaissance Woman || If it comes to the mind, Minerva is extremely adapt. She engages in multiple works of the mind from games like chess, to poetry and other works of literacy, she enjoyed writing herself, studies what references to history she can find, and otherwise enjoys mental pursuits making her a very well learned, and well rounded, woman.
★ Cook || While not as useful, Minerva is a very good cook... although nobody besides her has ever tried her food.
⌈
Abilities
⌋
✠ Technopath || If Minerva touches hard or software she will know how to fix it, take it apart, recreate it from scratch and even improve on it. This does have limits, she cannot tell someones DNA by touching them or someones power by touching them. It is purely mechanical in nature. She does need the proper components in order to recreate something, she can't make a suit of power armor from toothpicks after all.

If she concentrates, she can take machinery apart and reform it using just her mind. While this is far faster then using her hands, it is exhausting, and so she rarely does it, but she can cause electronics to short circuit if shes wishes to. She believes she may have Electromagnetism Manipulation that manifest in machinery because she connects with machinery better, she hasn't found the time to explore this possibility.

✠ Photographic Memory || Anything Minerva senses, be it touch, sight, feel, smell, or hear, she will remember it forever and in perfect clarity.
✠ Healing Factor || Coincidentally, Minerva has an incredible regeneration rate able to heal from most wounds in minutes to seconds depending on the wound. For some reason she doesn't understand, she cannot heal her leg or her body from her... mutations, but she can heal any new wounds. This constant healing has effected her minds response to her nerves, she doesn't feel as much pain from injuries as most people. Because of this, she estimates that she will live far longer then most people because her aging has been greatly slowed down. She is nearly immune to poison (Takes extremely large doses to effect her) and cannot get sick. She has yet to test how radical the healing is, but her power lies in her mind, not in her body.
---
---
---
---
⌈"The way to the future is going to be paved in blood and dreams."⌋
---
---
⌈Other⌋
Besides the large amount of discolored scar tissue that covers the right side of her body, her left leg is badly mangled, and she cannot walk on it. She needs to use a cane to support her in order to move around.

⌈

Habits
⌋
☁ Hand over mouth || When she is eating, she covers her mouth with her hand when chewing.
☁ Hide her face || When talking to someone, or being watched, she subconsciously covers the right side of her face. Usually with her hair, but sometimes with her hand if her hair, for whatever reason, is tied up.
☁ Pointing || When talking about something, or someone, she will always point at them with both her middle and ring finger. She doesn't point with her index finger.
---
---
⌈

Likes
⌋
ღ Creating || Be it a weapon, art, poetry some small gadget, as long as she is using her mind and creating, she is happy and this is usually one of the few times she is smiling. She is content as long as her mind is roaming.
ღ Dancing || She would die before she admitted, but she loves to dance. Usually, alone in her room when no one can see her, but she likes to lose herself and, as childish as it sounds, feel like someone else even if just for a few moments. Because of her leg, it is very hard to dance, and she tends to stumble if she tries to do anything more then sway back and forth.
ღ Games of the Mind || From chess to poker and everything in between. Minerva loves to play games that prick the mind, especially if it is against someone else. It is one of the best ways to earn her respect, but she normally plays by herself as she doesn't have many people she would play with as she doesn't like being around most people and only suffers their presence.
⌈
Dislikes
⌋
✘ Fighting || While she is not against killing, maiming, or even torture if it is needed, she is not good at fighting thanks to her disabilities and it only serves to remind her of how defective and pathetic she is.
✘ The Three || She has a strong dislike for the three 'great' knights, particularly the traitor. She can't help but feel inferior compared to them and that Mother loves them more then her. The traitor she despises with all her being. He had a chance... a chance to become Mother's favorite, to be above all the others, and he threw it away. Minerva would give anything, anything, to be her favorite. To have Mother love her, truly love her more then all the others.
✘ Brutes || She has a strong distaste for brutes and people who don't use their minds. The mind is a beautiful gift and a terrible thing to waste. She has no time for people who don't utilize their gifts.
---
---
⌈

Strengths
⌋
♦ Intelligent || Minerva is extremely intelligent able to figure out even the most complex problems in minutes, she is also incredibly observant able to pick up on the small details that most people miss making it very easy for her to connect the dots when she cares to. This also stretches to an insatiable curiosity that seeks to learn as much as possible and a powerful creativity that lets her think outside the box.
♦ Self-Control || While she is very... mean to most people, Minerva has a very good self-control able to control her emotions and actions and rarely does her control or walls crack and fracture.
♦ Perfectionist || Minerva demands absolute perfection in herself and others. She will never give anything less then her all in any creation or work she does, and she cannot stand others who do not do the same.
⌈
Weaknesses
⌋
☯ Physical Confrontation || Besides her massive skin mutation that runs down the right side of her body, her left leg is mangled and useless, she needs a cane to walk around and can't really defend herself in a straight up fight.
☯ Emotionally Vulnerable || While she often uses dry humor, sarcasm, and bitterness to strike at other people before they can do the same and protects herself with walls, Minerva is extremely emotionally vulnerable and could collapse if hit hard enough and in the right place. Her desire to be loved by Mother consumes her soul, and while... logically, she knows she never will be loved and if her Mother could even love her, she needs to believe it. She needs to believe she could be loved. Her walls protect nothing but a worn down shack.
☯ Overly Critical || She demands absolute perfection... but true perfection is impossible to attain. This leads her to be incredibly hard on others, especially herself.
---
---
---
---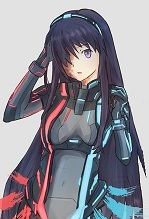 ⌈"For those that seek perfection, there can be no rest on this side of the grave."⌋
---
---
⌈Personality⌋


Proud

|

Creative

|

Vulnerable

|

Loyal



Minerva is a very proud woman. She takes a lot of pride from her work and her abilities. She demands the best from herself and others, anything less, is unacceptable. She does not take slights well, while she may not show how angry or hurt she is, she will remember the words said to her for ever and, someday, she will have her vengeance. Minerva has trouble accepting kindness or help from anyone because she always assumes it is pity or something they are doing to feel self-righteous, and she does not need help. She may not be perfect, herself, but she is not broken. She will never allow herself to be weak in front of others. She would rather limp barefooted through miles of thorns and nails then admit she can't do something herself, that she needs to be helped, that she needs someone to lean on. This attitude does make her seem cold and cruel to most people she meets as she can be very bitter, and her 'humor' is dry, sarcastic, and usually at someone else's expense.

Creativity is a core feature of Minerva and consumes a large part of her life. Her mind is constantly running, measuring and evaluating everything she sees. Minerva loves works of innovation and art as they hold a beauty that few people could every understand. The act of creating something, or building something with her own hands is like nothing in the world, that she, as defective as she is, could create something perfect is... indescribable. Staying awaking, writing out new plans to a new invention, staying in her room with a paintbrush and all the time in the world... those are when she is happiest, and while she may not admit it openly, when someone compliments or enjoys her works and truly appreciates them, no matter their purpose, it warms her heart.

Minerva is a strong woman... but she is also a very vulnerable woman. She feels like she is constantly on the verge of collapsing and never getting up again. Her pride lets her push on, keep fighting despite her feelings, but it is a thin dam fighting back a torrent. She tries not to give herself too much free time, too much time to dwell on what she is and what she really has. Every time she hears the muttered 'nicknames' they have for her, it is a stab through her heart, every time she sees the disgust in their eyes, it is another crack in her soul... another reason to hate the world and those who dwell in it. She is interesting in that, deep down, she wants to be accepted and loved, but she would never admit nor show this and even if someone tried they would soon run into problems as she would lash out at them making excuses for why they are trying to get close to her. They want something, they are pitting her, they just want to hurt her... something. Everyone does something for a reason. There is only one person she openly admits to wanting to love her, her 'Mother' the Queen of the Gods. She desperately wants to be loved and appreciated by her, wants to know her existence was not a mistake, that she is valuable.

Minerva, despite her attitude, is a very loyal woman. She doesn't have anyone she is close to and the only one she is 'attached' to is her 'Mother'. She is absolutely loyal to Morrigan, and she would do anything for her just to get her Mother to smile at her and pat her head like she was a child. She would kill anyone, create any weapon, torture anyone she wanted if it meant she would hold her even if just for a second so that Minerva could forget about the rest of the world if only for a moment. A part of her knows that Morrigan may not love her, or anyone, at all. Knows that she is just a tool... but... she needs to believe she could be loved by her. Needs to believe there is a chance that she could be valued.

This loyalty extends to anyone who could manage to get close enough to her. Manage to earn her devotion as she gives to her Mother and Queen, but if this was ever betrayed, if she were ever thrown away... it would shatter her, and she wouldn't be able to pick up the pieces.
---
---
---
---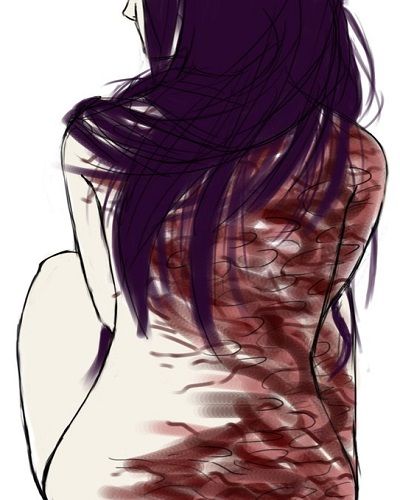 ⌈

"Hate me. I can live with being hated. Find me revolting. I am disgusting. Don't be nice to me, I do not need or want your pity. Do not try to help me, I don't need anyone. Please... don't try to love me. I can't survive in a fantasy.

⌋
---
---
⌈History⌋

Minevra can't remember anything about before she became a knight, but she doesn't mind. Whatever life she lead before pales in comparison to the one she has been thrust into. When she was 'born', her body was already horrible disfigured with a bent and mangled leg leg, and her skin covered in burns and scar tissue that stretched all along her body and face. Normally, she would have been tossed aside as a failure, but her neural readings were off the charts. For some reason, she was spared and allowed to join the rank of the knights, perhaps it was curiosity? Perhaps the Mother knew what she could potentially do? But whatever reason, Minevra sought to prove herself.

Her 'training' was... well... not effective. It was painfully obvious that Minevra would never serve on the front lines raiding with the other knights because she could barely walk much less traverse the wastelands. But, she proved herself in another field. She was a genius able to piece together and create new weaponry and impressive inventions. While she was weak, disgusting, and fragile in the body, her mind was sharp and beautiful. Her appearance and lack of ability made her a pariah among the other knights, so she lost herself in books, knowledge, and creation. She would follow her own path to greatness.

Despite her insistence that she didn't need anyone, Minerva still desired companionship like all humans because as much as Knights wish to believe they are more, they are still 'humans' at their core. She would never bend herself to accept pity, so she became fascinated with the ideal of perfection and only one was truly perfect in existence, her 'Mother' the Goddess, herself. Logically, she knows she is not a true goddess, but it doesn't matter. It gave her something to concentrate on, something to aspire to, something to live for. She dedicates her life and efforts to the Mother... and would do anything for her no matter how disgusting, warped, or depraved. She would see the world burn, the oceans boil, and the land drown in blood if it would make her Mother proud of her.
---
---
---
---
⌈"What do you know? You, who lives in the skies could never understand the pain of those who can't fly."⌋
---
---