---
---

---
---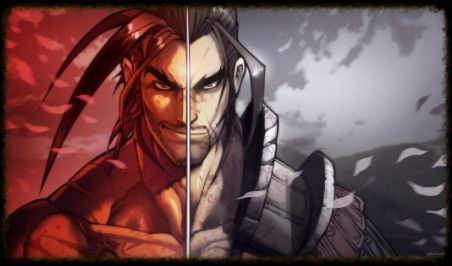 God of the Sea and Storms
⌈

Don't challenge me because I won't be saying sorry if you can't back it up.

⌋
---
---
Eve 6
|| Inside Out
Afroman
|| Because I Got High
Def Leppard
|| Pour Some Sugar on Me
The Yoshida Brothers
|| Ibuki
---
---
---
---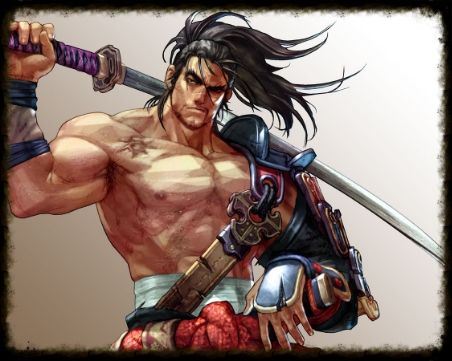 ⌈

Heh…

⌋
---
---
⌈Nicknames⌋
[ Knight Sea | The Ronin | Number 0-1-6-4-9 | ]

⌈Age⌋
[ 32 ]

⌈Gender⌋
[ Male ]

⌈Race⌋
[ Genetically Modified Human ]

⌈Role⌋
[ Master Swordsman | Determined to marry Kushinadahime]

⌈Face Claim⌋
[ Heishiro Mitsurugi | Soul Calibur ]
---
---
---
---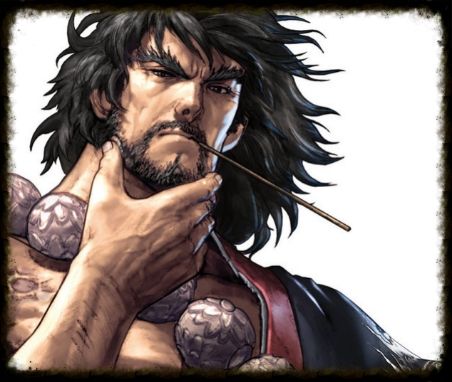 ⌈

It is the sea that runs through my veins.

⌋
---
---
⌈Hair Color⌋
[ Black ]

⌈Eye Color⌋
[ Silver ]

⌈Skin Tone⌋
[ Tan ]

⌈Height⌋
[ 6'1" ]

⌈Weight⌋
[ 210 lbs ]
---
---
---
---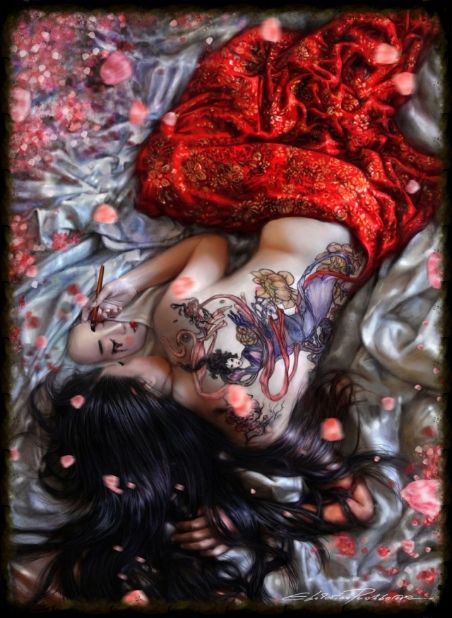 ⌈

What? Talk to her? Are you stupid?

⌋
---
---
⌈Potential Interest⌋
Kushinadahime: A lovely young woman whose porcelain skin, pink full lips, and swollen breasts could snag the eyes of any man. She lives a sheltered life in Orb 07 guarded like a delicate flower by her wealthy parents. Towering walls surround her to keep prying eyes out, giving her privacy when she's in the garden or bathing in the pond. The god stumbled across her when he was meditating one day. His journey had taken him to Orb 07 and to the waters of Hime's pond. The woman's beauty left him instantly love stricken—a sickness that still resides in him to this day. As a gift, he keeps the waters of the pond fresh for her and he has even placed colorful koi in it. He would love to be with her, but he lacks the courage to approach her.

⌈

Skills
⌋
★ Water Manipulation || Susanoo can control all aspects of water from ice to vapor. He can summon tsunamis, great floods, and blizzards, and he can fill the clouds with water until they burst with showers or snow. He can increase water's density that it can become as hard as diamond or as airy as a bubble. He can control the pressure of water up to crushing forces. He can walk on water without having to worry about sinking. Dangerously, he can draw water from an individual's body causing them to suffer dramatic dehydration or cause it to harden or freeze, causing the individual(s) excruciating pain. He does this through the art of Thai Chi.
★ Hydro Transformation || The knight is capable of changing his molecular structure to that of water, ice, or vapor. This form is beneficial for when he needs to regenerate limbs or heal wounds. As long as there's water or he has the strength to make it rain, he can restore his body. His ice form can become hard like diamond, making his body difficult to penetrate, his liquid form makes him difficult to land a strike, and his vapor form allows for stealthy takedowns. Susanoo is a pretty heavy drinker and that doesn't just go for sake. He can ingest an infinite amount of water, which feeds his cells and allows him to grow to colossal heights or he can evaporate down to miniature sizes.
★ Water Warp || Using his hydro transformation skill, Susanoo can become water and warp to any location where there's water. It can be a body of water, pool, or even a cup. Wherever there's water, he can warp to it. [LOCKED] - This ability can be used lethally to allow Susanoo to manifest within an individual's body, but the water warp skill requires a water source to use.
⌈
Abilities
⌋
✠ Water Survival || Susanoo can survive the crushing pressures of the ocean's depths as well as survive submerged in water for extensive periods, which has strengthened his muscles, making his physical capabilities more advanced than an average human. It is believed that like a fish, he can absorb oxygen molecules from the water, which allows him to breathe underwater no problem. With his hydro transformation skill, he can be as buoyant as an air bubble or as heavy as steel, allowing him to move about the water with no resistance or restriction. This ability also allows him to adapt to fluctuating temperatures, which has proven valuable throughout the changing seasons. This ability feeds into his water manipulation skill and hydro transformation skill granting him those abilities to control ice, vapor as well as become either without suffering consequence.
✠ Hydration || Hydration is a mild healing ability that allows the warrior to hydrate an individual's cells keeping the person hydrated and allowing the cells to offer a swift recovery. This ability is also passive for himself. It has kept his cells healthy and his body strong and purged of harmful poisons, venoms, and toxins.
✠ Underwater Communication ||Susanoo can communicate with any creature that uses water as a biome from salt water to fresh water creatures. Some creatures will do his bidding, while certain creatures that are too cocky will ignore him. There isn't a sea creature out there that Susanoo feels he can't tame.
---
---
---
---
⌈

You can never have too much to drink.

⌋
---
---
⌈Other⌋

On occasion, Susanoo has this twisted belief of self-grandeur. He likes to think of himself as someone pretty amazing, and his self-confidence can be rather marveling. You can almost find yourself believing everything he says about himself. However, as proven every now and then with a little thing called "rejection," we learn that he's just a man. His personality is perhaps his most deceptive quality. Upon witnessing the god's mannerisms, it is easy to forget that Susanoo is actually a frighteningly, powerful warrior.

⌈

Habits
⌋
☁ Drinking || Nobody really knows if there's a limit to the amount Susanoo can drink. He loves all forms of alcohol as well as water. Yes, even water like the $7 bottled water claiming to have come from the cap of an iceberg. He carries a hyodan that is always full of some sort of alcoholic beverage, and he's not afraid to share. Well, it depends on how much he has left. You can never run out of water, but you can always run out of booze.
☁ Smoker || He will every now and then smoke some serious shit. If you see the knight seeming calm and spiritual, he's probably high as a kite and on some serious doobie.
☁ Pervert || He knows how to appreciate a woman's beauty and assets—at least that's what he calls it. Sometimes he gets uncontrollable impulses to slap a female's ass or grab a boob that has gotten too close for "please" and "thank you." In his spare time, he likes to "go for a swim." It doesn't always mean the way it sounds. Sometimes he has to go take care of some "manly business," especially when his unofficial wife is bathing in the pond again. She loves bathing in the pond, but she hasn't quite figured out why the water fills her full of great pleasure yet. What? She's going to be his wife soon any way—so he believes. He'll get around to talking to her one day. Don't worry about it.
---
---
⌈

Likes
⌋
ღ Kushinadahime || He worships her. The poor girl unfortunately has no idea that she has such a lover.
ღ Booze & Pot || He can never get enough of it, but unfortunately, it doesn't last forever as he'd like.
ღ Women || He loves women. They can be cross with him all they want. He'll still love them. It's a problem, I know.
⌈
Dislikes
⌋
✘ His Enemies || His enemies are anyone who dare try to lay a hand on his super-secret-crush-woman-lover, Kushinadahime, and yeah, I guess Morrigan's group too. It's a shame because despite being evil, he thinks Morrigan is hot. She, unfortunately, banned him from her group for being a pig. She hadn't even seen his true potential.
✘ Running out of Stock || It almost feels like the end of the world when he runs out of booze and plant. He becomes extra cranky, and it won't settle until he restocks.
✘ Desert Conditions || The heat sucks, and it can make him evaporate.
---
---
⌈

Strengths
⌋
♦ Master Swordsman & Martial Artist || Susanoo wields a katana crafted from water under extreme pressure. The blade's name is "Totsuga-no-Tsurugi." It can be as heavy or as light as he desires and as long or as short as he desires, it's made of water. He can duplicate the weapon so that he's wielding more than one or reduce it to a mere stiletto. It can cut through the hardest substances such as diamond, and it can't be displaced by shattering or by disarmament. He can summon it right back to his hands. Susanoo's sword skill is a deadly art, and if challenged to a duel, he's honorable in that if he's challenged to a sword fight then he will only use his sword. His technique is like water: fluid and calm yet powerful. His strikes are swift and accurate, and when they make contact, the strength behind his swing will shatter a person's defense. It is better for opponents not to guard his strikes but to evade them if they can. He will open his opponent's defense with parries and vicious counters until he lands a deciding strike.
♦ Enhanced Physique || His genetic engineering has given him the ability to gradually condition his body over time, such as survive great pressures and waterfall forces. He is very strong, which grants him the ability to use his sword to cut through most sturdy objects and barriers, as well as survive high impact strikes. His body can take a lot of punishment.
♦ Advanced Mental Control || Mitsurugi is always meditating, trying to become one with the sea in order to better understand his abilities. Meditation has allowed him to learn how to keep calm in situations that cause anger, dread, or grief. If he finds his mind slipping, he is capable of noticing the problem and correcting it. He'll calm himself down and bring his mental state back into unity.
⌈
Weaknesses
⌋
☯ Kushinadahime || A love as well as a weakness, which is why he tries not to tell anyone who he feels could bring her harm. Her name alone could be used against him. Threatening to tell her all about him is uncool! If anything ever happened to that woman, Susanoo would probably snap.
☯ Drought || A drought due to extreme heat can dehydrate the god, causing him to evaporate. Just like how any normal human would keep water on them to survive a trek through the desert, Mitsurugi does too in the form of large prayer beads that he wears about his body.
☯ Hunger & Fatigue || He's still human. Therefore, he still needs to eat and sleep. However, he must consume a lot of calories to fuel the energy he spends during water manipulation. He eats more than an average person as well as drinks. Sometimes, instead of food, he prefers a big, heavy beer. That'll hold him.
---
---
---
---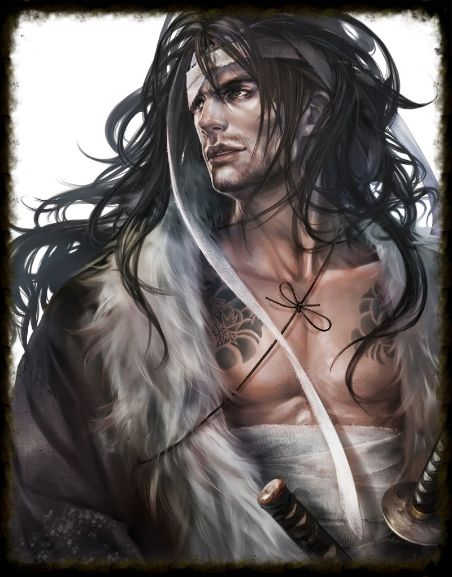 ⌈

You don't ever come to the Great Susanoo empty handed. You didn't even bring a beer. Do you at least have some grass on you? No? Shit, what am I talking to you for...

⌋
---
---
⌈Personality⌋


Bold

|

Arrogant

|

Lewd

|

Laid-Back


Susanoo can be quite full of himself, but he never means it seriously. He honestly couldn't give a shit. He doesn't get riled up about much, but if you want a favor, you'd have to give one to get one. He'll never turn down a fight whether from a man or a woman, it doesn't matter. Women beware, however, his techniques are known to change only when fighting them. For a pig, he's an excellent swordsman and adept in his "godly" skills. Currently, he has no true goals in life except to smoke, drink, and to one day marry his true love, Kushinadahime. Don't ever get him started on that girl for it will take him a minute to shut up about her. The swordsman is very passionate about her but he doesn't have the balls to approach her. There is something about the harmless creature that freaks him out. He tends to get so nervous that he nearly faints. It's a social problem that he'll have to work on and conquer one day. In the meantime, he'll just keep secretly watching her get naked and...yeah.

The knight is quite the realiable character if befriended. He'll have his friend's back whether it be to fight or pick up girls. He has this belief that he's such the chick magnet and a guru when it comes to getting booty. He is successful majority of the time, but the ones that don't like his bold attempts often send the ronin on his way with a red cheek. He just can't help himself sometimes around sexy women.
---
---
---
---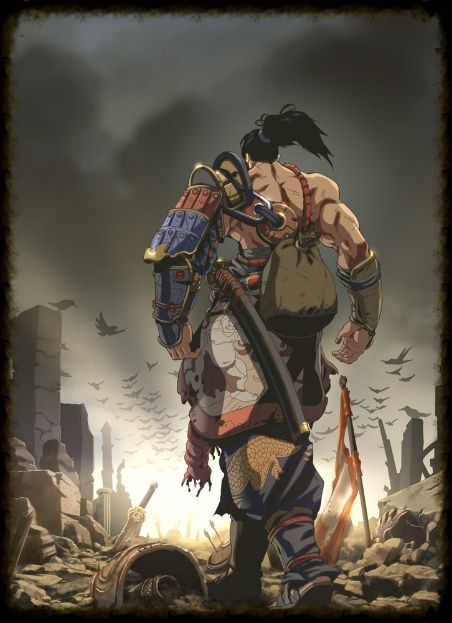 ⌈

Morrigan? You mean my Ex?

⌋
---
---
⌈History⌋
The knight can't recall how he came into this world or if he had a life before it. He remembers simply waking up and standing over him was a beautiful woman. She smiled down at him as though she were happy with what she was seeing and ran her fingers down the contours of his muscular figure. He had been silent even as she spoke to him, and when the belle leaned down to see if he had suffered any damage to his vocal chords, his hands…something happened and he didn't know what, but when his hands took hold of the tits trapped behind the layers of suit and fabric; when he felt her plump tits give between his fingers and listened to her startled and betraying gasp of pleasure, he had felt amazing. It had washed throughout his body like a wave of warm water from his head down to his toes, and right after, a terrible pain pulsed throughout the side of his cheek. It had spurred him to release her. The woman had turned out to be his creator and mother, Morrigan. Mother? Psh, she was his ex-girlfriend now!

She had summoned her other creations to kill him—kill him for humiliating her. He honestly thought that for a second she had enjoyed it. The bitch was in denial. Lost and confused as to why he was suddenly running for his life, the warrior found his escape by pure luck. The drop from a leaky drain pipe was all it took to suddenly warp him across the planet to wind up floating in the middle of some ocean. It was there, the ronin's own journey began.

Susanoo, his name had echoed through his conscience and he remembered his Ex muttering it right before she sicked her attack dogs on him. He explored the ocean, learning that the earth was round and that the water had been connected in one great mass. He discovered rivers, waterfall, streams, and lakes. He studied the way the water flowed, incorporating it into his martial arts and swordsmanship. Since his escape, there were many knights that searched the earth to find him and kill him. There were also many knights who died that day. However, never did the knights find the god in the same place more than once. His duels for survival polished his sword skill. It had also made him rather paranoid. Almost any man that approached him was considered a threat for Morrigan and the knights were the only beings he knew existed until he encountered his first human.

It had been outside Orb 7. It was a father risking the wasteland to travel to another Orb where the hospital could cure his son's sickness. The wasteland had weakened the man and taken all of his supplies. He had underestimated the distance between the cities and had given the remainder of his supplies to his weak son. The man collapsed from dehydration, and it was minutes after the harsh sun became blotted out by clouds as dark as chimney smoke. From the clouds came rain, and materializing from the rods of water that peppered the earth was a man; a god. The man continues the story:

"He knelt next to me and lifted me so that my back was against his thigh. When he laid his hands on me, I felt cool and relaxed. It felt like water was running through my veins, and I soon became better. I told him of my son and he healed my boy. He had to have been a god. He carried us back to Orb 7 on a tide, and I invited him to stay with us in the city. He stayed for only a night and was gone in the morning. He told me his name: Susanoo!"

Well, the story hadn't quite gone that way but that guy made him sound amazing and that was all that mattered. He had stayed in Orb 7 longer than the man knew about. He just didn't live with him. He had eaten his fill, gathered some supplies, and had meditated in the bowl of the grand fountain in the city center. The fountain was his portal out of the city and so he had decided to train his mind before he left. There had been so many distractions trying to pry their way into his conscious, such as the cops gathering at the sight of the man illegally sitting in the waters of the fountain. They didn't break his concentration.

A beautiful woman had entered his mind then. From the pond she was nearing, he saw her wrapped in red silk robes. Her black hair hung like a curtain from her crown and her face glowed with youth. When she dropped her robes to expose her milky flesh, the warrior's mind was blown. Even more, when she stepped into the pond, it was as though she had been dipping into the pool of his libido. The cops had managed to break his concentration when they laid a hand on his arm, attempting to restrain him so that they could cuff him. Susanoo vanished, and manifested on a rock beneath a great waterfall in Orb 15.

The land within the orb was plush and green, and it was where he made his temporary home. His meditation now took him to Orb 7 and to the beautiful woman he had left behind.
---
---
---
---
⌈

Wisdom? I'll give you some wisdom. If it doesn't look right, don't do it. You can only determine that if you're sober and not stoned. If you're both drunk and stoned, then wear a condom. Protect your shit!

⌋
---
---