"................................."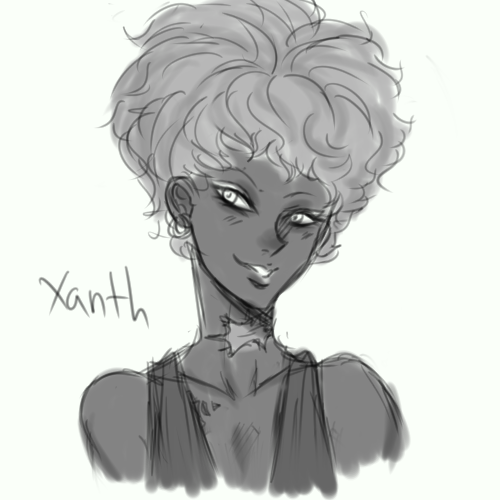 Name:
Xanth
Sex:
Female
Age:
22
Race:
Human
Physical Description:
A teeny, muscle-bound woman whose height is mostly made up by her giant fluffy afro. Xanth has a flat body like a short wooden plank, but she's not to be mistaken for a child by any stretch. Her features are sharp and mature , with a pointed upturned nose, sly eyes and high cheekbones. She wears hooped earrings and green eyeshadow. Her most startling feature is the brutal scar across her throat.
Clothing:
A sliver of green for a shirt, gold jewelry and form fitting pants with no shoes. Always wears clothes that let her breath and don't hinder her movement.
Height:
4'8'' - 142 cm
Weight:
110 lbs - 50kg
Skin Colour:
Brown
Hair Colour:
Golden-brown
Eye Colour:
Hazel
Occupation:
Mercenary
History/Bio:
Xanth was sold into being a Wife of Soromon. Soromon is a noble whose "harem" is a group of deadly female assassins devoted to him otherwise known as Silent Sisters. Her life as a Silent Sister is where the life of 'Xanth' begins. She doesn't remember being anyone else.
That was where Xanth started. Now she's got her vocal chords completely ripped out and is traveling around with a giant bear lady and a dog as a mercenary.
Home Town:
Doesn't know.
Home Country:
Empire of Sune
Personality:
For somebody who doesn't speak, Xanth sure talks A LOT. Frank, shameless, excitable Xanth throws herself into conversation, shredded voice box be damned. It's like she seeks out sound. You'll always find her bartering in the most crowded markets, dancing in the rowdiest taverns and running to the loudest commotion. Xanth likes to threaten to set her dog on anyone who offends her, but if they're being real assholes, she'll get a seat as she watches Kaor work the charm.
Fears and Desires:
She's scared of her dog running away, servitude, isolation, romantic commitment, loosing senses and crying for help. If there's anything she does desire, it's company, constantly. She also wants to learn to play a shakuhachi, but hasn't found a teacher.
Equipment and Weapons:
Twin daggers that resemble thin curved fangs. Paralysis poison. A shakuhachi.
Styles and Abilities:
A mix between assassin and acrobat. You'll mostly find her bouncing and climbing off of everything and landing finishing attacks from above.
Chi and Augmentations:
Sticky hands. No seriously she sticks to things like a gecko and can climb on ceilings, also, it's nigh impossible to take something out of her hands when she doesn't want you to have it.