"One should always hope for the best even in the most dreary situations. Cause if you don't well what is there to look forward to?"
---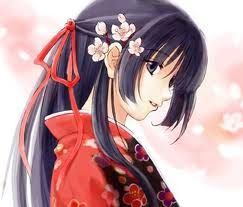 Name: Nanami Ijiri
Age: Eighteen
Gender: Female
Theme Songs:
Physical Description: Nanami is a petite young woman, standing barely over five feet. She by most standards isn't extraordinarily beautiful, long black hair, dark eyes. Her most notable features are more connected with her personality than her looks. She wears basic kimono nothing fancy she works in an inn after all you can't dress like a nobleman's wife if you have to clean most of the day.
Equipment: Too many to name, all kinds of tools used for cooking and cleaning. However she does have something she brought with her from home. The Koto her mother often played, Nanami is not as proficient with it as she would like but she can mange to pluck out a few tunes and sing along.
Strengths: Positive attitude, hard worker, good cook
Weaknesses: She can be a bit clumsy, naive, foolish, overly emotional
---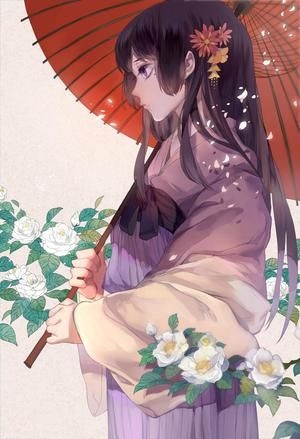 Personality: Nanami is well known for being very upbeat and positive even in some of the most dire circumstances. A smile crossing her face with everything she does. The patrons of the inn always comment that Nanami's cheerful disposition often brings up their own spirits after traveling long distances. She's always eager to help anyone, if she sees someone in need she willbdo her best to try to make that person happy.
Allot of this stems from her mother and how she was raised, some might think that the child of a nobleman would be much more selfish and unkind to others. But Nanami's mother taught her as a young child that you are only as happy as the people around you, so if you treat people with love and kindness you will receive kindness in return. Many think of her as abit of an air head, or too optimistic especially with yakuza terrorizing the people of the village. Either way Nanami stays up beat for the most part, doing all she can to help her aunt run the inn.
Likes: sweet buns, music, birds, rainy days, spring
Dislikes: rudeness, children being mistreated, violence with no purpose, feeling helpless
History: Nanami was born to a well to do nobleman and his wife, being the first child she was given many opportunities that other girls less fortunate than herself were given. Her father had little to do with her, spending his time working with the magistrate and dealing with trade and commerce within the village. Leaving his daughter in the capable hands of his wife. Nanami loved her mother, spending many days by her side as the noblemans wife did what she could to help the members of the village. When Nanami was barely four her mother became pregnant with another child. Unfortunately her mother became ill during the delivery of the child, dying in childbirth along with the child. In able to produce an heir and to have a mother for his eldest child, Nanami's father remarried.
What went through the mind of Nanami's step mother, some would never understand. The woman never had a kind word for Nanami, the child did everything in her power to please her new mother but she refused to have anything to do with her. She was always leaving her step daughters care to one of the servants. When the noblemans new wife gave birth to a fine boy, she grew even more detested with Nanami. When Nanami, was twelve her step mother became pregnant once again, this time however she did not give birth to a healthy child. The baby was stillborn, furious with what had happened she went to her husband claiming that Nanami was the cause of the stillbirth and a curse on the family. The nobleman didn't belive this of course, but he did not want to see his wife so distraught after the death of a child. So he decided that his daughter should be sent to live with his sister.
Tomoko Fuwahara, was once a well known geisha respected by many. But like many women you fall in love and get married. In Tomoko's case it was a simple inn keeper. Her father furious with her decision to marry someone so below her standing she was basically disowned. She kept contact with the family through her nobleman brother but other than that she knew little of the family's goings on and didn't care to know. Recently widowed when she received the message from her brother requesting she take in her niece she was less than enthusiastic. Never having a child her own however the thought appealed to her maternal instincts. Her brother explaining the dilemma with his wife was also a bit infuriating to her as well. Despite th circumstances how could she be so horrid to a child to claim that she was cursed, with no other evidence then the stillbirth of a child? In the end she agreed to take in Nanami, her brother had been all that was left of her family to still treat her with respect and kindness despite the circumstances of her marriage. Perhaps the addition of her niece at the inn would help her through the loss of her husband as well, and she could always use another pair of hands to help keep the inn going.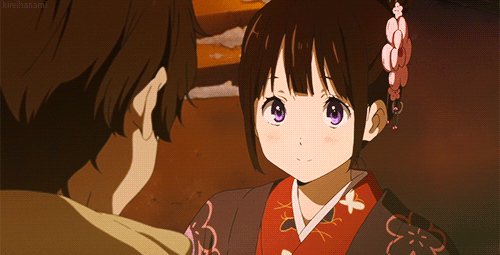 Nanami, has flourished over the years at the inn loved by many who frequent the inn. Her personality brightening the lives of all the people who have the pleasure of being around her. Even melting Tomoko's heart... a once cynical woman she has become the mother figure in the young girls life. Filling that small piece of Tomoko that wanted to have children. However thing in the past few years have become rocky. Ever since the war, yakuza have started to terrorize the village, and as Nanami has grown into a young woman she has been harassed by some of them. The cheerful girl tries to ignore the advances and act as though it doesn't bother her, but Tomoko fears for her niece's safety. They have even gone as far as trying to get Tomoko to give up Nanami in exchange for them leaving the inn intact. Many time coming in and breaking things, each time Tomoko has refused but she doesn't know how far the yakuza are willing to go.
---
Other: Her step mother still believes Nanami is cursed and has spent the past several years talking with a witch about how to get rid of her for good.
Face Claim: Eru Chitanda of Hyouka and various anime girls in kimono xD