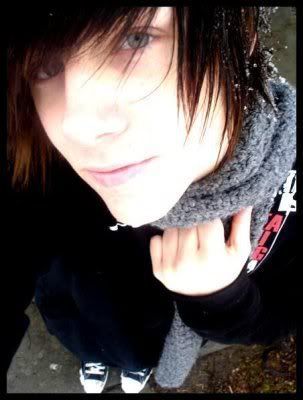 Ali has black ears with brown flecks at the tips, and his tail is a mix of brown black and white. The clothes he wears are mainly chosen by his breeder mainly to show his muscular arms.
Name:Alistair " Ali"
Age: 17
Gender: Male
Classification: Slave
Race: Neko
Personality: Ali is very sweet and his cat like nature means that he is playful and affectionate. He enjoys spending time with anyone and that includes other slaves and the master that choses him. He does get a little protective of people especially his master if he feels that any ammount of danger will ocour he will try to prevent it even if that means him getting hurt in the process.
Likes: Ali enjoys company from people and loves sitting close to his master listening to conversations and responding to them with smells meows and often words. Being a neko Ali craves affection, wether that be a small ammount of praise or a full on embrace, he especially loves a good scratch behind the ears. Ali likes playing with simple things like bits of string and balls of paper anything that rolls or makes a sound is hours of entertainment for Ali.
Dislikes: Ali dislikes beatings he really hates his tail or ears being pulled, any kind of loud noise frieghtens Ali due to his ears being very sensitive to sound and vibrations.
Former masters & training( as well as history ): Ali was specially breeded from a famous breeder who has made exceedingly large amounts of money breeding Neko's. Ali was raised with his brothers away from the females of the group. He learnt how to show affection and how to speak few words most of which were to ask permission to do certain things for the master. Ali was well fed and excersised everyday to get a well toned physique which could fetch a high ammount of coin.