❝ Promising too much can be just as damaging as caring too little. ❞
|| Nickname ||
Ian (ONLY family, if you know what's good for you.)

|| Gender & Age ||
Male, Nineteen

|| Race ||
Vampire (Pure-blood)

|| Voice ||
Damian's voice

|| Face Claim ||
Reiji Sakamaki
❝ Terror has made me cruel. ❞
|| Hair Color ||
Ash black

|| Eye Color ||
Crimson

|| Skin Tone ||
Pale

|| Height ||
6'1''

|| Weight ||
170 lbs
❝ That's what we all want, isn't it? Power without price. ❞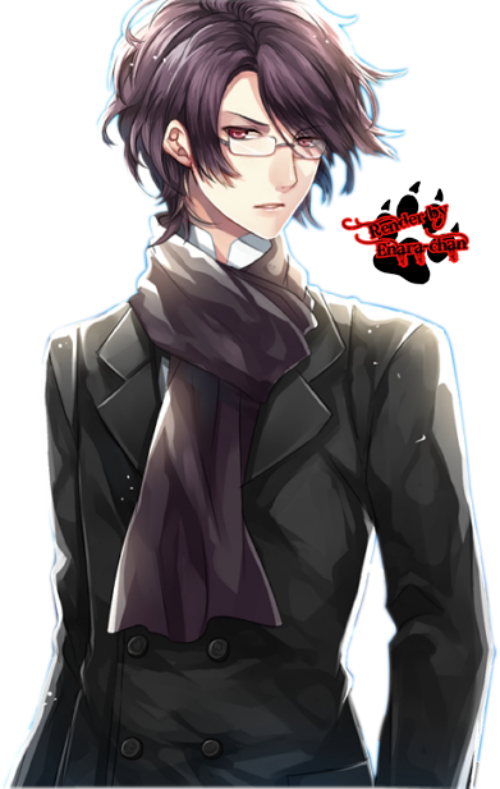 ||

Potential Interest

||
potential here
||
Skills
||
|| ☣ He's a published writer ☣ ||
He's a skilled writer and has written several books. Mostly under different aliases throughout the years. He has written at least twenty books and most of them are murder mysteries, typically based on his own murders throughout the years, though he changes the scenarios in order to avoid raising suspicion. He is quite successful, but the money he earns secretly is donated to churches to feed the country's poorest. He would NEVER let anyone, especially his brothers find out about this as it would ruin his 'bad' reputation.
As a noble, he has learned a lot in his studies including medicine and toxicology. He has studied many different poisons and can cure most of the well-known man-made poisons and a few of the rarer brews. Although it's exceedingly more difficult, he can treat a handful of supernatural brews as well. He is constantly testing his new poisons on living creatures, so it wouldn't be wise to anger him during his studies. He doesn't object to poisoning humans.
Herbalism is use of plants for medicinal purposes, and the study of such use. Damian has been studying plants and their uses for many years. He has tested their effects on humans many times and his younger brother Demetri, to the displeasure of his other siblings now and again, but Demetri has mostly been a willing participant, as he enjoys learning new things as well. Most often Damian uses potentially toxic plants, but he also has an understanding of medicinal plants as well.
❝ You gain power by pretending to be weak. ❞
❖ Fidgeting ||
Whenever he is bored, Damian will fidget with random objects or his glasses. His hands have to be busy when he is not napping or in a serious conversation or he loses his mind. It's a nervous habit, one he has struggled to get over his entire life. He does not realize he is doing it most the time, and if called out on it, he immediately stops, and will likely deny having done it.

❖ Sighing ||
He is easily angered and irritable, thus he sighs quite a bit. He deems many tasks as beneath him and often is annoyed when he has to do something he deems unnecessary. He really isn't good at dealing with others, and he will sigh if bored or annoyed, not caring who he offends by doing so. It is a very rude habit of his, but he's always been like this, and as a royal prince many of the people he deals with do not call him out on this obnoxious behavior.

❖ Walking away ||
As soon as Damian feels that the conversation is over or he loses interest he will walk away, without a word. He does not waste his time on things that do not interest him and many have grown angry at his aloof nature when it comes to ending conversations or meetings prematurely. His publisher is one of many who are at their wits end when it comes to things like this. He can be a very difficult person and this quirk of his does not make him any easier to deal with.
||
Likes
||
♥ Poisons ||
♥ Wine ||
♥ Personal Space ||
♥ Feeding ||
♥ Music ||
♥ Control ||
♥ Luxury ||
♥ Women ||
♥ Death ||

||
Dislikes
||
✘ Liars ||
✘ Edward ||
✘ Defiance ||
✘ Rudeness ||
✘ The Eldest Brother ||
✘ Excessive Rambling ||
✘ Snow ||
✘ Religion ||
✘ Magic ||
✘ Werewolves ||


Once he sets his mind on a goal, little can stop him from achieving it. He was raised by Elizabeth to do his best when others are trying to take something that he wants. Due to her controversial and strict tutelage, many of their extended family believe that he plans most of the catastrophes that fall upon the royal family. After Elizabeth's abuse under the guise of discipline, Damian developed an annoying habit of typically getting what he wants. His grudge against the Eldest brother and their father, the late King Edward has made him all the more suspicious. Even though no one else has any proof otherwise, he didn't stage the King's death, but it didn't necessarily put him in horrible conditions and there is no way to prove he was or wasn't involved.


He is excessively loyal to those he values, though he would never admit it to anyone. He takes great pride in his notoriety, even among his siblings. Damian keeps awall up between himself and his siblings, unable to believe that any of them truly accept him as their brother, given they share literally not a single drop of blood. Despite all these years, his family holds a place in his heart that can never be replaced, but the Santiago siblings are also people he considers family and will protect at any cost, even the wretch of an older brother...


Despite his usual cruelty, Damian can be a gentleman when it is required so he is exceptionally useful at public events and parties. He is charismatic towards those he must deceive and is expert at pretending to be a genuine person, well, at least to those who do not know his true nature. He rather enjoys deceiving people, often hiding his inner darkness until he has had his fun. He enjoys seeing the shock on a girl's face when his personality shifts into the frightening reality of who he really is. He enjoys their fear, but more importantly, he knows there are a time and place for such things.

Damian isn't proud of this trait, but his life, memories, and personal experiences have caused him to isolate himself from his emotions. When faced with the macabre, or any other unfortunate situation, those around him might find that he is inappropriate in almost every way. Most times it appears that he genuinely enjoys the pain of others. It isn't until something happens to those close to him that others are reminded he isn't completely numb to his own emotions. Though even when he lost his biological family as a child, Damian showed relatively little despair, in fact, he could still smile and make jokes. He always seems to have an understanding and eerie acceptance towards tragedy and violence, even as the people around him are terrified or distraught with grief.


He is quite jealous of the eldest brother. He hates him for taking Edward's attention away from the rest of his siblings, Maleah excluded. He spent his entire life planning how to steal their home right from under the eldest's feet. However, the eldest is now in charge until one of the siblings finally choose to marry, and thankfully his name was included as he was officially adopted into the family and received the Santiago name as a child. He is sure that Edward rolls in his grave, that thought often gives Damian substantial comfort.


Given everything he has been through from a very young age, Damian can be a very sadistic person when he wishes. The only reason he doesn't kill the hired help is because he would lose his sibling's favor, something he will need if he ever wishes to become King. He pretends to like the girls for the most part, but his interest in innocence is quite genuine. He enjoys fear in others and will often cause it for his own amusement. He claims to be a Sociopath, but he is more accurately defined as a sadist. Innocence appeals to him as it is untainted, and those with it often show the most delectable expressions. Their screams are more entertaining, and their blood is the sweetest he's ever tasted.
❝ If someone puts their hands on you make sure they never put their hands on anybody else again. ❞
||
Personality
||
Jealous
|
Cruel
|
Generous
|
Charming
l
Competitive
Generally, Damian is disinterested, fatigued, and a tad irritable. Though when faced with a challenge, he's quite energetic and competitive. He hates to lose and does everything in his power to prevent doing so, even if it means playing dirty. He's terrified of deep water, despite being a vampire. Damian never learned to swim, therefore he is terrified of any kind of deep water. He is ashamed of this, as it's rather pathetic that a vampire cannot swim, especially when he technically does not even need to breathe. Still, he cannot fathom going under water. Damian doesn't want to fall for anyone, he finds love to be a weakness, and weaknesses are something that Damian feels he can't afford to have considering he has so many already. Losing his family would drive him truly insane. He has a bad habit of pushing other's limits, testing their boundaries, and not taking 'no' for an answer.
Also, he smokes cigarettes, but that is a little-known fact and is something he does for comfort, seeing as he cannot be affected by the chemicals. He can be seen constantly toying with his glasses or random objects when he is irritated or overcome with boredom. He's a very jealous person if he comes to fancy someone, but he is especially jealous of the eldest Santiago brother. Reiji can be quite arrogant when it comes to his own capabilities and he can be very demanding and impulsive. He's very forceful with his prey, having little regard for those he deems as food. Most of the time seen reading or napping in his free time, given he has low motivation and drive when he is not trying to overcome an obstacle. One must never disturb his nap unless for an exceptionally good reason. Being a man who is habitually difficult to understand, temperamental, and vicious... he doesn't attract many women.
Finally, he has a set of rules everyone is meant to follow. If you break one of his rules, he becomes immeasurably violent:
NO ONE is allowed in his room...Not even his siblings.
He hates being woken up- Do so with extreme caution and at your own peril.
Humans are not to give him attitude, not even a little.
❝ The thing women have yet to learn is nobody gives you power. You just take it. ❞
❝ A book lying idle on a shelf is wasted ammunition.❞
||
History
||
Growing up, Damian Duquesne was a very cheerful and happy young boy. That is, until the plague came. His parents were murdered as villagers went mad. He managed to escape because they made him run, but his parents died in the house as villagers burnt it down, claiming they were the cause of the sickness, believing that killing Lord Duquesne, Lady Duquesne, and little Damian would lift the 'curse' on the town. They didn't understand that the Duquesne family simply couldn't catch the disease because they were vampires and there never was any curse on the town.

After he grew weak and roamed for what felt like ages, he was nearly run over by a carriage in his delirium. He was merely five years old, and Elizabeth immediately took him into her care. It was not a happy time when she arrived with the little boy, Edward was furious but eventually came around to the idea when Elizabeth agreed to let him legitimize his bastard sons if he agreed to let her legally adopt the poor child. Damian was quiet, but he came around to the other children. He could laugh, and joke as if nothing had happened. He had spent nearly a week mourning his parents and crying, and he couldn't continue living like that. If he didn't move on and let go of his pain, he knew he wouldn't last much longer. So he shut out his love for his parents, the pain of losing them, and all the memories and never looked back.

As he grew a bit older, Damian looked up to the eldest Santiago brother quite a bit. However, as Edward began showing a favoritism toward the eldest, grooming him to take on the family legacy, and of course favoring his only daughter, Maleah, Damian grew bitter towards his eldest brother. He could not hold fault in his sister, actually quite fond of Maleah. He once believed he was actually meant to marry her and developed very complicated feelings for her as a result. When he voiced this belief, Queen Elizabeth beat him bloody. Even though Damian was grateful that he was adopted by another pureblood family, he did not enjoy spending all of his time studying, trying to fill the gap between himself and his eldest brother. He suffered in silence as the other children played, as the only thing he ever wanted upon arriving at the castle was for King Edward, the man he had come to consider his father, to be proud of him.

He views the eldest as a rival, despite claiming to "Hate that right royal prick.", when push comes to shove, Damian loves his brother and would do anything to protect him. Despite caring about him, Damian doesn't allow himself to show it and outwardly detests him because he views him as his superior, someone to overcome. It is what Elizabeth beat into him, demanded him to do from such a young age.

As they grew up, Damian constantly attempted to outshine the other boys and even started a couple fist fights with the eldest. Even while he traveled the world with his siblings, he was envious of the blonde man. He never invested his emotions in anyone, seeing as he was raised studiously. Committing several crimes against the family, one including murdering a past love of Demetri's and killed one of the eldest's lovers as well. As a result of his ruthlessness, Damian's relationship with his siblings is definitely a little strained.
❝ Man is the cruelest animal... ❞