Full Name:
Damion Howard
Element
: Fire
Age
: 18
Height
: 6"1'
Weight
: 100 lbs.
Skin Color:
Lightly tanned
Hairstyle/Color:
Short cut, black
Eye Color:
Black
Clothes
: (Images contradict description above; for hair and eye color, refer to the descriptions above instead of the pictures.)
Accessories
: An iPod full of songs from various sources, from anime to rock; an iPhone
Favored Weapon
:Twin pistols.
Twin Pistols: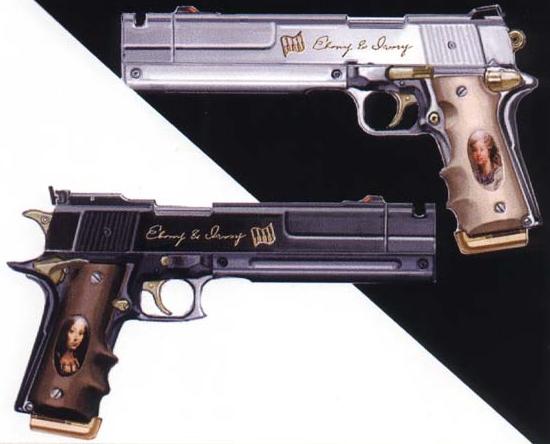 Personality
: Damion can be warm and friendly, and can sometimes be stubborn too. He protects his friends, no matter what, and would do any task with a lot of determination and passion. Damion also plays a lot of video games and watches anime. His taste in music is wide-spread, and his iPod proves it. Damion loves to read as well.
Hobbies
: Piano, Guitar, Martial Arts class, Weapons Training
Likes
: Books, Wise old men, Strategy Board Games, a good friendly bout once in a while
Dislikes
: Those who disrupt him while he is reading, annoyed by noisy settings, someone removing his eye patch, a slight aquaphobia (but not paranoid to stay away from it), the cold, those who lose interest in a task easily.
Family:
All diseased.
Background
: Damion was always able to get what he wanted from his parents. However, Damion did not use this much, and only asked what was needed. Damion did get a sword and his twin pistols for his 16th birthday, and he got a weapons liscence in the age of 18.
All Damion had in his life was the normal routine, every day. Get up, get prepared for school, eat breakfast, etc. He only came out of his house for his extracurricular lessons. However, all this changed in a car accident, when his parents' car crashed, with him in it. When oil touched his fingers, Damion burned the oil and caused an explosion. Fortunately, he got out in time. Now, he lives alone in his house living however he can.
Occupation:
Martial Arts Instructor
Nationality:
USA
Guardian:
Name:
Asher
Title:
The Will of the Inferno
Appearance:
A human male that is 6" and takes the age the same as Damion. He wears a charcoal black hoodie, orange T-shirt, and blue jeans with the belt hanging out. His hair color is grayish white, and his eye color is red. There is a black mark on his neck that takes the form of fire.
Powers:
He can make fire his armor, as well as manipulate and make fire itself. Asher's armor includes demon wings (only available in open and warm areas under the sun), blades that run parallel to his forearm made from flames, and gloves that can allow Asher to fire fireballs like a canon. Asher also has a tachi named Raging Inferno. The blade has an ever-moving image of magma in it. Asher can call it out, but not while using his fire armor. He can also force fire to spew out of the hilt of the sword, making the already lethal weapon somewhat of a jet-saber. Asher also gains a flame shield to block more powerful attacks.
Asher cannot remain in his armor for long, and has a limit to his appearance as a human. Once out of time as a human or taking too much damage in that form, Asher will turn into ashes and blow away. The only remnant is a small ball of white flame that can't burn anything, but still gives warmth. After half an hour, he is able to come back.
Personality:
Asher is loyal and willing to do what Damion says. You can say he is Sebastian Michaelis and Damion is Ciel Phantomhive. Asher will do anything, even kill, and not give up unless Damion says no. When not given orders or doing a task, Asher thinks about the most efficient way for him and others to complete the task. Unlike a raging inferno, he is not one to barge in nor is he one to destroy or pick a fight with anything in sight.
He does, however, have his mischievous moments. Sometimes he plays a prank or makes some kind of joke (usually they are terrible). Sometimes he even flirts with girls.
Asher's Tachi: