---
"Witches and Magic, it's all real. I've seen it, but people would think I was crazy if I told them I believed it."
---
---
Theme Song:
Cassie Steele||Mad
Song to Love Interest:
Sarah Mclachlan||Forgiveness
---
---
---
|Full Name|
Aubrianna Eclipse Hexley

|Nicknames|
Aubrianna loves her name, simply because it's different; however most people are too lazy to call her by her whole name, so she tends to get Aubri more often than not. She also gets Bri and Aubee. Her favorite though is Witchy. She used to hate when people called her Witchy, because they were making fun of her mother and how she claimed to be a witch. After a while though it just kind of stuck and it became her favorite nickname.

|Age|
Seventeen

|Gender|
Female

|Sexuality|
Heterosexual

|Hometown|
New York

|Occupation|
Self Proclaimed Con-Artist

|Role|
The Witch

|Face Claim|
Cassie Steele
---
---
---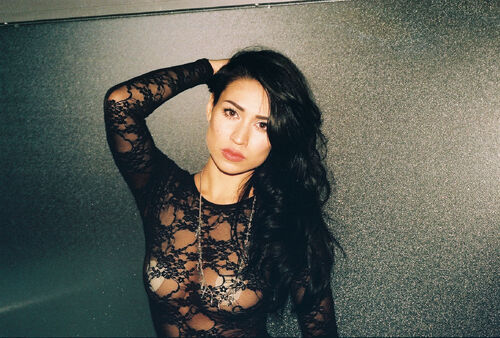 |Quirks & Habits|
~She taps her tongue ring against her teeth when she's telling a lie.
~She bites her thumb nail when she's thinking.
~She laughs and runs her fingers through her hair when she's nervous.
~She rolls her eyes when she thinks you say something stupid or she doesn't agree with something you say.

|Skills|
|+| She's insanely smart. Smarter than most people give her credit for, because she acts dumber then she actually is, her IQ is 148 which is considered a genius.

|+| Silver tongue. She can twist words and talk herself out of any situation. She has a way of getting inside people's heads and messing with them. This makes her quite dangerous if you piss her off because she can honestly ruin your life with a few rumors.

|+|Reading People. This is what she's best at, she can read most people like a book. She can tell when you're lying. She's spent a lot of time studying people and can probably get a person whole life story just by the way they talk or their body language, which is one of the main reason she gets away with so much and makes it insanely easy for her to manipulate people.
|Likes|
Parties||Smoking (Mostly cigarette, but she enjoys weed)||Bad Boys||Her Mother||Hex (Her mother witch shop)||Night Time||The Stars||Hard Liquor||Singing||Feeling Free||Piercings||Tattoos||Her Cat, Remy||Black Lace
|Dislikes|
Her Father||Being Told What to Do ||Judgmental People||People making fun of her mom||Being Alone For to Long||Her Nightmares||Authority||Responsibility||Commitment||Fire\Heat||Early Mornings||Goody-Goodies||Hollywood's perception of magic||being called a kid
|Hobbies|
|♥| Singing: She's got an incredible voice and if you have the opportunity to hear her sing, her voice is almost hypnotizing and draws you in. Most people care at a complete loss for words when they hear her sing, be she doesn't sing in front of people very often. What she sounds like when she sings.

|♥|Dancing: She loves contemporary dance and is very talented at it. However ever since she started partying, she rarely dances anymore.

|Secrets|
|☠| Her "Cat" Remy, isn't your average cat. In fact he's actually a shape shifter who Aubri meet when she was fourteen. He looks after her upon request of Aubri's mother Corydon. Aside from Aubri and her mother, everyone thinks Remy is just a cat.

|☠| Despite how much she tries to hide it, Witchy believes in magic. Hell her cat is her personal body guard so she kind of has no choice. She knows that he mom is a real witch and she knows there are other things out there, she just does her best to block it out, consider people already thinks she's too crazy for her own good.

|☠|She's actually completely blind in one eye and she wears contacts to hide the fact that her eyes are two different colors. Her eyes are a deep brown, except the one that she's blind in is a light blue. She's learned to live with it though. She's not entirely sure how or why she's blind in that eye.

|Fears|
|-| Fire: She's terrified of fire and she's not quite sure why. The closest she ever gets to fire is the simple flick of her lighter to light her cigarette, that on it's on gets her heart racing. She's knows it's irrational fear, because she can't remember a time she ever had a bad experience with fire.

|-| Commitment: She's a pro at led guys on one second and then completely destroying their ego the next. She's never had a real boyfriend, because she'd rather be the heartbreaker then the heartbroken. She won't let a guy close enough to hurt her, she refuses too actually.

|-| Losing her best friend: Her best friend means the world to her and she's not sure where she'd be without her. She honestly feels a deep connection between them and she's been known to beat the shit out of people for hurting her besties feelings. She'd probably completely loose it if she lost her.

---
---
---
---
---
---
|History|
Tell me about your character's past. What particular moment made them who they are now? Did they have a happy childhood?
---
---
【A Little Something Extra】
---
|Other|
Anything more you want to include - a theme song or a few tidbits that didn't quite make the cut for any of the sections of the CS
---