---
---
███████████████████████████████████████████████████████████████████████
---
---
---
---
███████████████████████████████████████████████████████████████████████
---
---
N A M E
Penelope von Dietrichstein

N I C K N A M E (S)
Penny

B I R T H D A Y
20th September 2000 {17}

S E X U A L I T Y
Heterosexual

E T H N I C I T Y
50% American, 50% Austrian

H E X
#9b1178
---
---
███████████████████████████████████████████████████████████████████████
---
---

S T Y L E
Think classic Hollywood and you're not far off Penelope's style. She keeps to classic shapes that flatter her slight frame. They're classics for a reason after all. A well-tailored coat will always look good, no matter the angle of the snap. She's also a tall girl who loves to wear heels.

H E I G H T & W E I G H T
5'10 133lbs

A P P E A R A N C E
Penelope has a long, slender frame, with gentle curves. While some girls might wish for more curves on the hips, or to be bustier, Penelope is perfectly comfortable in her body. She can get away with wearing most things. She owns her height, and carries herself with a regal stature befitting her heritage.
---
---
███████████████████████████████████████████████████████████████████████
---
---

L I K E S
Central Park, Cinnamon buns, Aniseed sweets, New shoes, Philanthropy, Vanilla, Christmas Pudding, Christmas, Christmas in New York, Mimosas, Sushi, Gingerbread, Eurovision

D I S L I K E S
Summer in New York, Unnecessary drama, Paparazzi, Jersey fabric, Banjos, Mice

---
---
███████████████████████████████████████████████████████████████████████
---
---
P E R S O N A L I T Y
The majority of people who know Penelope would describe her as being laid back. For the most part, this is true. Penelope is very laid back and has a very long temper with the people around her. Rather than getting angry at setbacks, she takes them in her stride and changes the plan accordingly. With her patience, Penelope stays calm in a crisis and is pretty good at keeping a cool head when the situation starts to heat up. She is intensely loyal to her friends and often goes above and beyond to make them happy. She has a very dry sense of humour and can be very sarcastic with her friends. Penelope is a very principled person and she holds true to his beliefs. She doesn't like to be proven wrong about things, but she will, eventually, own up and be the bigger person, adapting her worldview to fit with the new information.

She is very careful with people's feelings and tries to find the best way not to hurt anyone's feelings, even if that means her own get hurt. She hates to be the one to dish out the harsh home truths to people and usually just lets people get on with their own lives. She knows first hand what it's like to get torn down. Penelope is the kind of girl who will always have your back in a fight unless. She refuses to take sides among friends, however. She tends to avoid arguments, but when she's in the wrong, she will apologise as soon as she can, sometimes, straight after the words have left her mouth. If she believes that the other person is in the wrong, she will hold a grudge until they've apologised and then, as far as she is concerned, that's the end of it. She can be the kind of person to give someone way too many second chances, but she does try to see the best in everyone, even if no one else can see it.

Penelope is a naturally curious person, who has to know the ins and outs of everything. When she finds something that really takes his interest, she can be almost childishly enthusiastic about it, often becoming an avid collector of anything related to the subject and speaking about it at a mile a minute. She likes being around people and comes into her own when she's within a group, so long as she knows a few of them quite well. Large crowds of strangers aren't her favourite thing unless she knows she has something in common with them. She often has several personal projects on the go and can seem to be quite scatter-brained with all these things to do, bouncing from one to the other. Penelope can be very indecisive at times and hates being limited to just one option. She'd rather have a whole myriad of options open to her and explore each one, often going back on what she's decided for another option, making her seem a little fickle at times.

---
---
███████████████████████████████████████████████████████████████████████
---
---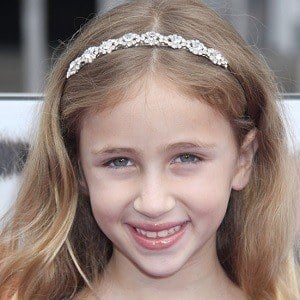 F A M I L Y
Clarissa von Dietrichstein (nee Harvey) ||Mother||44|| Heiress and Board Member
Despite being independently wealthy of Max, Clarissa was hardly surprised by the golddigger accusations that some areas of the media levelled at her when she and Max began dating. Apparently being two years his senior made her a conniving spinster after his money. The accusations were only made even more ridiculous by the fact she was the sole heir to the Harvey&Co cosmetics company. Yes, they married quickly, and she fell pregnant not long after, but that didn't mean they were a sham. When Penelope arrived, the media were a little kinder to the couple because journalists seem to go nuts over royal babies which, despite living in New York and the Dietrichstein's being minor nobles, Penelope was. Clarissa knew that the added media interest was going to come when she married Max, but for her, it was a worthy sacrifice. She had a husband who she loved, and who loved her, which was more than a lot of women got. Her three gorgeous children are another blessing.

Maximillian von Dietrichstein||Father|| 42|| Philanthropist
As Austrian nobility, Maximillian has been incredibly fortunate in his life, but also restricted. All eyes have been on him since birth, a role he has struggled with, as he is a deeply private man with a very public life. He met Clarissa when he was 24 at a society gala. In an interview, he said meeting her had felt like lightning. It was a whirlwind romance. They were rarely seen apart over that summer and he followed her back to New York when the season ended. They married that October and have been together ever since. Having come from a large family, Max knew he wanted children and Max was thrilled when Clarissa fell pregnant. Max is supremely proud of all three of his children and his wife, who he continues to be utterly smitten with. Every year with her is another year they prove the naysayers wrong. So many people said it would never last, and yet here they are nearly twenty years later and more in love than ever. Max dedicates his time to philanthropy and is an ambassador for several charities working with children and young adults.

Johnathon von Dietrichstein|| Brother|| 15|| Student
Johnathon is and has always been a handful for his mother. While Penelope lulled her into a false sense of security with her calmness and poise, even as a young child, Johnathon is energy in human form. With his boundless energy, it's hardly surprising that Johnathon is a star athlete on the school track team. He favours long distance running since it requires the discipline he has often struggled with in his lessons. Even though they weren't particularly close as children, as they've gone through their teenage years, Johnathon and Penelope have become closer. This is mostly because Johnathon has realised that girls aren't diseased and his sister isn't all that bad.

Elizabeth von Dietrichstein|| Sister|| 9|| Student
A surprise to all the family, Elizabeth is the baby of the family. Bright and inquisitive, Elizabeth is a sweet kid, who is incredibly sociable, even accounting for her young age. Aside from her noble heritage, Elizabeth is no different from any other 9 year old. She likes getting muddy in the park and having tea parties with the household appliances and her dolls. Elizabeth adores her siblings and, although she'll deny it, Max is her favourite parent.

---
---
███████████████████████████████████████████████████████████████████████
---
---

H I S T O R Y
Penelope von Dietrichstein has existed in an odd world. While the nobility no longer officially exists in Austria, she is still considered aristocracy, especially when she is in America. It's a complicated enough situation to get her own head around, and Penelope has long since stopped trying to explain it to the media, although she will insist on correcting them on the 'royal princess' status. She comes from nobility, not royalty. As much as her parents have tried to keep her childhood, and her siblings', as normal as possible, their heritage has made this difficult. It was her mother who insisted that she attended Constance, the same school Clarissa had attended. Even as a private school, this is probably the most normal aspect of her life for those looking in through the media lens.

Clarissa and Maximillian didn't take Penelope to a public engagement until she was twelve, and even then it was a rare occasion. While photos of the von Dietrichstein siblings had appeared in various publications, these were candid shots of the family at weddings and family occasions. Max, in particular, was reluctant to let Penelope become a public entity while she was still at school. As she grew older and proved herself to be a responsible young woman, Max relaxed his restrictions and allowed her to do some interviews with interested parties. European aristocracy in New York was apparently very interesting. Considered an up and coming socialite, Penelope is becoming increasingly used to being followed by cameras, even if it can be more than a little frustrating.

Away from her media persona, Penelope is trying to keep her focus on school and college. Unlike a lot of the people in her school, her parents genuinely like each other, meaning she has incredibly high standards when it comes to romantic interests. Love is very much real and beautiful, and she sees it every day in her parents. As such, she doesn't really do casual dating, which helps avoid scandal. Penelope's summers are largely spent between the Hamptons and Austria. She's honestly not sure which one she prefers, but she thinks Austria might just pip it. It's an incredibly beautiful place and she just feels like she's home there. She's with people like her, and they don't treat her any differently. But New York is definitely her home

---
---
███████████████████████████████████████████████████████████████████████
---
---

T A L E N T S
Fluent in Austrian-German and Slovenian.
Diplomacy
Writing

W E A K N E S S E S
High standards
Indecisive

---
---
███████████████████████████████████████████████████████████████████████
---
---

cs by burning // filled out by phoenixheart