Alcina Superbia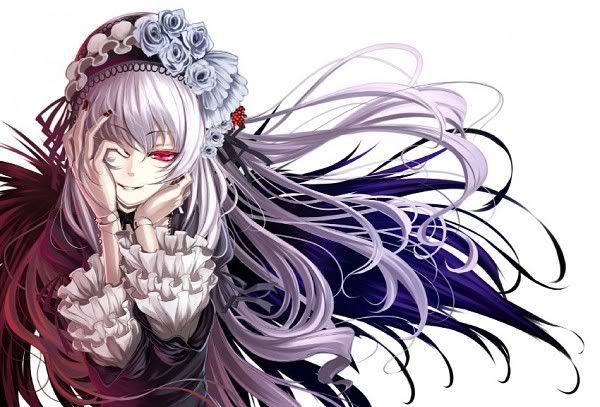 Race
Angel
Role
(Unsure, depends if the GM wants a twin of not)
Who are they the Host of/Who are their Hosts?
Roland
Gender
Female
Age
18 in appearence
Personality
Alcina could be described as the embodiment of Pride. Headstrong, confident and full of opinions, Alcina believes she is aboe the average angel, demon and especially human. She always makes herself look amazing and can take it very badly if someone offends, questions (or at least seem to question) her appearance or intelligence. A very self-sufficent angel she always gets the job done, normally without the help of anybody else either. Alcina is not above using dirty tricks to get her way. She holds a false charm that nobody seems to see through but she if often happy to show her cruel side to those she does not like. She has to be the best, because clearly she is the best. Can be quite stubborn at times. Not excatly your typical angel- but then again she was never meant to be.

Brief Description
Alcina had long straight white hair that falls to the small of her back. Her rust coloured eyes stand out against her milky skin and seem to see right into your soul. Immaculate at all times. She keeps her body in good shape making it slender and toned which works well with her tall figure. She often wears flowers in her hair and tends to wear dark colours to contrast against her skin.
Skill(s)/Abilities
Had having centuries to practise Alcina had a dab hand at most things, particularly when it comes to art. She loves art in all its forms from story-telling and acting to drawing and painting and has a skilled hand and tongue at both. She treats her body like a prized work of art and keeps it maintained and beautiful at all times. She speaks many languages. She is also quite good at gardening and adores creating new life. She is also found of playing the harp.

Angelically she is an old angel and has the power to prove it. She can look into peoples past with the aid of a magic book she precurred from the underworld, their current present and with this she can write out a different future. It is an old magic though and requires equal payment usually a sacrifice and is banned in Heaven. She can also use a holy light to protect herself and others and has the ability to change forms for a short time (only up to an hour).
Likes
-Mirrors
-Gardens
-Fashion
-Harps
-Power
Dislikes
-Inferiors
-Demons
-Being insulted
-Fire
-Being under orders
Phobia
-Is unsettled when she see fire.
-Feeling inferior
-Losing control of herself
A WORK IN PROGRESS
History
The human life: She began life as a normal human named Angela. She grew up in a pagan Ireland she often praised for her humility and duty to her family. A beautiful creature everyone could see that but she paid no mind to such things for a beautiful soul was more important than a beautiful face. She avoided all sin and praised her gods for their generousity. On her 16th nameday Angela met a crying angel by the lake near her house, being a gentle soul she listened to the being from heaven who had lost his way and promised him he would be okay, for if one is good then the gods will smile upon you, she was sure he'd find his way again. She offered him a place in her families home, with food on the table so hie could work on finding his way once more and return to heaven. Surprised by the young humans kindness the angel vowed he would be worthy of heaven again and worked hard to earn back his wings. He was treated like a friend and brother in his time there. On Angela's 18th nameday the young angel proclaimed he had received a dream from heaven and was allowed to return. He vowed to return the kindness Angela had bestowed on him and be her guardian angel. But it was not meant to be, a demon had since placed his eye on her and attempted to tempt her into evil. When she denied him three times the demon set fire to her village, trapping everyone in their homes. He promised he would spare some of the villagers if she returned to the underworld with him. Reluctently Angela agreed in order to save her family.

The demon life: Her name was changed to Pride and the demon spent long decades torturing her soul and mind. Twisting its features to his will, making her Pride the deadliest of the seven sins. It made him happy to condemn such an innocent soul. It took years and years but slowly she did become Pride. She succumbed to being superior and gaining joy from it- for in the underworld there was nothing else to derive joy from. She was given free reign when the master had determined that she was completely her doll and he searched for a new toy. She was to help him make a new sin and so she searched for something beautiful to corrupt. It was there she heard the most beautiful voice and told her master about it. On her way to collect the girl she was met by a familar face- the young angel form her human past. When he saw how much she had been corrupted from such a beautiful soul he vowed he would save her. He sacrificed himself, transferring his wings to her just as she had once helped him regain his, so she may earn her chance at paradise.

The angel life:
Since an angel had sacrificed himself to give her heaven she allowed to stay an angel. Of course not with the name a demon had give her- she was renamed Alcina and it was hoped she would earn her wings fully. So far undoing the damage has been very slow, the traits the demon taught her still at the core of her soul. Some fear she will never be returned to her once innocent state.
[b]Crush
Noone could ever take her eye.
What do they desire most?
To be as she once was.
But also to be the best.
No longer to be a toy.
Other
Nope.
Theme Song Title Here
Lyrics