Kamiya Fujime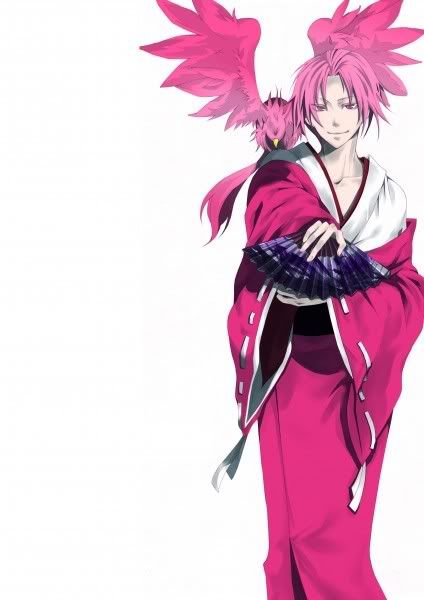 Race
Angel
Role
Angel 1
Who are they the Host of/Who are their Hosts?
We'll see~
Gender
Male
Age
18
Personality
One glance at Kamiya and immediately, one thing springs to your head: ...pink? Kamiya is not your...average angel. One would expect an angel to be holy, to be free of earthly things. Perhaps this is what drives Kamiya's obsession and infatuation with the human race. He's taken on some of their more...dark qualities. Promiscuous to the extent that Kamiya really has no sense of when enough is enough and no means yes, he's far from your average, innocent, righteous angel. In fact, Kamiya hates the righteousness in other angels. They're filthy hypocrites in his eyes. Flirty and charismatic, Kamiya is never one to be afraid to compliment a pretty woman. Almost always with a ready retort on his lips, he does more than draw people in with his vibrant hair and odd choice of clothing. But his kimono is almost always what he wears. It's quite convenient, really. Just a flick of the wrist and the sash comes undone. The upper parts start to slip down...But that's only in the privacy of a room. Outside, where others can see him, Kamiya upholds a classy look. He always lets a woman pass into a room first. He always gets up to refill someone's drink. He always showers his companions with praise and makes sure they're comfortable and satisfied. But Kamiya is also a suspicious person. Never one to get overly drunk, he always has his eyes on the shadows. He doesn't trust easily and would most definitely prefer a brief fling over a full on relationship. But when Kamiya wants, Kamiya gets. He dislikes losing to the extreme and will fight for the affection of others. He practically lives off that stuff.
Brief Description
He stands at a slightly short five foot eight inches. He has a nice body, which he's never afraid to use to his advantage. For his size, Kamiya has a surprisingly strong grip. His voice is lyrical in tone. Kamiya's bird is either always on his shoulder or somewhere near him. The bird is practically an extension of Kamiya. Named Aiko (literally 'love child'), she does his bidding. He understands her on a level that others can't really comprehend. He has slender fingers and could pass off for a woman if he really wanted to. In truth, Kamiya is rather pansexual. But for the sake of this game, this competition (oh how he loves games~), Kamiya will stick to the lovely ladies. He has smooth, pale skin and a supple, willowy build. His wings are the same color as his hair, perhaps a little creamier in color. They are usually tucked against his back under his kimono and are only visible to anybody that Kamiya approves of and wants them to see.
Skill(s)/Abilities
As an angel, Kamiya is bound to have some supernatural abilities. Most of his abilities can be linked to one thing - his voice. Kamiya has a lovely voice. Singing is a favorite past time of his, and it's how he bonded with Aiko. The bird used to be an ordinary song bird. But upon bonding with Kamiya, Aiko was reborn as a phoenix. It was Kamiya's voice that brought Aiko back from the land of the dead and it's the only time Kamiya has been able to do it. He's tried other times, but it's never worked. Besides that, he's also quite good at acting and ventriloquism.
Likes
* casual gatherings
* Aiko
* playing with humans/humans in general (They're just...so interesting~)
* mind games
* puzzles
* manipulating others
* a good play
* puppets
* music
Dislikes
* demons
* vulgarity
* dirt
* bugs
* stupidity and ignorance
* arrogance
* losing
* boredom
* self-righteousness
Phobia
Falling in love
History
Kamiya lived on earth a long, long time ago. A time when wars were still fought with swords and emperors were the embodiment of the sun god on earth. He was the sixth son. Not a bad place to be, considering his father had twenty three concubines and an empress. Together, the twenty four of them produced eighteen sons and fifteen daughters. Kamiya...had a lot of siblings. But Kamiya was also the first son to be born to the empress. The others were the sons of concubines. He was practically guaranteed his spot as the crown prince. His five older brothers despised him. Especially the eldest. Born to their father's least liked concubine, he was constantly put in a worse position than his siblings. Kamiya rose swiftly through the ranks in the army, his older brother had to claw his way past the others to get to where he was. Jealousy clouded this brother's mind. He wanted to kill Kamiya. With Kamiya gone, he would be emperor. With Kamiya still alive, his spot as emperor was in danger. So he conspired. Conspired with his four other brothers to get rid of the nuisance. They set up a trap. They sent Kamiya out to the border, where they were sure the enemy was approaching. They killed Kamiya while he was out there. Kamiya, once waking up in heaven, was either given the choice of being reborn on earth or to become an angel. Filled with pity for his brothers' stupidity, Kamiya chose to become an angel. This way, he could watch over his brothers and his brothers' descendants. And he could laugh at them. While they slaved away on Earth, Kamiya had a life of luxury in heaven.
Crush
Hmm....
What do they desire most?
To be in control and never have to open himself up to anyone
Other
He constantly says he doesn't need a steady relationship. But if someone comes along and they really intrigue him and he's interested...well, I suppose there's a first time for everything...
The Madness of Duke Venomania by Kamui Gakupo
Today again a beautiful woman comes to me
That smiling you will become my new wife
A forbidden deal with the devil, this power placed in my hands
All the women that look at me are falling enchanted

With the power to charm woman
The man, to the basement of the mansion where he lives alone
Brings one by one the women he likes
Building up his harem

The taste of libido that hid poison, the pleasure of the blade that cut
Blood and sweat mixed together, turn before long into drops of purple
Once the clothes come off, there's no return to reality

My old portraits were burned; I abandoned my past self
I want to forget that face that everyone ridiculed and laughed at
I kiss the lovely girl as I embrace her
She was the childhood friend that made a fool out of me

From a certain day on, the woman from all over the country
One by one, they became lost without notice
Some were wives; some lost their daughters
And didn't know what to do

The tone of libido dyed in darkness; an infinite passion without stop
Illusions, the understanding of everything; I am no longer a person
Doing depravities in defiance of God, this is the night of madness I wished for

Today again a beautiful lady comes to me
Come into my embrace, let's dance in this harem
After you approach me, I hold you close with a smile; in that instant
Suddenly there is a sharp pain and blood dyes my chest

A young man that searched for his lost love
He found out her whereabouts: the mansion where the devil dwelled
The young man disguised as a woman approach the devil
And stabbed him in the chest with a blade

Pierced by the blade that hid poison
I collapsed in that place
Blood and sweat mixed together, are turning before long into drops of purple
My arts broken, the women all came to their senses and fled the mansion
The last one that left the mansion looked at me for just a second
It was my childhood friend....Wait!

I haven't told yet that I love you