Name:
Paul M Atreides
Age:
37
Rank:
Commander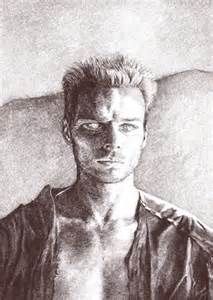 Height:
6"ft 3"in
Weight:
267"lbs (cybernetics included)
Physical Description:
Paul carries himself with a kind of distinction that not many can say that they have, but despite this his appearance has to be maintained at his own discomfort. Barely keeping himself within his service regulations Paul almost always has his trademark sandy blonde hair longer then needed and several days of stubble adheres to his face due to lack of shaving. His eyes are a pale hazel and and he most always has that spacious stare to him as if he was not really concentrating on what was in front of him. His skin is lite olive in color thanks to his heritage and most of his complexion is very fare.
Years of physical training and continuous labor have given rise to him having a rather muscled frame for his age and while off duty he wears short sleeve shirts to show off what he has acquired. However due to past incidents his right arm and leg are cybernetic, his entire arm has been replaced and his leg was shunted just below the waist then replaced.
During heavy work and combat, Paul wears his own version of the issued combat engineer armor handed out to most servicemen within the UHO. The sleeves have been adjusted to allow ports for his arm and allows for the carrying of more specialized tools.
It possesses several open ports for wire plugs that can allow for certain mechanical applications to directly connect to his body.