---
---
---
---
---
---
"Float On"
- Modest Mouse ║
"Trouble"
- Cat Stevens ║
"Cherry Bomb"
- The Runaways ║
"Left Hand Free"
- Alt-J ║
"Hallelujah"
- Jeff Buckley
---
---
---
---
║Name ║
Barbara Elizabeth Molly
║Nickname/Alias║
Barbie, if you're a friend. To everyone else, Molly or Alpha.
║Codename║
Alpha
║Age║
27
║Gender║
Female
║Sexuality║
Gray-Asexual (Biromantic)
║Citizen's Code║
#29463518
║Power║
Power Manipulation: users have the ability to create, alter, remove, and manipulate the supernatural energies in all beings, including themselves, thus allowing every variation of superpowers manipulative abilities.
║Power Limitation║
Using that amount of power is detrimental to any body, and that includes Barbie. She also has to be in close vicinity of the person she is manipulating, or she can strain herself for farther distances but she tires quicker. She trains her powers as much as possible, but hardly uses them except for in dire situations, especially because of her upbringing.
║Role in Roleplay║
the First
---
---
║Piercings║
She used to have many when she was a teenager, but all she keeps in now is a stud in her left cartilage.
║Tattoos║
She has one on her back and one at the top of her ribs.
║Scars and Birthmarks║
When she was caught in a fight with a government agent, he branded her with an A (for Alpha) on her hip, so he'd always know who she was. Other than that, her body is relatively clean.
---
---
║Personality║
Brave | Mistrusting | Loyal | Possessive | Charming
Barbie has always been leadership material. She has superior focus that allows her to achieve her goals quickly and efficiently. Her undeniable charm lures followers in to hang on to her every word. Though she's never been modest, she does like to give credit where credit is due, and is not egotistical. But she is a badass, as many people say to her.

But, being very faithful and loyal to the other Humanly, she becomes very overprotective and possessive towards them, especially in times of danger. She can also be a very jealous person, and will manipulate others to achieve what she thinks is necessary. Being manipulative as she is, she doesn't trust someone who she can manipulate easily, which makes her a very secretive person. There is only one person she can completely confide in, after years of trust building and teamwork, and that's her Second. She doesn't trust her life to anyone but him (and her brother), and would take a bullet for her Second. She did have someone she was close to once, an old friend, but when she was taken by the government, she lost faith in herself, and vowed never to let her guard down, even for people she trusts with her life.

Biological family doesn't mean much to her, considering her brother is the only one left, but the people that have become her family are her everything. Above all else, she protects her family. When one of the Humanly is captured, hurt, or even killed, she goes into a certain mood, blaming herself and keeping a silent desire for vengance. She is very bad at expressing her emotions and likes to bottle them. But she's there when it counts and that's good enough for her. Her brother is teaching her a lot about emotions and how to be a more expressive person. It's not like she isn't talkative, or charming, it's the crying, or angry yelling, that kind of just... explodes.

---
---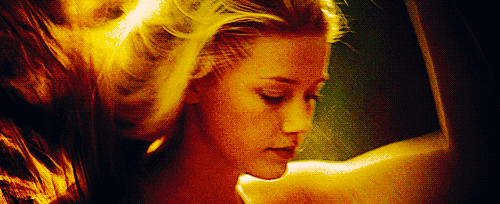 ║Zodiac Sign║
Scorpio
║Likes║
•singing in the shower (as long as no one can hear) •long, hot showers •espresso with foam •coffee shops in general •listening to music •driving a car •strategy and mind training •superpower training •physical training •the outdoors •hot weather •hiking •canoeing/kayaking •nature in general, including gardening •hanging out with her brother •long morning naps •watching the sunset •sleeping on the beach or in a tent •having traditions •people having trust in her •being able to protect someone •romantic sex •cuddling after sex •alcohol, preferably a beer to sip on •having someone to fall in love with everyday
║Dislikes║
•above all else, loneliness •getting into fights •coffee with too much creamer/milk •silent treatments (especially from her brother or Second) •being late •being unprepared or weak •being unable to protect someone •very cold weather •cursing •almost violent sex •losing control of the Humanly •any type of recreational drug •losing trust from someone •small talk
║Dreams║
She dreams of one day being able to settle down with her true love and have a family. It's cliche, but it's something she's never had, so she desires it.
║Fears║
She fears ultimately that someday she won't be able to protect her brother from harm or even death. She also fears seeing the close friend again, afraid of what the government has done to her. Below those are the fear of being captured by the government and turning on her friends, and then normal stuff, like the dark. No one knows she's afraid of the dark except for her close friend.
║Secret║
She was in love with her close friend and contemplated turning herself in just to be with her again.
---
---
║Occupation║
She works at a strip joint about three nights a week to make some extra cash, and will even have sex for money, but most of her finances are covered by her uncle's money.
║Family║
Mother: Lauren Marshall Molly
Father: Ray Michael Molly
Step-Mom: Lisa Knight Molly
Older Sister: Cecila Jean Molly
Younger Brother: James Henry Molly
║Pets║
She has a golden retriever/jack russell mix named Edison, who she affectionately calls Eddy.
║History║
The Humanly was created before Barbie could even say the word; a branch was created in the United States in 1985, about three years before Barbie was born. Her mother Lauren was very secretive about being a part of the Humanly, and disguised herself as a helpful human ally. Her position in the group was much like how Barbie's old friend fit into the group. The First, Brandon Dunn, was in love with Lauren, but Lauren had fallen in love with a man she met at an airport. His name was Ray, and after two layovers, they were planning a date. He wooed her away from the Humanly movement and they settled in small-town Virginia to start a family. He already had a child from another woman, but he wanted to have children with Lauren as well. About two years after they moved, six-year-old Cecila helped them welcome Barbara Elizabeth Molly into the world. Barbie started displaying her powers at three years old, when she replicated her mother's ability to fly at a friend's birthday party.

Barbie learned quickly that people like her weren't accepted in the world. After the flying incident, they moved from the west side of upper North Carolina. No one knew about Barbie being special here, and they never would if her mother could help it. Barbie was punished if she used her powers, which made her instinctively wary of using her powers. She saw, at school, when kids with superpowers were open about it, the other kids would be scared of them or bully them. They were hated by most teachers, and parents didn't allow them to hang out with their own children. It was socially unacceptable for Barbie to even be friends with them, even if she wanted to.

Then her brother came along. His power was so unique, and so rare, he could use it without worrying about people finding him out. And it was with them that Barbie learned to train her powers. If he was being too bold, she would negate his powers, or if she needed to know someone's emotions, she could replicate them, or help him out by enhancing his powers. They were closer to each other than most of their friends or their older sister, who often felt isolated.

Barbie world stopped when her mother passed away. She was twelve, and she started to become very depressed. She took many school days off, and her brother stayed with her constantly to make sure she didn't do anything stupid. Her godfather Brandon, the First before she became the First, started appearing more in her life, giving her photos, journals, even jewelry and old clothing, from her mother. He told her how he fell in love with her, and he loved her so much that he let her go. They became close friends until Barbie's father found out what Brandon was talking to her about, and forbid her to see him. She wasn't old enough to defy her father so she lost that part of her mother for years.

Only two years after her mother's death, Lisa came into their life. She was this government woman who hated the Humanly and people with superpowers. She was already married to Barbie's father when she found out Barbie and her brother have superpowers.

Lisa started to make biting comments about superpowered people and the Humanly in particular. Then, there were comments about their mother, and then, them. She would scream curses and insults at them, calling them freaks and abominations. She offered to give them the "Mutant Treatment", which was a new experiment rumored to be created by the government to rid superpowered people of their powers. The rumors were that, if they didn't kill the person, it made them mentally scarred, making them insane or vegetative. Barbie got back in touch with her godfather and the next week they were gone without a word. They lived in D. C. with Brandon until both of them were over eighteen, and started to get heavily involved with the Humanly. When Barbie was twenty-three, she became the First, making her the youngest First in history.

It took everyone, especially the older Humanly, to trust her judgement and leadership. She considers herself a mother, a sister, a friend, maybe even a bedroom buddy, but a commander overall. This is war for human rights, and she won't stop until she has the freedom to be herself and no child has to be ostracized from the community for their abilities.
---
---