---
---
General Information


Name: Lola 'Lolly' Cervantas
Hunted/Agent" Agent
Race:Latina/Bionic
Gender:Female
Age:24
Hair Color:Brown, Sometimes Blonde
Eye Color:Black
Height:5'7
Weight:140lbs


Appearance: Lolly is a dark eyed beauty with warm brown skin, dark hair and a slender frame. She is often seen in leather biker jacket, jeans and a plain dark top with converses, when she is working as an agent, she is almost always wearing leather pants, military boots, sunglasses (even at night), fingerless and arm bands. Her hair is always in unbound tresses and she never leaves home without a gun of some sort strapped to her hip.



Mentality




Personality:Lolly is a quick witted, sharp tongue girl who doesn't have much of a filter. She says whatever is on her mind, good or bad and does not care how is makes someone feel as long as it is the truth. She displays an aire of confidence to hide her insecurities, one of the many being her former employment. She uses sarcasm and dark humor to hide her real emotions, except anger. She has a predisposition towards violence, and has no problem throwing a punch, or whatever's close. That being said, Lolly can be sweet, and even a bit playful and is deep inside a good person. She tries to hide that fact but overall she's looking out for the greater good. Even if that means putting a bullet in the head of the bad guys.

Quirks/Habits:
When Lolly gets annoyed or being impatient, she taps her foot, (if she's sitting) she shakes her leg.
When she's on the cusp of hitting someone during an argument, e.i angry, her nostrils flare and like a bull, she expels air from her nose.
She cocks her head to the side when she's confused.

Hopes/Dreams:
Her hopes used to be to become a professional dancer but now, all she hopes for is to find and kill the man who made her what she is.
Likes/Dislikes:
She likes dancing, music, going to a shooting range, her motorcycle and collecting guns.
She dislikes repeating herself, being underestimated, being what she is.
Fears:
Her powers corrupting her.
Small spaces


Powers




Superpower(s): Adoptive Muscle Memory-The ability to perfectly mimic any movement after a single observation.
Expert Aim- Basically, she doesn't miss.
Nanite Manipulation- sub: peak human condition- After Nanties were grafted to her blood, she focus them into any part of her body to enhance any natural process e.i speed, strength, repair. It has it's drawbacks *see Weakness*
*Techno manipulation (limited)
*Nanite Armor/Protection (limited)


Skills:
Gunslinger
Vehicular Mechanics
Martial Arts/Hand to Hand combat
Equipment: Her motorcycle. Warning, Don't even look at it.

Weapons:Guns of many types however her favorite is her .357 Magnum.

Weakness(es): The Nanites are currently fighting for dominance in Lolly's body. The more she uses them the more they control her, driving her mad. She tends to claw manically at herself and has yet to find a way to calm herself down before either throwing her head against the wall, or somehow rending herself unconscious.
During this time, she can be hacked, and reprogrammed and one well placed EMP and she can be "shut down".
When they start to take control, her eyes start to bleed.



History



Biography: Lolly was a rather peculiar girl. Raised by a single father, who didn't really know what to do with a little girl, and a criminal in his own right. He decided then he'd raised her like she was a boy. He taught her how to defend herself as best he could, a few martial arts lessons here and there, he taught her how to fix and steal cars and bikes but what really stuck was when he taught her how to shoot. She was scary good, even at a young age. A gun slinging protégée, if there were such a thing. She was almost scary good at it.
It didn't make her a lot of friends in school, most kids didn't even know what a Magnum even was let alone how to use it. And it didn't help that when she got older, she grew into her looks. She was a beauty and everyone knew it. It was around that time that she found her love of dance, dreams of being a professional dancer, made her too many male friends. Her father was very glad he taught her how to use a gun by then.

Things were rather uneventful for a few years until her father got sick. Cancer. When he was diagnosed, it was as if they both got it. After a while, her father couldn't work, so Lolly took up odd jobs here and there, until finally, she couldn't juggle them all. Down on her luck and her father's medical bills shooting sky high, Lolly went to work at the one place she knew being pretty and knowing how to dance would get her a great deal of money, in a short amount of time.
She went to work at Leather and Lace, a strip joint in the badlands. She cried the first night but after awhile she managed to swallow her emotions and do what she had to for her father. It wasn't the best thing in the world but she managed until that faithful night.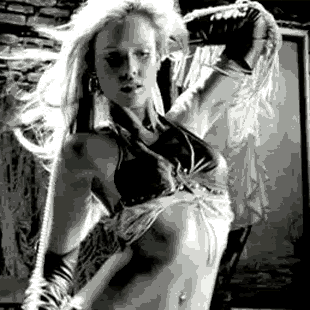 It was a good day that day, she made a lot of money, and had been walking to her bike, her father's old Harley. It was big and loud, very much a guy's bike. She was fishing for her keys when a group of men screeched up on in a black van, and snatched her from the street. In the badlands, she could have made better use of her time, river dancing for all the good that her struggling and screaming did. She didn't have enough time to get her gun, as they chloroformed her, shortly after grabbing her.
When she woke up, she was in a cell, her entire body ached and she felt like something crawling in her skin. In a panic, she began clawing at her skin, her nails ripping through the flesh, only for them to slowly heal, without so much as a scab.
She was approached by a man, then, whose name she never received. She's only ever heard him addressed as "Sir." He told her what was going on. She'd been kidnapped and taken to a lab outside of the city for experimentation. She'd been in a medical induced coma, and still should have been until the programming was finished, though something went wrong. When she asked him why her, he said it was because she was a no named whore that no one would miss.
Something in Lolly's head snapped and she lunged at the man, but was stopped midway but just barely. He then told her she'd been injected with nanites that were grafting to her bones, and blood and she was under their control. He left shortly after that.
He was only half right. The nanites in her body had begun learning; they overrode the control safety and left Lolly free to do whatever she pleased.
In this case was escape. It wasn't an easy escape either, as she was faced with guards, security and other scientists. She found other though that she was stronger and faster then she ever was. She managed to disarm and put down four guards before escaping into the night.

Cold, alone and dressed in only a hospital gown, she walked, and walked, until she found herself back in the badlands. Her luck didn't stop there as she was then approached by a couple of drunks. Thinking her an easy score, She made short work of most of them until one shot her in the chest. The nanties spit out the bullet and healed her wounds but then they tried taking over for the first time. Her eyes begun to bleed, and she began shaking violently and she began to claw at herself, the madness overwhelmed her until she stumbled backwards, her head hitting the ground hard, rendering her unconscious.
When she awoke, she found herself in the hands of the PPA, she had two options, work with them, or not. She choice the forward..