Name:
Fyrsta Klo
Human Form: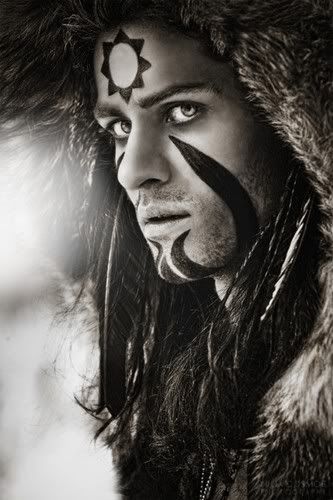 Animal Form:
Description of appearance:
Seeing as how Klo's species favors the cold North, his attire confirms his preference for chilly to freezing temperatures. He wears a deer-skin cloak, with a hood attached, draping over his shoulders rimmed with the fur of Snowshoe hare. His shirt and pants sport the same materials as his cloak, but decorated however, with more variety of furs. Around his waist is a beaded sheath containing the deadly edge of Klo's favorite double edge dagger, 'brún.' On each thigh and two more on his belt are a few more daggers, his weapons of choice being as he was never one for long-range combat. Physically Klo is has a tough build and sports muscles all across his body, however, he isn't too bulky as to adhere from his wolf-like grace. He prefers to have his chest bare to clothing because he likes to feel a bit of cold on his skin. The jet black dreads growing on him falls in-between his shoulders and decorated with feathers his mother had braided into his hair everyday as a child. He is 6'3 and weighs 200lbs.
Age:
23
Gender:
Male
Rank:
(Leader)
"fyrsta leiðtogi"
Ice-touch:
Bright Cyan
Power:
Klo's 'ice-touch' blessed him with faster regenerative abilities and faster respiratory system. His lungs and heart can function quicker and with more efficiency. Many who have witnessed Klo's physical performance in hunting or friendly fights, seem to think his strength has also been effected, however, they are incorrect as his strength is just the blessing of genetics and the grand physic of the Dire Wolf.
Species:
Dire Wolf, Canis dirus